Join BART Police Aug. 1 for National Night Out to help keep BART safe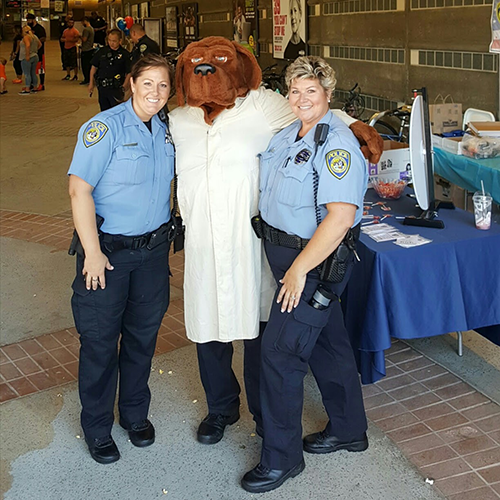 BART PD personnel and crime-fighting mascot McGruff at 2016's National Night Out
By JIAHAO HUANG
BART Communications Intern
BART Police are inviting the public to stop by one of our station tables for "National Night Out," a program that has been going nationwide since the 1980s to emphasize the importance of collaboration and community awareness to increase public safety.
This year, BART's National Night Out will be hosted at the Fruitvale, San Leandro, El Cerrito Plaza, Concord, 24th Street, and Daly City stations on Tuesday, August 1, from 4 pm to 7 pm.
At each table there will be different giveaways, such as bike pant-straps, crime prevention activity books for kids, folding hand fans, pens with flashlights, and prizes including Oakland A's tickets, SF Deltas soccer tickets, gift baskets and even bike locks.
There will be dancing, food, and a chance for parents to bring children out and interact in a positive way with police, whether it's posing to take photos with an officer, petting one of our TSA canines or getting safety awareness tips.
The theme for this year's National Night Out is "A connected community is a safer community," and the BART Police Department (PD) is organizing this event for the seventh year. It fits into the overall strategy of crime prevention, which also has stepped up with greater police presence on trains, enhanced recruiting to fill vacancies, announcements on the PA system to secure phones and electronic devices, and many other preventive efforts. Community outreach also is increasing.
"We have expanded our outreach to include new groups, schools, churches and community programs," said Michele Lazaneo, BART's Community-Oriented Policing and Problem-Solving (COPPS) outreach coordinator.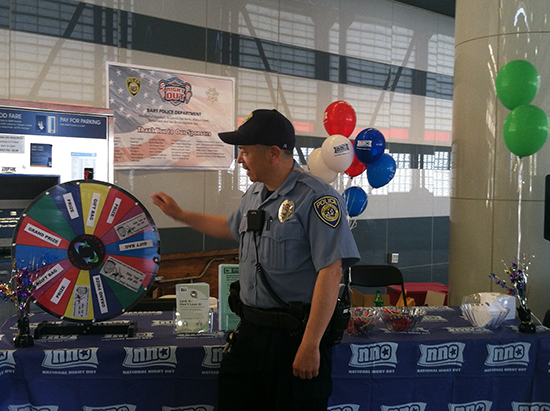 The wheel that can be spun for prizes is shown here as part of the 2016 National Night Out
Special focus has been placed on crime prevention and on attempting to zero in on the source of crime, which may involve individuals with mental health problems or who have fallen through safety nets into problems such as homelessness. Sponsors including Operation Dignity and National Alliance for Mental Illness (NAMI) will be providing information at the event about their organizations.
Amba Johnson is the Director of Dreamcatcher Youth Services, a shelter for youth and human trafficking victims in Alameda and Contra Costa Counties. "It's a conservative estimate, but sadly, it's around 1500 homeless youth in Alameda county alone who are on the streets without homes.

Founded in 2000, Dreamcatcher serves over 100 youth a year with food, shelter, support staff, and resources to help young people get jobs and/or go to college. Dreamcatcher will be sponsoring National Night Out by distributing resource materials and providing information about their shelter and program.
Acting BART PD Lt. Ja'Son Scott, who oversees the COPPS unit, is active in community outreach himself, teaching classes in G.R.E.A.T. (Gang Resistance Education and Training) to grade-schoolers. "We go to schools to try to prevent gang enrollment at the source," Scott said.
In the past, the BART PD's participation in the event has been well received, as participants interacted with Lazaneo said. "BART anticipates even more participants in 2017," she said.
"There's also free stuff, so don't miss out!" Lazaneo added.
This year's sponsors include:
Dreamcatcher Youth Services
Open Door Mission (Oakland)
Ruby's Place
STAND for families Free of Violence
Still Sevilles Food Truck
Operation Dignity
La Casa De Las Madres
CORA (Community Overcoming Relationship Abuse)
Oakland Elizabeth House
Ring.com
Verizon Wireless
PetCo
Verizon Wireless
SF Delta's Soccer team
Bianca Richelle
Impact Bay Area
Brandman University
Damsel in Defense
Loards Ice Cream
United Bites
LeeVonYe' Treats
Organic Three Twins Ice Cream
Monster Energy Drinks
Nieves Cinco de Mayo Ice Cream
Clipper
BART
United Bites
Papa Murphy's
NAMI
B.O.S.S. (Building Opportunities for Self Sufficiency)
Ministerio Hispano
Davis Street Family Resource Center
Also, a big thank you to these generous donors!
Emil's Burger Breakfast
Guadalajara Restaurant Mexican Food (Oakland)
Ale Industries (Oakland)
Dianda's Bakery (SF)
John and Liz Salsamania (Oakland)
InEssence Dance Company (SF)
Javier MixxedFit
Symbolic Dance and Fitness (SF)
Big 5 Sporting Goods
Diablo Creek Golf
Safeway
Home Depot
Kinders
Planet Fitness
Starbucks
Old Spaghetti Factory
Subway Sandwiches
Lucky California
Nothing Bundt Cakes