BART holds kick-off for Measure RR small-business outreach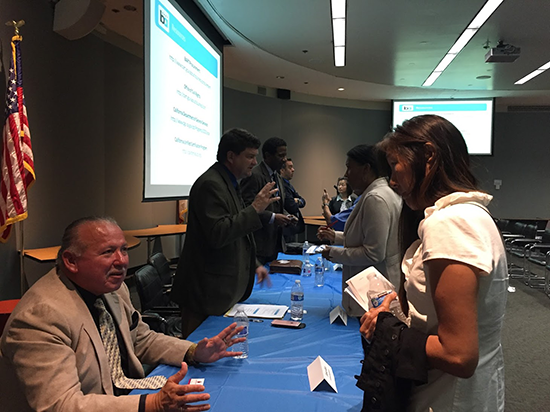 Above: Members of a BART panel answer questions after a Measure RR Kick-off Event
By MELISSA JORDAN
BART Senior Web Producer
Javier Chavez, who works in his family's business TJ&M Masonry in Benicia, was one of the first in the seats at the auditorium on Thursday.
"My dad asked me to come to find out what kinds of projects will be part of this," said Chavez, one of more than 100 registrants for BART's Measure RR Outreach Kick-Off Meeting.
Measure RR is the $3.5 billion bond passed by voters in 2016 to improve BART's aging infrastructure. Thursday's event sponsored by BART's Office of Civil Rights is part of the effort to spread the word about potential jobs for local businesses as part of the rebuilding program.
"This is an important turning point," General Manager Grace Crunican said in welcoming the group. The bond, she noted, doesn't fund flashy frills or extensions. "It's about reinvesting in our system for the long haul."
Because local voters in the BART District counties of Alameda, Contra Costa and San Francisco approved the bond, BART wants to keep this work and these jobs in local communities as much as possible, she said.
Following the general manager's remarks, a panel of subject matter experts from within BART spoke about different aspects of the Measure RR work and about the process of awarding contracts for different types of work.
Projects listed in the slideshow presentation to the group ran the gamut from replacing tracks and power cables to adopting a new train control system.
Robert Mitroff, Chief Planning and Development Officer, called the current train control system "basically obsolete technology" and said one of the many benefits of a modern system would be a significant boost in capacity at peak times.
"This is a huge deal for us," Mitroff said.
And while a huge project like train control has a short list of potential suppliers, many other parts of the Measure RR-funded work will provide opportunities for small, local businesses, he said.
"We're also looking for shovel-ready station access projects," he said. While station access work represents only 10% of the total overall bond, the types of jobs may be a particularly good fit for small businesses.
Other speakers went through the process of how businesses can be certified through various economic opportunity programs, such as obtaining Local Small Business Verification, a new program created for Measure RR funded contracts.
Audience members gave feedback in a Q&A period and in one-on-one discussions after the presentation.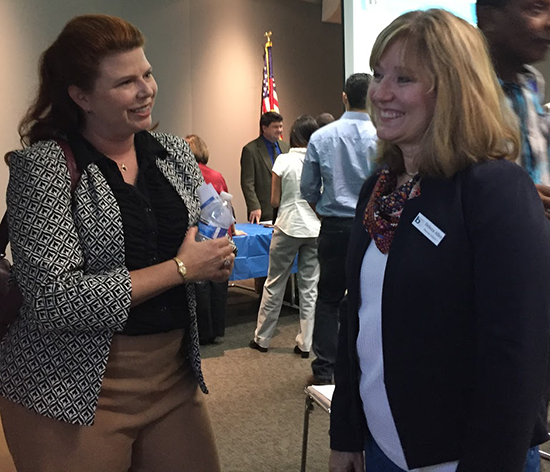 Keish Enivironmental CEO Rachael Keish, left, speaks with District 1 BART Director Debora Allen at the kick-off event
Attendee Rachael Keish, CEO of Keish Environmental, asked if BART could do more to help potential bidders be aware of upcoming opportunities, particularly those for professional services and under the $100,000 threshold that determines if something goes on BART's procurement portal website.
Carla Tucker, owner of CLT Construction Services in San Francisco; and Shonda Yvette Scott, CEO of 360 TotalConcept with offices in Oakland; said they appreciated the outreach and effort to keep rebuilding dollars in the local communities.
Richard Camacho, President of GEMS Environmental Management Services Inc. in Concord, said the meeting was useful.
"We're just looking for opportunities," he said. "We would like to be part of doing business with BART."
---
BART will hold a series of free informational meetings about Measure RR contracting opportunities. For details visit our Office of Civil Rights section
Learn more about Measure RR projects at www.bart.gov/betterBART