Construction kicks off for first downtown San Francisco BART escalator canopy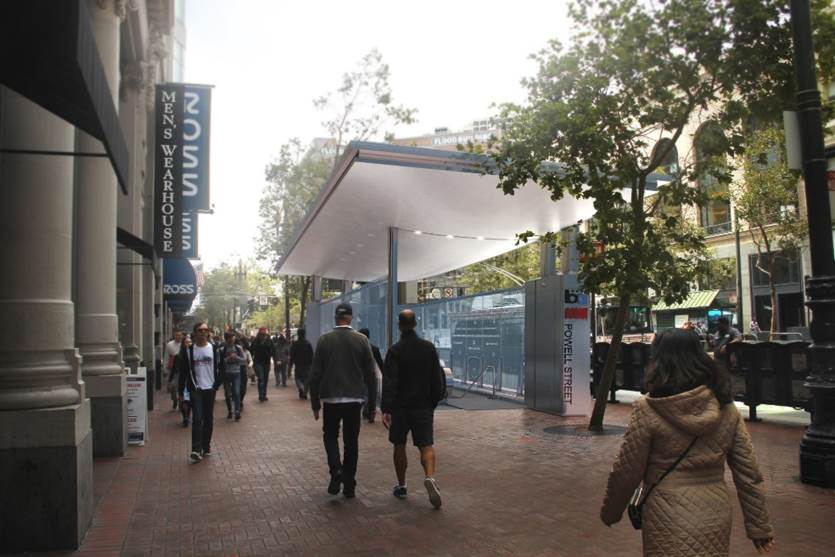 Work is now underway on a project that will bring a dramatic new look to the Powell Street Station entrance on the north side of Market Street at Ellis and 4th Streets. The new canopy is designed to protect both passengers and our escalator from the elements as well as to bring an additional layer of security to the station.
"The construction of this new canopy at the Powell Street Station is exciting and just the beginning," said BART Board Director Bevan Dufty. "BART has been working closely with the City of San Francisco on a plan to install 22 canopies at all of our downtown stations from Embarcadero through Civic Center."
The first of the new canopies are being installed at the Powell and Civic Center Stations with a goal to complete installation of the first two canopies in 2018. BART and the City of San Francisco are partnering on the project and sharing costs 50-50. The overall project to install 22 canopies has an estimated cost of $66 million. Some of the funding for the overall project is coming from Measure RR, a $3.5 billion bond measure approved by voters in November.
The canopies will protect the escalators from rain water and other elements. They will feature a digital display to show train arrival times so riders can see when the next train arrives while entering the station as well as a new security grille that locks at the street level to help protect the escalator, security cameras, and new LED lighting.
As the canopy project begins, BART is also moving forward with the first major overhaul of system escalators in nearly 20 years. The first phase of the plan calls for BART to replace or truss-up (module replacement) 41 escalators in downtown San Francisco.
"These canopies will not only help to further integrate our downtown San Francisco stations with Market Street but they will also provide vital protection for some of the busiest escalators in the entire BART system and help prevent frustrating breakdowns," said Director Dufty.
During the construction of the first downtown San Francisco canopy at Powell Street, there will be an 8-foot high plywood enclosure spanning 190 feet wide around the station entrance. It will remain in place until the completion of the canopy installation and will help to diminish noise and dust impacts. To further minimize impacts on nearby businesses during the holiday season BART will observe a holiday construction moratorium at the Powell Street location from Thanksgiving through New Year's Day. During the moratorium work will only take place between 10pm and 6am and only from Sunday night through Friday morning.
The contractor will perform all demolition and construction work inside the plywood enclosure. Access and lighting for affected storefronts on Market Street will be maintained at all times. Construction is expected to be complete by Fall 2018.