Warm Springs Extension named Project of the Year
The California Transportation Foundation has named BART's Warm Springs Extension as its Project of the Year for 2017. The CTF awards recognize the best projects, people, and organizations in California's transportation industry. This year's winners were selected from among more than 90 nominees.
"This is a tremendous honor not just for BART but for everyone who was a partner in making the Warm Springs Extension a reality," said BART Warm Springs Capital Program Group Manager Paul Medved. "The Warm Springs/South Fremont Station is already drawing more than 3,000 riders a day; a number that is sure to grow as economic development in the South Fremont area continues and when enough Fleet of the Future vehicles arrive to support two-line service."
BART's Warm Springs Extension includes 5.4 miles of new track that extends from the Fremont Station to the new Warm Springs/South Fremont Station. The project came in at more than $100 million under the original budget of $890 million.
"The project is the result of partnership and trust," said BART Director Tom Blalock, who serves Fremont and was a leader in making the extension a reality. "The more than 2,000 parking stalls at the Warm Springs/South Fremont BART Station represent cars that have come off the roadways reducing congestion."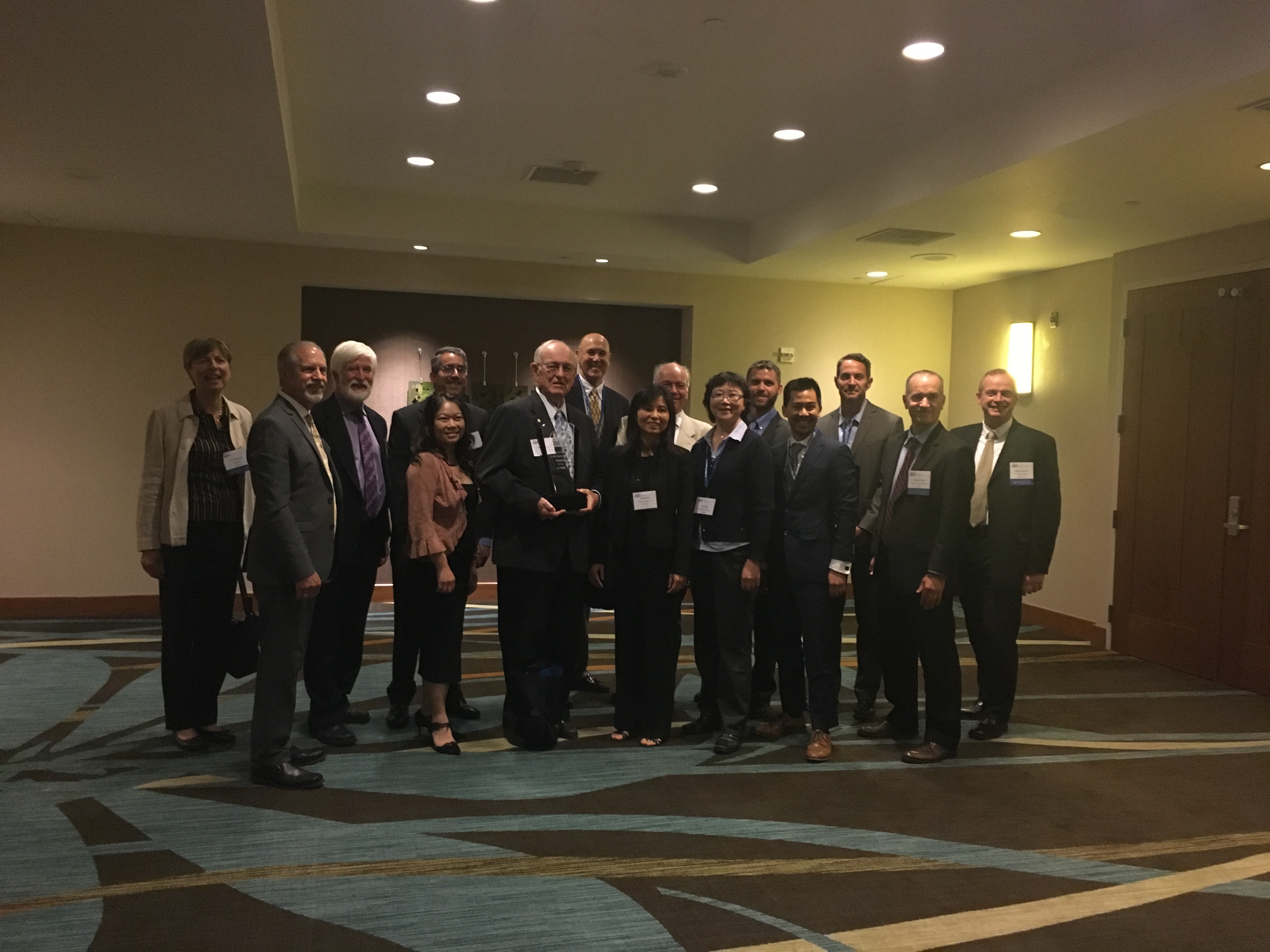 The new station features 2,082 parking spaces, including 42 solar-powered electric vehicle charging stations. The station is fully accessible to pedestrians and bicyclists, and includes bike lockers, elevators, and escalators, along with Braille signs and a distinctive, tactile path to aid riders with disabilities.
Warm Springs highlights BART's commitment to sustainability. The station site includes solar panels installed on the roof of the station and on several parking lot canopies that produce more than enough energy to meet the station's daytime power needs. BART has installed bioswales throughout the parking lot that naturally filter silt and pollutants in surface run-off water before it enters the Bay watershed. A section of the trackway features an underlayment of shredded "tire-derived aggregate" that both mitigates operational vibration and has taken approximately 130,000 car tires out of the waste stream. The project also constructed a beautiful 10-acre wetland habitat area next to Fremont Central Park to mitigate some of the project's biological impacts.
The Warm Springs/South Fremont Station welcomes visitors with a large open plaza and rotunda. The station's dramatic glass art, entitled "Sky Cycles", is the largest art installation in the BART system.
The Warm Springs Extension was built with an eye toward the future. The extension paves the way for BART to Silicon Valley, a 10-mile Santa Clara Valley Transportation Authority project that's under construction and will soon extend BART service to Milpitas and northeast San Jose.
Key project partners who will also be recognized by CTF include the Metropolitan Transportation Commission, Alameda County Transportation Commission, Caltrans, City of Fremont, Santa Clara Valley Transportation Authority, WSP USA, Warm Springs Constructors, and Shimmick/Skanska Joint Venture.
Warm Springs/South Fremont is BART's 46th station. Service to Warm Springs/South Fremont officially began Saturday March 25, 2017.