Project Background
The eBART Project represents the first phase of a plan to extend rail service into East County. The eBART Project provides a cost-effective way to bring BART service to Antioch, and the rest of east Contra Costa County. eBART will provide East County with frequent, reliable, and high quality rail service that will connect the growing region of east Contra Costa County with areas already served by BART.
Pittsburg Center Animation
eBART Transfer Platform Animation
Antioch Station Walkthrough Animation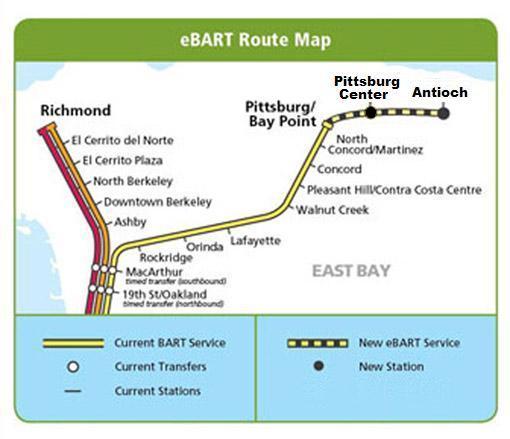 ---
BART is coming to east Contra Costa County. Construction on this exciting project has commenced and is well underway with passenger service projected to start in 2018.
The East Contra Costa BART Extension Project (eBART) will introduce a new rail passenger service comprising approximately 10 miles of new track between the existing Pittsburg/Bay Point BART Station and the City of Antioch. Stations for the new service will be located in the City of Pittsburg and the City of Antioch. These stations will use ticket vending machines and fare gates like the current BART system.
The Project is being built in coordination with the Highway 4 widening project. The combined projects represent approximately $1 Billion invested in the corridor. The eBART Project will use independently propelled railcars known as Diesel Multiple Units (DMUs) that will operate on standard gauge rail. The tracks will be located in the median of State Route 4.
The eBART Project is supported by Pittsburg, Antioch, Oakley, Brentwood, Contra Costa County, Tri Delta Transit, MTC, TRANSPLAN, ECCRFFA, CCTA, and Caltrans. In April 2009, BART adopted the Project and construction began in early 2011.
For More Information
Email: ang@bart.gov
---
NEW! eBART Next Segment Study
Click here to see the eBART Next Segment report, which looked at a possible extension of eBART service beyond the Antioch Station. This was a pre-engineering study, looking primarily at possible alternative station sites for a future extension.
Last Updated: Feb. 22, 2017