Pittsburg Center Station
2099 Railroad Avenue
/
Pittsburg
,
CA
94565
---
Service Advisories
Service Advisories
/
/
Get RSS feed
Sign up for email alerts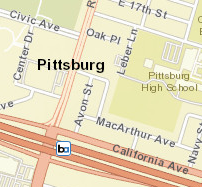 Welcome to Pittsburg Center
Pittsburg Center is on the yellow line serving northern and eastern Contra Costa County. It is part of a new rail system that connects BART's Pittsburg/Bay Point and Antioch stations using state-of-the art Diesel Multiple Unit (DMU) vehicles.
Ticket vending machines only dispense Clipper cards. There is a one-time $3 acquisition fee. Magstripe paper tickets are not sold at the station, but you can use paper tickets purchased elsewhere in the system to enter or exit.
There is a Transfer Platform between Pittsburg/Bay Point and Pittsburg Center where riders walk from one train to another. The Transfer Platform is only reachable by train. Learn more about this station and BART to Antioch service.
Latest News
Get RSS feed
Expect 15-20 minute delays on the Antioch line Saturday 11/17
Sunday schedule for Thanksgiving 2018, modified service Tuesday, Wednesday, and Friday
L
Lines Serving this Station
Antioch SFIA/Millbrae
Real Time Departures
Next trains departing from Pittsburg Center Station:
Parking
The Pittsburg Center parking lot is located on Bliss Avenue, near Railroad Avenue, 1/4 mile from the station.
Parking at Pittsburg Center Station includes:
Please note: No permit parking is available at this station.
See the parking section for details about each program.
NOTICE: Daily Fee parking at this station has not been filling since the opening of Antioch and Pittsburg Center stations.
Bikes
Bike Racks: Yes
Bike racks are available at most BART stations. Please review the BART Bike Rules.
Bike Station: None


FREE secure bike parking is available at several BART stations. Visit the Bike Section for more Bike Station information.
Bike Lockers: None.
Connecting Transit Routes
Connecting Transit Trip Planner
Elevator Locations / Accessible Path