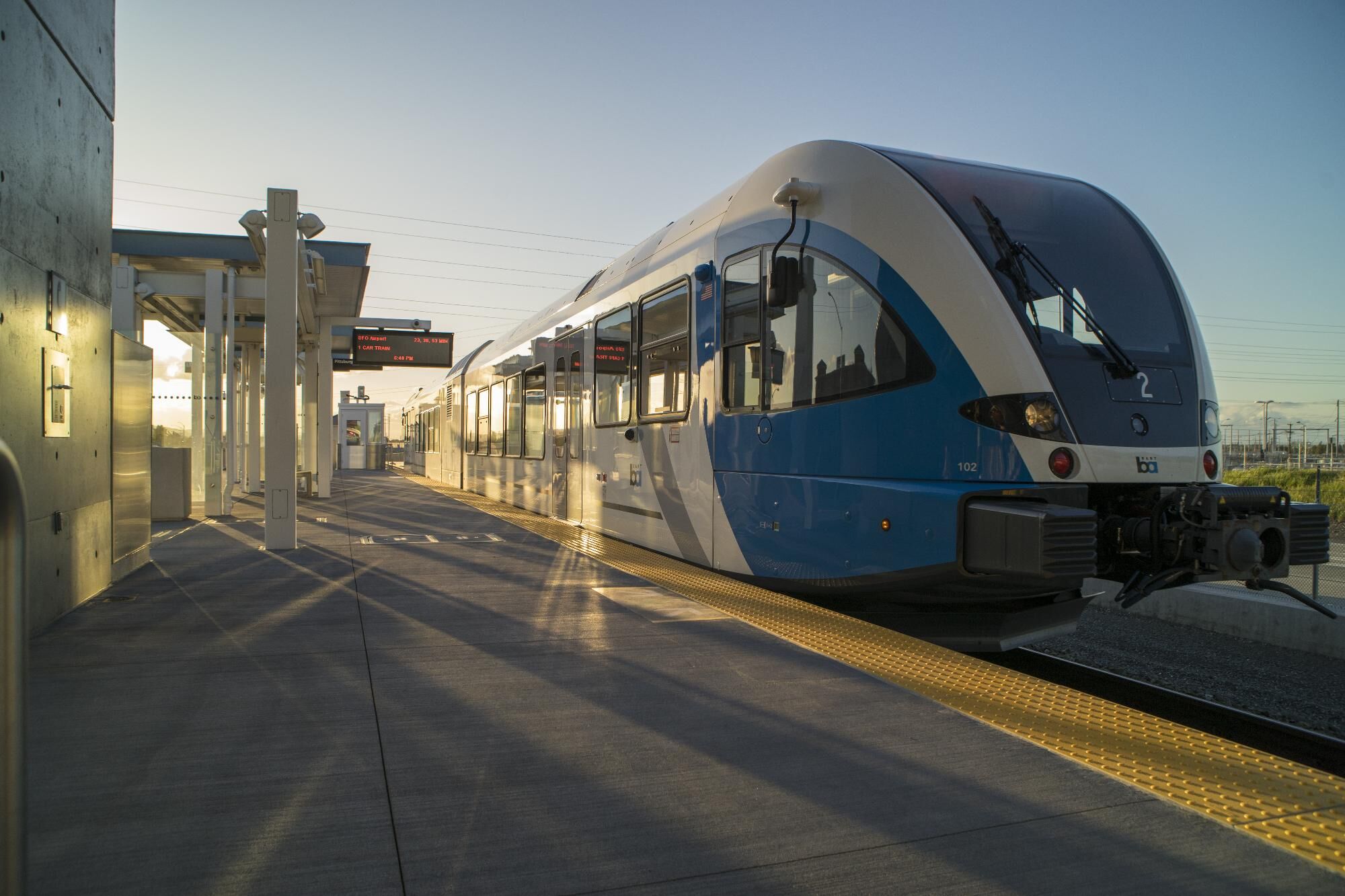 BART to Antioch FAQ
What is eBART and BART to Antioch?
eBART is the project to build a new rail system that continues transit service from BART's Pittsburg/Bay Point Station to Antioch. This rail system uses standard gauge (4'-8 ½") track with state-of-the art Diesel Multiple Unit (DMU) Vehicles. Once opened, the service became known as BART to Antioch.
When did the Pittsburg Center and Antioch Stations open for service?
Revenue service began on Saturday, May 26, 2018. A community ribbon-cutting celebration was held on Friday, May 25, 2018 at the new Antioch Station.
What are the hours of operation?
The hours of operation are the same as the existing BART System. The BART QuickPlanner has the exact schedule.
How do passengers pay/receive train tickets?
There are Clipper vending machines at Pittsburg Center Station and Antioch Station. The vending machines dispense Clipper cards only. There is a one-time $3 acquisition fee for the purchase of new Clipper cards. There is no fee to add value to your Clipper card. Magstripe paper tickets are not sold at the stations. Learn more about Clipper at www.clippercard.com. To get a Clipper discount card and receive the BART 50% discount for youth (age 5 to 18 years) or 62.5% discount for seniors (age 65 and over) you must submit an application. Learn more about how to get Clipper Discounts.
While you cannot purchase magstripe paper tickets at the station, you can use paper tickets purchased elsewhere in the system to enter or exit at Pittsburg Center Station and Antioch Station. You can add fare to a paper ticket you already have at add fare machines located inside the paid area of each station.
How do riders transfer between the trains?
Transfers from a traditional BART train to a BART to Antioch train are quick and easy.
The DMUs run on their own tracks in the median of State Route 4 and connect with the existing BART system at a Transfer Platform just east of the Pittsburg Bay Point Station. At the Transfer Platform, riders simply exit one train and walk across the platform to board the other train. BART passengers trying to reach the Pittsburg Center Station or the Antioch Station remain in the BART train to reach the Transfer Platform. The Transfer Platform is only reachable by train.
What is the wait time at the Transfer Platform when transferring from the Antioch train to a traditional BART train?
Peak Commute Direction
0-2 minutes wait time during the peak commute time and direction on weekdays. Specifically, 4 a.m. - 1 p.m. for trains heading in the commute direction (towards San Francisco) and 1 p.m - 8 p.m. for trains heading in the Antioch direction.
Non-Peak Direction
8 minutes wait for riders heading in the non-peak direction (reverse commute) during the weekday before 8pm.
Nights and Weekends
The schedule calls for a seamless transfer with no wait time when frequency is 20 minutes.
How many parking stalls are there at Pittsburg Center Station and Antioch Station?
Pittsburg Center Station has 240 parking stalls. The parking lot is located on Bliss Ave near Railroad Ave. at the existing Park-n-Ride lot (1/4 mile from the station). This lot is daily fee only and does not have a permit section.
Antioch Station has 1006 parking stalls. There is a permit section at this lot. Solar panels provide shaded parking that covers approximately 370 stalls..
The tremendous success of the new service has meant parking demands in Antioch have exceeded the space available.
We are looking into options to increase capacity, including using nearby lots as park and ride facilities. We are also exploring converting a plot of BART owned land into additional parking spaces. There was no funding in the project to do this originally so funds would need to be identified and board approval would be required.
The new extension has, in turn, eased demand at the Pittsburg/Bay Point and North Concord lots.
Carpooling to Antioch with Scoop is also an option because it guarantees a space before 10 am, allowing users to be flexible with their schedule.
Please note: the parking lots at both the Pittsburg Center and Antioch Stations are for BART riders only. Tri-Delta Transit riders are no longer allowed to park in these lots.
How can I get on the monthly parking permit waitlist for the Antioch Station?
At Antioch there are a total of 225 Permit parking spaces with 155 for monthly permit holders and the remainder for Single Day Reserved, Airport Long Term, and Scoop Permit parkers.
The Antioch Station spaces are designated by signage and yellow lettering on the pavement in front of the spaces indicating that the spaces require a permit purchased in advance to park prior to 10 am each weekday morning. The fee parking spaces are designated by signs but with no ground painting. Please do not park in a permit space prior to 10 am unless you have a monthly reserved, single day reserved, airport long term permit, or Scoop permit.
BART opened the Antioch Station monthly parking permit waitlist in January 2018. Customers can add their name to the wait list through BART's Select a Spot system: https://www.select-a-spot.com/bart/
We started sending monthly parking invitations to waitlist customers on April 30, 2018. Customers that accept will be charged a pro-rated amount for May and the full amount for June at the time of invitation acceptance.
Some helpful points - getting a monthly permit or joining the wait list does not impact your wait list status at other BART parking lots. You cannot transfer a monthly permit from one BART lot to another,
There are no permits for the Pittsburg Center Station. It is daily fee only.
What is the fee to park?
Daily Fee $3 (Antioch and Pittsburg Center Stations)
Monthly Reserved Permit $105 (Antioch Station only)
Single Day Reserved Permit $6 (Antioch Station only)
Airport/Long Term Reserved Permit $7 (Antioch Station only)
Permits and the monthly permit waitlist is available through BART's Select a Spot system: https://www.select-a-spot.com/bart/
New to parking at a BART station? Be sure to check out the rules for parking at BART and the various ways to pay for parking. Some methods require cash only and others require getting a hang tag in advance www.bart.gov/parking
What do the new DMU trains offer?
The new trains are fueled by environmentally friendly renewable diesel, an advanced biofuel produced from bio-based sources such as vegetable oil. They are transporting an estimated 2,400 people in each direction per hour during commute times. The trains boast a variety of amenities including high-back seats, six digital signs (with multiple language support), automated audio announcements, clear station arrival / destination signs, and modern climate control systems. They are also roomy - offering space for wheelchairs and bikes. BART owns 8 DMU train cars. The train size will vary based upon demand with a maximum of 3 cars coupled together.
Vehicle capacity – 104 seats, 96 standees, total 200/car
Rush hour capacity - 2400 persons/hour
Maximum and average speed - max. 75 mph, avg. 60 mph
Avg. travel time from Antioch to Pittsburg Center – 7 minutes
Avg. travel time from Pittsburg Center to Pittsburg/Bay Point – 3 minutes
The $525 million dollar cost of the extension is about half of the $1 billion cost estimated for extending BART's conventional electric-powered line.
How frequent is service?
BART to Antioch service mirrors BART's schedule. Service frequency is every 15 minutes except for nights and weekends which are 20 minutes.
Where are the new stations be located?
BART to Antioch adds 2 new stations: Pittsburg Center Station and Antioch Station.
The Pittsburg Center Station entrance is located on Railroad Ave. above State Route Highway 4.
The Antioch Station entrance is located at 1600 Slatten Ranch Road in Antioch. Take SR4 to Hillcrest Ave. and head north then head east on Slatten Ranch Road.
Check out the walkthrough animation:
Antioch Station Walkthrough Animation
How do the trains operate?
Engineers maintain full operational control over BART to Antioch trains.
As an added safety feature, trains are also equipped with Automatic Train Protection that enforces authorized speed limits along the entire rail alignment and ensures that trains maintain a safe distance from each other.
Maintaining a safe distance between trains is accomplished by reducing the authorized speed of the following train.
If the Engineer exceeds the authorized speed, an alarm is sounded and the Engineer has 2 seconds to reduce the speed of the train or Automatic Train Protection will engage and will safely bring the train to a stop.
How long is the train ride from Antioch Station to the Transfer Platform?
The train ride takes less than 11 minutes.
Avg. travel time from Antioch to Pittsburg Center – 7 minutes
Avg. travel time from Pittsburg Center to Transfer Platform – 3 minutes
How much are the fares?
BART applied its existing distance-based fare structure to calculate fares for the new service. The additional 9.2 miles between Antioch Station to Pittsburg/Bay Point Station increases the Clipper card fare to Embarcadero Station in San Francisco by 80 cents. The fare just from Antioch Station to Pittsburg/Bay Point Station is $2.00. All BART discount programs apply to these fares.
The table below shows 2018 BART to Antioch sample fares using the adult Clipper card; a fare paid for with a paper ticket will be an additional 50 cents.
| | | | |
| --- | --- | --- | --- |
| | Embarcadero | 12th St/Oakland | San Leandro |
| Pittsburg/Bay Point | $6.70 | $4.90 | $5.55 |
| Pittsburg Center | $6.85 | $5.05 | $5.70 |
| Antioch | $7.50 | $5.70 | $6.35 |
Do the solar panels in the parking lot power the station?
The Antioch Station has an on-site solar photovoltaic system sized at about one megawatt that powers the needs of the station during the day with excess energy providing power to BART's other nearby stations. The solar panel canopies also have the added benefit of providing shade over a portion of the parking lot. The solar system is part of BART's sustainability efforts to purchase cost effective renewable energy to reduce BART's carbon footprint.
Do the stations have restrooms?
Antioch Station has public restrooms. Pittsburg Center Station does not.
What is the expected daily ridership?
The initial expected daily ridership is 5,600 trips/2,800 daily trips each way
Daily ridership is expected to exceed 10,100 by 2030.
Do the stations have areas to secure bicycles?
The Antioch Station has BikeLink lockers and bike racks. There are bike racks in the city-owned transit lot adjacent to the Pittsburg Center Station. Bikes are allowed on BART to Antioch trains.
What transit systems connect to the stations?
Tri Delta Bus Service has bus stops in front of the Antioch Station. For more information on bus routes that connect with BART to Antioch, please visit Tri Delta website. http://trideltatransit.com/
The City of Pittsburg has constructed a multimodal transportation facility just North of the station. For more information, please visit City of Pittsburg's website: http://www.ci.pittsburg.ca.us/index.aspx?page=915
How was the project paid for?
The total cost of the project was $525 million. Funding came from the following sources:
$140,600,000 - Contra Costa's 2004 transportation sales tax Measure J.
$111,500,000 - AB 1171 Bay Area bridge toll funds
$96,000,000 - Regional Measure 2
$63,800,000 - Regional Measure 1
$51,000,000 - Proposition 1B
$35,000,000 - East Contra Costa Regional Fee and Finance Authority (ECCRFFA)
$5,250,000 - State Traffic Congestion Relief Program (TCRP)
$5,200,000 - BART
$4,800,000 - City of Pittsburg
$11,691,000 - Other
Who should I contact with other BART to Antioch questions?
Please see "Contact the Project" for any other additional questions relating to the eBART extension project.