In keeping with the Federal Transit Administration (FTA) guidelines to incorporate art into mass transit projects, BART has commissioned artwork from professional artists for the new Warm Springs / South Fremont Station and for the concrete seating areas at the existing Fremont Station. The goals of the BART Warm Springs Extension (WSX) Art Program are to provide a unique identity for the new station and to attract riders by creating more vibrant and welcoming stations.
Warm Springs / South Fremont Station - "Sky Cycles" by Artist Catherine Widgery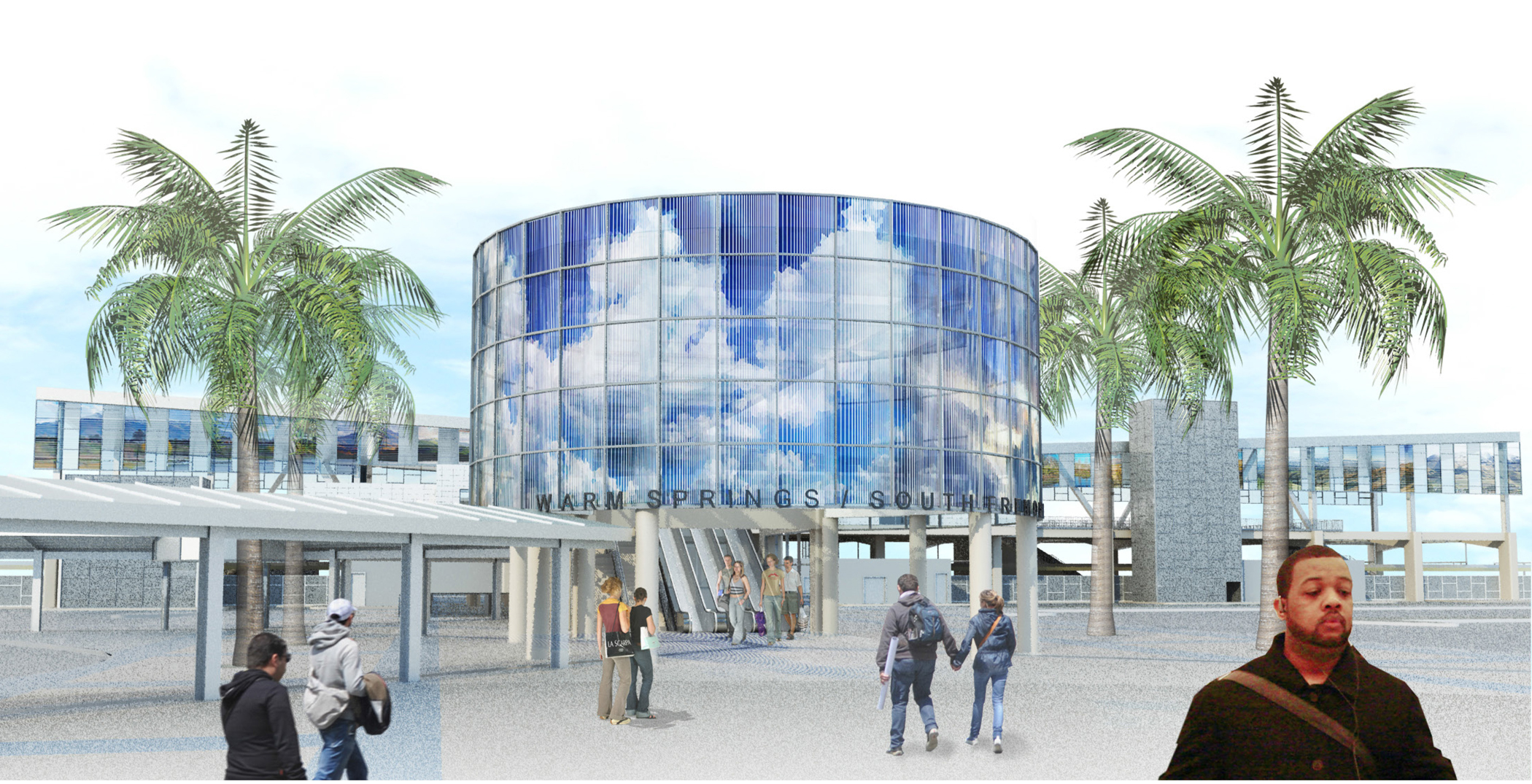 Catherine Widgery's "Sky Cycles" weaves images from differing times of day, times of year, and points of view into large expanses of art glass. The artist's goal is to create artwork that is never the same from any place or time of day. Patrons will find different details and combinations of colors and light each time they visit the station. Fremont's lakes, hills and city skyline serve as the inspiration for the abstract images on the station curtain walls and rotunda. Learn more about artist Catherine Widgery.
Fremont Station - "Tile Benches" by Joe Kievitt
Two arrays of benches near the west entrance of the Fremont Station have undergone decorative treatment as part of the WSX Art Program. The Fremont Station bench artwork consists of glass tile mosaics installed on the walls, columns, and roof undersides of the seating area. The artist's goal is to create a positive first image of the station and to provide a cheerful welcome to the City of Fremont. The bench array artwork was dedicated on July 23, 2014. Learn more about artist Joe Kievitt.
For more information about the WSX Art Program please call the Project Information Line at (510) 476-3900 or email bartwarmspringsextension@bart.gov.