BART Warm Springs Extension to Host Tile Bench Art Dedication at Fremont Station July 23, 2014
Join us on Wednesday, July 23, 2014 for the dedication of the Tile Bench Art at 11 a.m. at the Fremont Station. The ceremony will be held on the west side of the station, near the clock tower.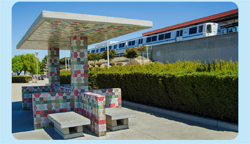 What: Dedication of Tile Bench Art and Plaque
Where: Fremont Station, West Side Near Clock Tower
When: 11 a.m. July 23, 2014
RSVP by July 21, 2014 to bartwarmspringsexension@bart.gov.
---
BART Warm Springs Extension Ground Breaking: The Way to San Jose
On Wednesday, September 30, 2009, over 200 people gathered in Fremont Central Park to celebrate the formal ground breaking for the BART Warm Springs Extension Fremont Central Park Subway Construction. "We have found the way to San Jose," remarked Scott Haggerty, Chair, Metropolitan Transportation Commission and Supervisor District One, Alameda County Board of Supervisors.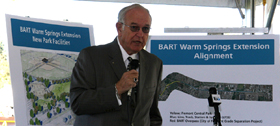 BART Board of Directors President Tom Blalock
The ground breaking ceremony, complete with music provided by the California School for the Blind Jazz Ensemble, included remarks from representatives of organizations from both Alameda and Santa Clara Counties. "This is not just a Fremont project, but a project for the entire region," commented BART Board of Directors President Thomas Blalock. Other agencies represented included the City of Fremont, the California Senate, the California Transportation Commission, the Silicon Valley Leadership Group, the Alameda County Congestion Management Agency, the Alameda County Transportation Improvement Authority, the City of Union City, Caltrans, Santa Clara Valley Transportation Authority, and the Metropolitan Transportation Commission.
Lauded as the gateway to Santa Clara County, the $140 million Subway Contract will construct a mile-long subway for BART tracks from just north of Stevenson Boulevard, under Fremont Central Park, Lake Elizabeth and the Union Pacific rail road tracks to just south east of the park. The contract will also build a new dog park, basketball complex, and parking lot to replace facilities that will been removed next year to make way for construction of the subway. The project will also construct embankment between Walnut Avenue and Stevenson Boulevard for future trackway that will connect the Warm Springs Extension to the Fremont Station.
The subway construction is expected to conclude in 2013. Work on the Design-Build Line, Track, Station and Systems (LTSS) contract is targeted to begin in the fall of 2011, with revenue service to Warm Springs anticipated late 2015.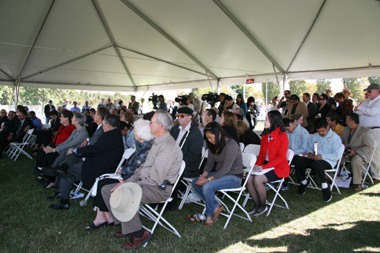 Over 200 people gathered to witness
the WSX ground breaking ceremony.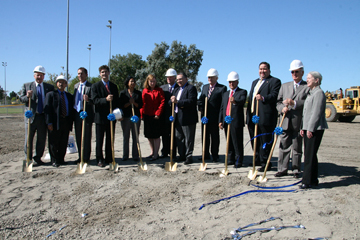 Elected officials from Alameda and Santa Clara counties
break ground on WSX.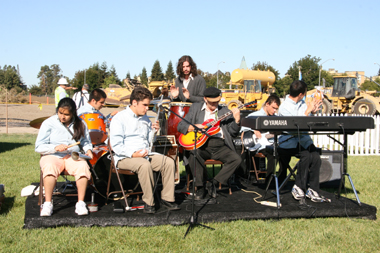 California School for the Blind Jazz Ensemble
---
News Archive
Warm Springs Extension Project Mitigation - Sabercat Creek Riparian Restoration Project Phase II Public Meeting - December 2013
VTA Spearheads Multi-Agency Public Meeting In Fremont - May 2013
Warm Springs Extension Art Program - January 2012
Title VI Equity Analysis for the BART Warm Springs Extension Project Available - June 2011
Get the Equity Analysis
WSX Line, Track, Station and Systems Contract Authorized for Award - June 2011
Warm Springs Extension Community Meetings Scheduled - April 2011
Get the meeting notice
BART Issues Request for Proposals for WSX LTSS Contract - September 2010
BART Receives Responses to Request for Qualifications - May 2010
Riparian Habitat Restoration Project Plants Trees and Builds Community - February 2010