Contractor success story: Maurice Brewster, Mosaic Global Transportation
Here's the first in our Contractor Success Story series – an interview with Maurice Brewster, the CEO and President of Mosaic Global Transportation. Later, read more about how BART's Office of Civil Rights works to help small and disadvantaged businesses share in the success of BART projects. But first, let's meet Mr. Brewster, whose company is working on BART's Warm Springs Extension, part of the BART to Silicon Valley project.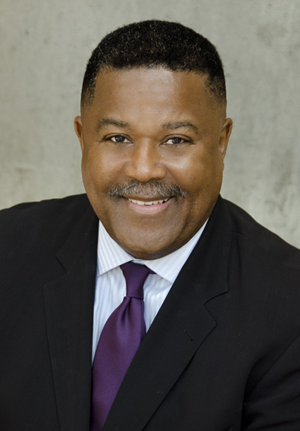 1. How did you hear about the BART program?

"We were contacted by the Warm Springs Project and they came to us and asked us if we had the capabilities to provide ground transportation services from mini coaches to motor coaches. We replied, yes, and they did some additional vetting of us. They asked about our certification and at that time we were minority certified and then we obtained through Sam Trans our DBE certification, which allowed us to be considered for the contract and subsequently, here we are."

2. When did you get involved with the Warm Springs Extension project? When did you start your work?
"We started delivering services the first week in January 2014. The contract was actually back in 2013."

3. What services are you providing to the Warm Springs Extension?

"We provide shuttle bus services, 13 hours a day, Monday through Friday extending from Fremont over to San Jose. We started with 25 passenger mini-coach and then when the project grew, they needed a larger vehicle. Based on BART's request we increased to a 32- passenger vehicle."

4. When did you know you wanted to be in the transportation business?
"I always knew that I wanted to be an entrepreneur, I just didn't know exactly what I wanted to do until the dot-com explosion. After working for several start-ups, I made the decision to start my own limousine business. When the dot-com explosion imploded, I was left to go find a job or do something else. It just so happened that I loved cars and decided to go into ground transportation services. Today, we are celebrating our twelfth year in business, with our anniversary in January. We started in our business in January of 2002."

5. What training did you need?
"The biggest training need I had was the overall industry and to determine which aspect of ground transportation I wanted to delve into. We were focused on vintage vehicles that we used for weddings and special events. We realized after two years that we could not scale the business fast enough. We shifted our model to corporate ground transportation services. Since 2004, our business has gone from zero cars and zero revenue to last year when we did just under five million dollars' worth of business."

6. How many people does your business currently employee?
"I have Forty-four full time employees."

7. What do you like best about being to work in the community where your family and neighbors are nearby?

"It allows me to give back to my community and to places that I have served and places I go to church and my kids go to school. There is a big fulfillment there. With us being in the community, it provides jobs for forty-four (44) people. They are relying on Mosaic Global Transportation to raise their families, to buy cars and add to the economic development of our country; they depend on the direction and the success of our company. I take that responsibility very seriously."

8. Tell us about some of the obstacles that small businesses face in winning contracts with large organizations.

"The biggest obstacle that I face is the inability to obtain loans for working capital that I need to grow the business and to sustain the business. As more and more contracts are won that require me to provide terms, it requires more and more cash flow. Cash flow is the life line of any business. This is the case especially with small minority owned businesses. So I have to find creative ways to finance my growth. There's still a lot of work to be done in that area.

9. How did the BART program help you?

"They have been a huge help in guiding me and directing me. Not only have they helped me with getting my DBE certification, which I did not have initially when launching the BART project, but they also provided seminars to help me grow as an entrepreneur, minority and small business. A perfect example of that, unbeknownst to me, we got invited to a RFP (request for proposals) for Palo Alto's downtown shuttle project. Although we have not started filling out the bid sheet, and of course we had not won anything, but if I did not have my DBE certification I would not have had access to that opportunity. If it was not for SBSS and Warm Springs project work, we would not have a $600K plus BART contract. SBSS was very instrumental in helping me obtain my DBE certification which has translated into more stability for our company. I have to give credit where it is due."

10. What advice would you have for contractors trying to get in the door for business at BART?

"I would suggest that if you fall in the categories of a minority business that you invest the time to obtain your Minority Certification and get your DBE certification. It is the gateway to opportunities with BART and State of California agencies. Certification will become one of your best friends in business. You have got to go out and pursue those opportunities. Also, sometimes putting on that sales hat can mean the difference in getting a contract with an agency like BART or not. Lastly, I say a prayer every day. I know for me, Maurice Brewster, the source of my success comes from my Heavenly Father and no one else."
Now, here's an overview of the ways in which BART's Office of Civil Rights work to promote small businesses, minority- and women-owned businesses and disadvantaged businesses through various programs.
BART'S OCR BUSINESS PROGRAMS
BART's Office of Civil Rights (OCR) administers the District's Disadvantaged Business Enterprise, Non-Discrimination and Small Business Programs. Here is a brief description of each Program:
Disadvantaged Business Enterprise (DBE) Program: BART's DBE program provides a vehicle for increasing the participation by DBEs on District procurements. Department of Transportation (DOT) DBE regulations require BART, since we receive DOT financial assistance, to establish goals for the participation of DBEs. As such, BART establishes annual DBE goals, and reviews the scopes of anticipated large prime contracts throughout the year and establishes contract-specific DBE subcontracting goals. BART OCR is responsible for the District's DBE program.
In addition to establishing goals, BART OCR also certifies the eligibility of DBE firms to participate on District projects. The main objectives of the DBE Program are:
To ensure that small disadvantaged business enterprises (DBE) can compete fairly for federally funded District projects.

To ensure that only eligible firms participate as DBEs.

To assist DBE firms in competing outside the DBE Program.
Non-Discrimination (ND) Program: The purpose of the Non-Discrimination program is to ensure that contractors who contract with BART do not discriminate or give a preference in the award of subcontracts on the basis of race, national origin, color, ethnicity, or gender. This program applies only to BART's non-federally funded contracts.
For each BART contract in an amount of $50,000 or more, which is funded solely by non-federal funds, the BART Office of Civil Rights (OCR) determines the availability of Minority Business Enterprises (MBE) subcontractors and the availability of Women Business Enterprise (WBE) subcontractors to perform the work likely to be subcontracted under the contract.
Small Business (SB) Program: The main objective of this program is to encourage and facilitate full and equitable participation by Small Businesses on BART construction, procurement, and service contracts and agreements that are awarded through competitive process. This program also applies only to BART's non-federally funded contracts and can run in conjunction with the District's ND Program. As appropriate, the SB Program seeks to achieve these objectives on four levels:
BART's award of Contracts and Agreements to SBs

The award of First Tier Subcontracts to SBs by Prime Contractors, Suppliers, and Consultants

The award to Second Tier Subcontractors by First Tier Subcontractors

SB prime contractors for designated contracts under $10M and prime contractors who meet the small business subcontracting participation goals on designated contracts over $10M will be eligible to receive a preference of up to 5% of the lowest responsible bid.



For more information, visit http://www.bart.gov/OCR