How BART Works: A night with Train Control Electronic Techs, our neurosurgeons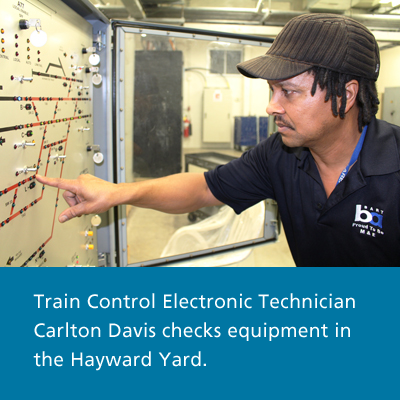 Carlton Davis is an outgoing, talkative guy – traits which belie the fact that his job is largely invisible to riders – unless something goes wrong.
"My job is to make trains move. That's what keeps us in business and that's what keeps people happy," Carlton says.
Carlton is a Train Control Electronic Technician. If BART's train control network is its nervous system, he and his coworkers are the neurosurgeons of BART.
TROUBLESHOOTING, TESTING AND MORE
They maintain, troubleshoot and fix the equipment that provides trains with the information they need to operate automatically: orders for how fast to travel, when and where to stop, even how long to keep the doors open at a station (although Train Operators can manually override the door controls if necessary).
For example, at about 2:45 pm on November 3rd a piece of equipment that sends routing information to trains just north of Fremont was on the fritz – it was not sending signals and it had the potential to make the afternoon commute a mess in southern Alameda County. Train control techs scrambled to the scene. They quickly located a bad fuse, replaced it and less than a half hour later, the equipment was working again. Crisis averted; passengers didn't even notice.
Train control techs also work on the electro-mechanical switches which allow trains to be guided from one track to another in addition to repairing and replacing a wide array of power supplies, electrical components and motors. While they are tasked with fixing a dizzying array of equipment, it all directly affects passenger safety.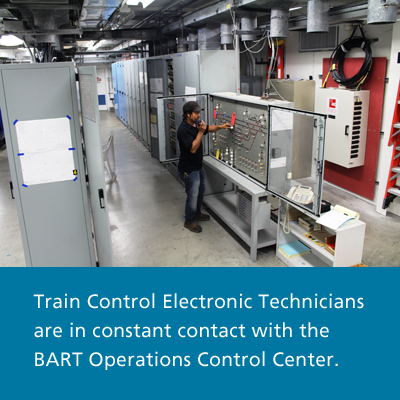 It's an important responsibility but one for which Carlton is well prepared. He says the U.S. Air Force instilled in him an unyielding attention to detail. Carlton spent a couple of tours working on radar equipment on fighter jets, then took his skills to the commercial airline industry. He then spent time working on train control equipment for freight rail companies and for MARTA, Atlanta's public transportation system.
A California native, Carlton jumped at the chance to become a BART train control tech. "If you smile when you talk about your job, then you've got the right job," Carlton says with – you guessed it – a big smile.
BART has 88 train control techs working at locations throughout the 45 station BART system at all hours of the day but it needs more. We're looking to hire 24 more.
HELP WANTED: ALGEBRA GEEKS
It's not for everybody. Qualifications include "a knowledge of basic operating principles of analog and digital electronics, electrical and electronic circuitry and mechanical mechanisms" as well as "mathematics used in train control maintenance including Boolean algebra."
Carlton is clearly comfortable with his skills. In a cavernous warehouse in Hayward, he's surveying one of several dozen matte black contraptions about five feet long that look to weigh a couple hundred pounds. "These are switch machines. BART's in the process of replacing all of the switches throughout the system. We just finished number 300 last week."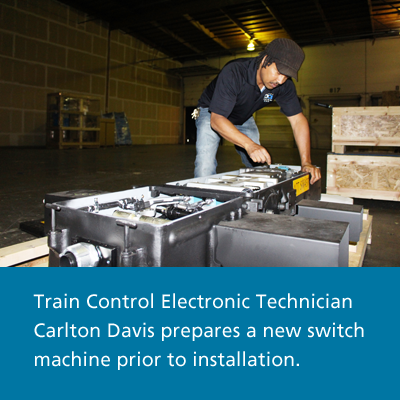 It's just about midnight as Carlton thumbs through the four-page checklist that train control techs must complete for each switch before it's approved for installation. "This list covers everything. We make sure each switch is safe and working properly before it goes anywhere."
He's particularly proud of his switch crew's efficiency. They recently tested and installed four switches in a single shift – a pace that impressed not only the supervisors but the switch manufacturer. He's not deterred by the suggestion that most BART riders would simply shrug their shoulders at this achievement.
"I'd like members of the public to know that what we care about most is their safety. We take a lot of pride in what we do and we're here to work for the riders."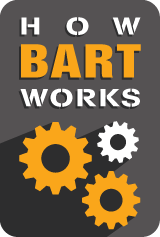 This is the latest article in the How BART Works series, looking at different aspects of our transit system and the people who make it work. A previous story looked at a day in BART's Richmond Train Maintenance shop. If you're interested in a career at BART, visit www.bart.gov/jobs.