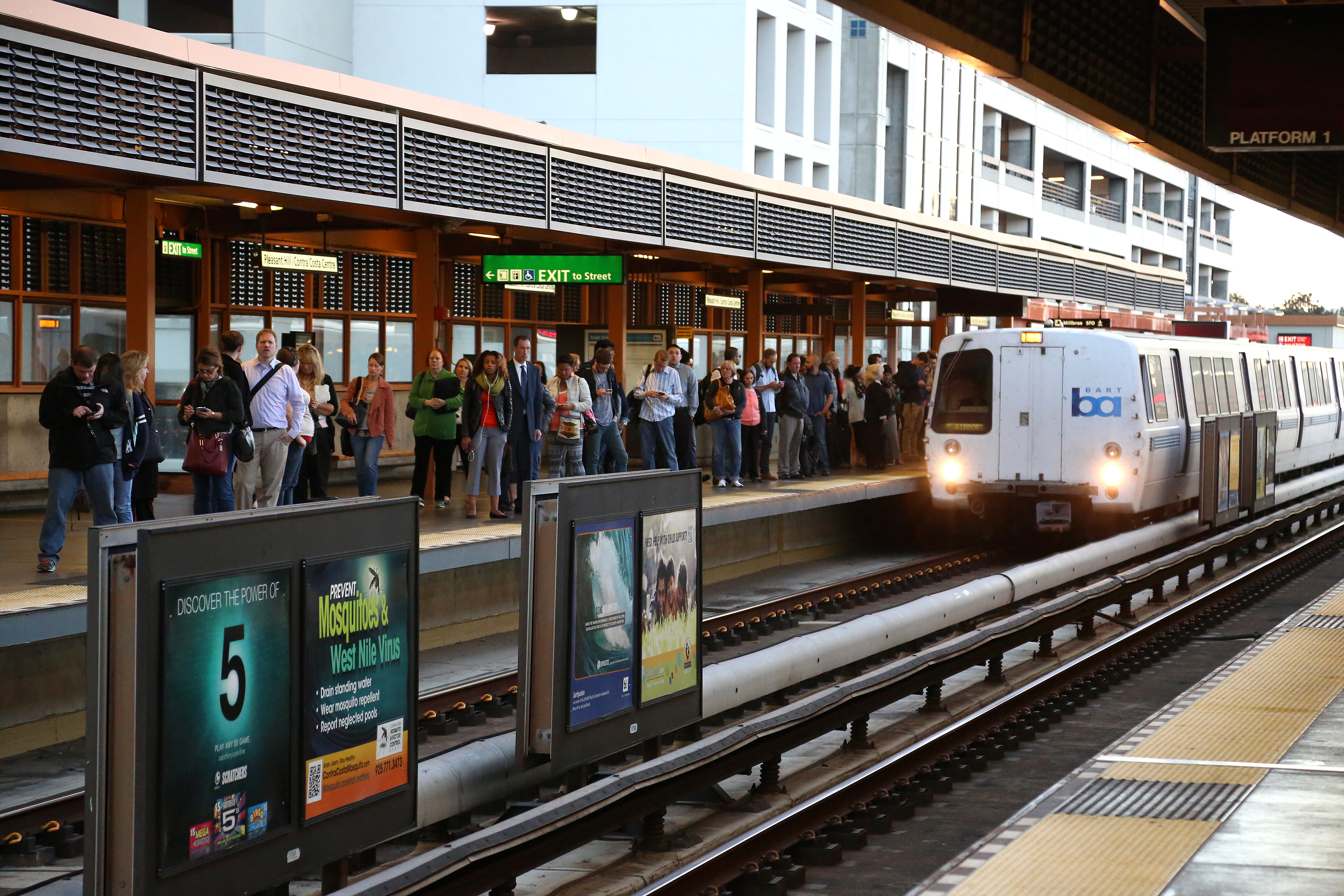 Modernizing BART's 40+ year old train control is an important component in addressing critical capacity, reliability and safety needs as we make way for the Fleet of the Future.
A modern, improved train control system will allow BART to safely operate more frequent service. A train control system consists of both hardware and soft­ware that are used to ensure safe operation of the system. It monitors train location, ensures sufficient distance between trains, manages train movements, and helps staff to analyze and report on any issues. The Train Control Modernization Project (TCMP) entails removing aging train control equipment from the BART system and upgrading to a new system. BART staff is recommending a Communication-Based Train Control (CBTC) system that will improve the reliability of the system, decrease the runtime of trains between stations, and allow trains to run closer together.
Why Invest in Train Control Modernization?
Modernizing BART's train control system will allow trains to operate at more closely spaced intervals and at faster speeds, thereby increasing the BART system's capacity to carry passengers. A modernized train control system will enable BART to meet projected transbay demand of over 30,000 passengers per hour in the peak, compared to today's approximately 21,000 riders.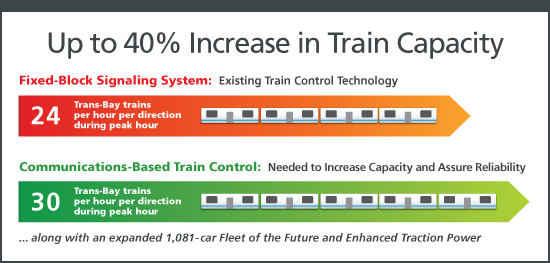 Funding and Phasing
The project to replace the system is estimated to cost $915 million.
A multifaceted funding plan is needed to pay for the project. The Metropolitan Transportation Commission approved a funding plan in 2013, which includes funding from federal, state, and regional governments. District voters in November 2016 approved Measure RR, which will help fund replacement of the old system. Measure RR will provide $400 million towards the modernization our train control infrastructure. BART riders are also paying towards a new train control system with their fare dollars. The biannual inflation-based fare increase program dedicates fare increases to BART's top three capital projects: a new fleet of train cars, a new maintenance facility, and the new train control system.
BART is currently in the process of selecting a train control system provider and is targeting mid to late 2019 to award the contract and then it will take about eight years to fully design and install the system. The project will start on a test track to prove the new technology and then be phased into BART service with the ability to start running more frequent train service through the Transbay Tube in late 2025/2026.
Part of the "Big 3"
BART has prioritized three interrelated capital investment initiatives to ensure the system can safely, efficiently, and comfortably serve current and new riders. They are known as the "Big 3" and include the Fleet of the Future, an improved train control system to enable trains to operate more frequently and a new maintenance facility to maintain and store the expanded fleet.
The "Big 3" together can address some key current bottlenecks that hinder BART's ability to meet current and future ridership growth.