Meet the Fleet: All about the seats, a firsthand report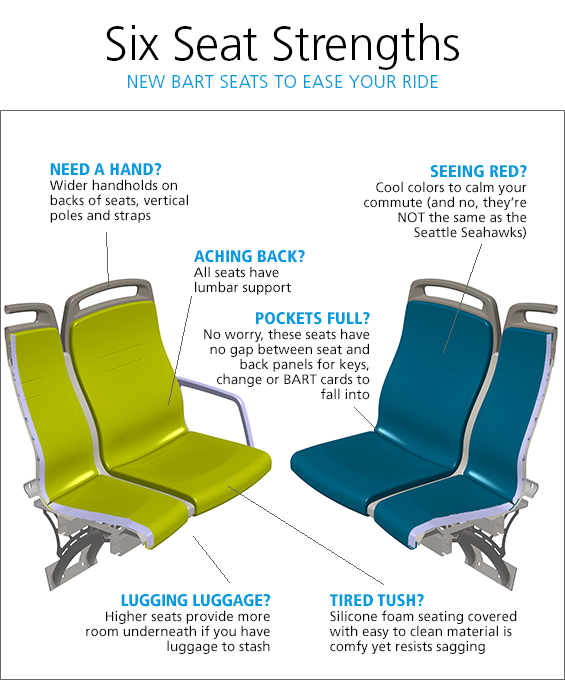 A firsthand report after sitting on a real seat in a new BART train car
By MELISSA JORDAN
BART Senior Web Producer
I was on a mission. Sit in the seats of the first new train car in the Fleet of the Future, and report back to a waiting public.
Granted, Car #3001, now being put through its paces on a test track in Hayward, is just the first of hundreds of new cars to come.
But the car, and more specifically its seating, is of immense interest to BART riders, who helped shape its passenger-facing elements through extensive outreach and input from tens of thousands of people.
And I am pleased to tell you: The seats feel great.
"They're very nice seats," said Bob McKenney, BART's senior tester at Hayward, who has driven BART trains for more than three decades. He is most focused on things like acceleration and braking, making sure the train operates safely and reliably. Still, he knows seats are of high interest to many riders.
It was lunch break from testing one day recently and McKenney eased into the window side of a two-seat set-up to pose for a snapshot. He pointed out the wider handholds on top of each seat (more spots to grab hold of), the smooth new seat coverings (easier to keep clean) and the firm but cushioned feel (decided upon after extensive seat lab testing).
GOLDILOCKS SWEET SPOT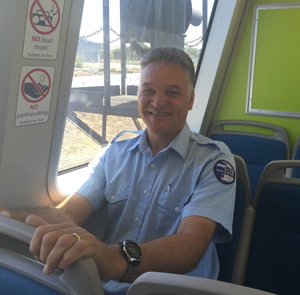 It's a Goldilocks-like sweet spot that varies by personal preference, but the best way I could describe it to you is: Not hard plastic like a Muni seat. Not spongy like the old fabric BART seats. Somewhere in between, that felt for this rider, just right. (Have you ever shopped for a new mattress with your bedmate? Then you know how tough and subjective it is when deciding on where you'll lay your head for the next decade. Or, in this case, where people will rest their bottoms for the next maybe half-century).
Configuration and number of seats is a whole other part of the equation. Long story short: When all the new train cars arrive there will be more seats overall in the BART system. There are a few less per car than now due to increased safety standards and more standee room to serve a growing ridership, but BART has a plan to increase the fleet size from 669 currently to 1,081 and modernize the train control system to run trains more frequently. The net effect will be 49% more seats in the BART system.
MORE SEATS FOR SENIORS AND PEOPLE WITH DISABILITIES
In addition, there will be 50% more seats per car designated for seniors and people with disabilities. And there will be more prominent signs to point out the federal law that requires these seats to be made available. Please everybody be polite and do the right thing. If you want schematics and exact seat numbers, you can find them in the project's website.
Now back to the mission.

McKenney and Hubert LaViolette, a 22-year-veteran train operator, signed up to be the first two train-operator testers of the new cars.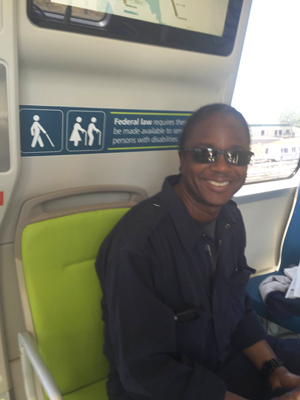 During this quick lunch break, LaViolette sat in one of the central-facing priority seating areas. "I think the customers will like them," he said. McKenney and LaViolette seemed like protective parents, though. This train was their baby. How about a wider audience for these actual, non-laboratory, real-life seats?
Just then -- what a stroke of luck! -- a class of train operators undergoing recertification training fanned out throughout the car. Like the general public, they were all heights, shapes and sizes, and they were a tough, but ultimately admiring, crowd. Recertification happens every two years and now, part of the training includes visiting the test track to tour the new cars.
I chatted a while and observed as they walked up and down the aisles. Most had never seen the new train in person -- even at one of the lab demonstrations -- and had only seen renderings or images before that day.
TRAIN OPERATORS GET A FIRST LOOK
"Not bad, not bad," one man said, taking a seat and giving a little bounce.

"The colors are more bright and modern," a woman said. "I like it."
"It's different," said another TO. "In a good way."
Seats are, certainly, not the most important element of the new trains, which have literally reams of specifications for each component, and which must go through multiple rounds of extremely rigorous testing to ensure their safety and reliability.
Seats are, nonetheless, an inarguably critical feature for many customers, particularly those with longer commutes. And the degree to which the seats have been shown off, surveyed, focus-grouped, publicized, summarized and handled with care, shows that BART knows how large they loom in the public imagination.
WHY WE CARE SO MUCH ABOUT SEATS
Martin S. Linder, a professor in the School of Design and Industry at San Francisco State University and an internationally recognized expert in industrial design, said it's not surprising that seating design is a top concern of riders.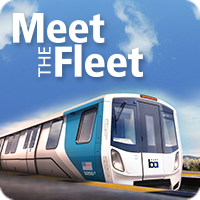 "This is the kind of stuff the public interfaces with," said Linder, who has no connection with BART. "Seating is personal."
Linder, also founder and CEO of MSL Design, consults for the Herman Miller furniture company on the design of seating in hospitals -- another setting where seating is important.
He said in both health care and public transit settings, there are practical concerns such as having easy-to-clean surfaces for sanitation, but that comfort has a non-trival role to play, also.
"The materials that you choose matter," he said. "They have to be easily cleaned, with density and rigidity to sustain a lot of use but to provide empathy to the body. We are not computers. We are made of tissue and bones."

A more comfortable and less stressful experience can affect our lives in real and meaningful ways, he said, noting health industry research that shows patient seating settings can even affect health outcomes.
THE PHYSICAL AND THE PSYCHOLOGICAL
"There are physical and psychological factors to seating," he said. "In a public transportation context you are trying to accommodate a wide range of body types so people can be as safe as well as comfortable as possible. You want people to have a great experience and if the seating resonates quality, and that BART cares about its customers, people are going to have a better opinion of BART."

BART Chief Marketing Officer Aaron Weinstein said: "We were fortunate to have over 35,000 customers give us feedback during the design phase. That really helped us refine the seat details and make the new seats comfortable and easier to keep clean."
The next new cars are expected to arrive at the test track by midsummer, with the first cars to complete testing expected to go into passenger service by the end of 2016. For the complete schedule and more information, visit www.bart.gov/cars.
Meet the Fleet is an occasional series looking at different features of BART's new train cars. If you want to get all the news about the new cars, go to www.bart.gov/alerts, click on "Sign up Now," choose "Projects," then "New Train Car Project"