El Cerrito del Norte Station
6400 Cutting Blvd.
/
El Cerrito
,
CA
94530
---
Service Advisories
Service Advisories
/
/
Get RSS feed
Sign up for email alerts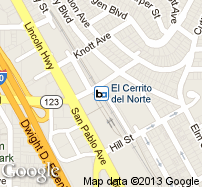 Welcome to El Cerrito del Norte
Sometimes called simply "del Norte," as the name suggests this station serves the northern part of the City of El Cerrito.
Latest News
Get RSS feed
Filing period opens for BART Board of Directors
A wish comes true: Boy rides BART for Make-A-Wish experience
Lines Serving this Station
Richmond Fremont
Richmond Daly City/Millbrae
Real Time Departures
Next trains departing from El Cerrito del Norte Station
Parking
El Cerrito del Norte Station has Monthly Reserved, Single Day Reserved, Daily $2.00 Fee Parking, Extended Weekend, Carpool and Airport/Long Term parking. Check out the parking section for details about each program.
Estimated Parking Fill Time: 7:30 AM
Bikes
Bike Racks: Yes
Bike racks are available at most BART stations. Please review the BART Bike Rules.
Bike Station: None


FREE secure bike parking is available at several BART stations. Visit the Bike Section for more Bike Station information.
Bike Lockers: 24 shared use electronic lockers are located at this station. Read more about electronic lockers.
Connecting Transit Routes
Connecting Transit Trip Planner
Elevator Locations / Accessible Path