Pleasant Hill / Contra Costa Centre Station
1365 Treat Blvd.
/
Walnut Creek
,
CA
94597
---
Service Advisories
Service Advisories
/
/
Get RSS feed
Sign up for email alerts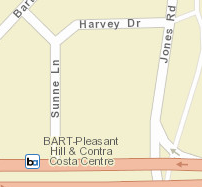 Welcome to Pleasant Hill / Contra Costa Centre
BART, buses, Highway 680 and the Iron Horse pedestrian and bicycle trail all converge to make this one of BART's most easily accessed stations.
BART and the Metropolitan Transportation Commission have developed a new carpool program at this station. To learn more about the Scoop to BART program that gives matched participants a guaranteed parking spot, please click here.
Latest News
Get RSS feed
Robberies and violent crime down on BART amid increase in felony arrests
North Concord Station gets guaranteed parking with the Scoop to BART carpool program
Lines Serving this Station
Pittsburg/Bay Point SFIA/Millbrae
Real Time Departures
Next trains departing from Pleasant Hill / Contra Costa Centre Station:
Parking
Parking at Pleasant Hill/Contra Costa Centre Station includes:
Daily fee ($3 per day)
Single Day Reserved Permit
Monthly Reserved Permit
Airport Long Term Permit
Extended Weekend
See the parking section for details about each program.
The Pleasant Hill/Contra Costa Centre Station garage was built with Federal Highway funds as a rideshare facility. Accordingly, drivers who carpool or use other public transit may park in the garage as long as they pay the parking fee at the parking payment/validation machine located in the non-paid area outside the station fare gates.
Estimated Parking Fill Time: 7:45 AM
Bikes
Bike Racks: Yes
Bike racks are available at most BART stations. Please review the BART Bike Rules.
Bike Station: None


FREE secure bike parking is available at several BART stations. Visit the Bike Section for more Bike Station information.
Bike Lockers: 104 shared use electronic lockers are located at this station. Read more about electronic lockers. 90 keyed lockers are located at this station. Call Customer Services at 510-464-7133 to ask about availability of keyed bicycle lockers. Many stations have a wait list. Download an application form for keyed bicycle lockers.
Connecting Transit Routes
Connecting Transit Trip Planner
Elevator Locations / Accessible Path
Other Transportation
Car share services are available at Pleasant Hill / Contra Costa Centre Station. More information is available at Zipcar.