South San Francisco Station
1333 Mission Road
/
South San Francisco
,
CA
94080
---
Service Advisories
Service Advisories
/
/
Get RSS feed
Sign up for email alerts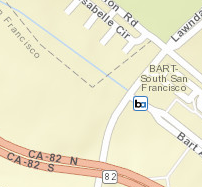 Welcome to South San Francisco
Emerging from a portion of old Rancho Buri Buri, South San Francisco occupies the basin and portions of the sides of a broad valley formed by the San Bruno Mountains on the north and the Coast Range on the west.
Latest News
Get RSS feed
You're invited to meeting on upcoming construction opportunities for small businesses
Construction on new canopy at Powell St. Station entrance starts 10/2 (New Date)
Lines Serving this Station
Pittsburg/Bay Point SFIA/Millbrae
Richmond Daly City/Millbrae
Real Time Departures
Next trains departing from South San Francisco Station:
Parking
This station has Monthly Reserved, Single Day Reserved, Daily ($3 per day) and Carpool parking. See the parking section for details about each program.
Estimated Parking Fill Time: 7:30 AM
Bikes
Bike Racks: Yes
Bike racks are available at most BART stations. Please review the BART Bike Rules.
Bike Station: None


FREE secure bike parking is available at several BART stations. Visit the Bike Section for more Bike Station information.
Bike Lockers: 30 keyed lockers are located at this station. Call Customer Services at 510-464-7133 to ask about availability of keyed bicycle lockers. Many stations have a wait list. Download an application form for keyed bicycle lockers.
Connecting Transit Routes
This station is served by Samtrans.
Learn about the City of South San Francisco's free South City Shuttle, connecting BART to points of interest around South San Francisco: http://samtrans.com/scs
Try BART's free trip planning service!
For a personalized trip plan with BART and connecting transit, call the BART Transit Information Center. It's fast, it's easy, and it's tailored just for you!
Connecting Transit Trip Planner
Elevator Locations / Accessible Path