ANNOUNCEMENTS!
NEW CANOPY TO BE BUILT AT
POWELL ST STATION
ELLIS & MARKET ST ENTRANCE
STARTED 11/6/2017
On November 6, 2017, our contractor built a barricade around the entrance to Powell Street Station located at Ellis & Market streets on the north side. The entrance is now closed while a new protective canopy is built. The canopy will include a digital display to show train arrival times, new security grille, new LED lighting, security cameras, and other improvements. The canopy will mean that our escalator at this entrance will be protected from the elements to help limit breakdowns.
While this entrance is closed, you will need to use one of the other existing entrances to the station. We expect the project to take approximately 5 months to complete.
In November 2017, construction is scheduled to begin on the first canopy at Civic Center/UN Plaza Station. That work will take place at the 7th and Market Streets entrance on the south side. You can read more about the canopy plan here.
---
We apologize for this inconvenience and appreciate your patience.
You can get automated BART Service Advisories (BSA) on your phone. BART offers both email and text options. To sign up for BSAs, please visit us at www.bart.gov/alerts.
Follow us on Twitter @sfbart for news or @sfbartalert for automated service advisories.
If you need language assistance services, please call BART's Transit Information Center at (510)465-2278.
如需語言援助服務,請致電 BART 公共交通資訊中心,電話號碼為 (510)465-2278.
통역이 필요하시면, BART 수송 정보 센터 (510) 465-2278로 전화해 주십시오.
Si necesita servicios de asistencia de idioma, llame al centro de información de tránsito del BART al (510)465-2278.
Nếu quý vị cần các dịch vụ trợ giúp ngôn ngữ, xin gọi cho Trung Tâm Thông Tin Chuyên Chở Công Cộng của BART tại số (510)465-2278.
Kung kailangan mo ang tulong ng mga serbisyo ng wika, paki tawagan ang BART Transit Information Center na (510)465-2278.
---
SF BART and Muni Escalator/Entrance Project
BART and the City of San Francisco are working to protect the transit stations from weather, and improve both security and escalator durability. Market Street will eventually have new protective canopies for the BART/MUNI entrances at all of the Downtown San Francisco stations. These canopies are a state code requirement to protect new escalator investments. This project is being coordinated closely with BART's Market Street Escalator Program and SF Better Market Street.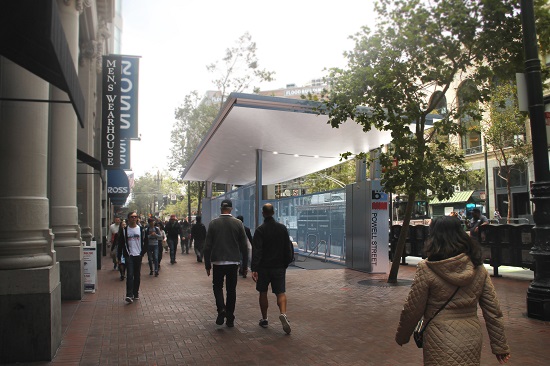 We have learned from the 19th St. Station Pilot in Oakland that the canopy has reduced escalator down time by 1/3, so we anticipate significant improvement to escalator performance in downtown SF when Pilot and Phase 1 are completed.
Pilot includes:
Up to 3 entrances (2 base - 1 at Powell St. Station by Diesel Store and 1 at Civic Center Station by CVS Pharmacy. 1 Option at Powell St. Station by Men's Wearhouse)

New canopies (which locks at street level when the stations are closed), escalator replacement, lighting, real time transit information and maps

Pilot is fully funded.
With the Passage of Measure RR, Phase 1 includes:
Remaining entrances at Powell and Civic Center stations

All of Embarcadero and Montgomery stations

This project will be coordinated with BART's Market Street Escalator Renovation Project

Environmental clearance and design underway

Final Design, Advertising and Award in 2018

Construction starts in 2019
---
Project Contact
Please Contact Tim Chan (tchan1@bart.gov) with any questions or comments.
If you need language assistance services, please call 510-464-6752.
若您需要语言帮助服务,请拨电: 510-464-6752
Si usted necesita algún servicio de asistencia de lenguaje, por favor llame al 510-464-6752.