ANNOUNCEMENTS!
The canopy contract is currently being advertised. We will continue to update all interested parties so please check back regularly. Thanks!
SF BART and Muni Escalator/Entrance Project
BART and the City of San Francisco are working to protect the transit stations from weather, and improve both security and escalator durability. Market Street will eventually have new protective canopies for the BART/MUNI entrances at all of the Downtown San Francisco stations. This project is being coordinated with the Market Street Escalator Project.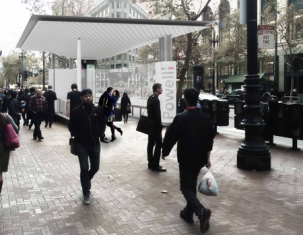 Phase 1 includes:
3 entrances (2 at Powell St Station by Men's Wearhouse and Diesel Stores and 1 at Civic Center Station by CVS Pharmacy)
New canopies (which locks at street level when the stations are closed), escalator replacement, lighting, real time transit information and maps
Phase 1 is funded
Phase 1 Schedule
Complete Design in Winter 2015
Advertise in Late Summer 2016
Construction to begin in Winter 2016
Complete Phase 1 in Spring 2018
With the Passage of Measure RR, Phase 2 includes:
Remaining entrances at Powell and Civic Center stations
All of Embarcadero and Montgomery stations
This project will be coordinated with the Market Street Escalator Project
Environmental clearance will start in 2017, followed by design/engineering
---
Project Contact
Please Contact Tim Chan (tchan1@bart.gov) with any questions or comments.
If you need language assistance services, please call 510-464-6752.
若您需要语言帮助服务,请拨电: 510-464-6752
Si usted necesita algún servicio de asistencia de lenguaje, por favor llame al 510-464-6752.