Accessibility
The new BART train cars include a variety of features and improvements for people with disabilities, as well as for people who speak languages other than English.
Since the Fleet of the Future project began in 2011, BART has consulted with the accessibility and Limited-English-Proficient communities via dozens of community meetings and prototype evaluations. Through these events BART has identified many ways to improve accessibility on the new trains.
Based on feedback from disability advocates, the floor plan was modified in February 2015 to enable passengers with more than one wheelchair user in their group to sit in the same area when they ride BART (February 26, 2015 News Release). As a result, both wheelchair areas are now located at the center door of each train car, and all floor-to-ceiling poles will be removed in this area to maximize accessible paths.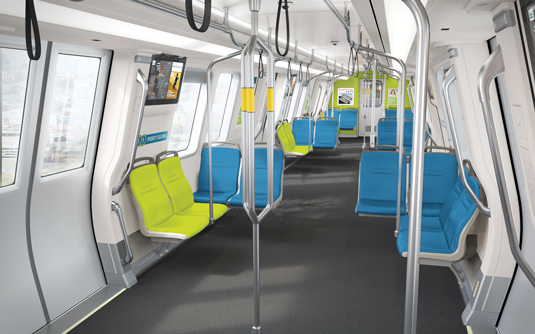 Doors on the new train cars are marked to show which doors have designated wheelchair zones.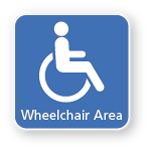 In the interior of the train, a wheelchair graphic is embedded in the floor of each wheelchair area to remind riders to yield the area to wheelchair users. Signs are also posted on the interior walls next to the wheelchair areas.

Although floor-to-ceiling poles have been removed from the middle door area near the two designated areas for people who use wheelchairs, the other door areas have tripod poles to help semi-ambulatory people with disabilities, senior citizens, and others who need extra stability as the train accelerates and decelerates.
We raised the point where the three tripod branches meet the pole by four inches to eliminate possible pinch points for wheelchair users. And based on feedback from visually impaired customers, we added colored decals on the poles to increase contrast and make the poles more visible.
This compromise plan was endorsed by the BART Accessibility Task Force as well as other disability organizations and is designed to meet the diverse needs of people with disabilities, as reflected in the survey results below.

Type of Disability

% Rating Pole
Excellent or Good
% Rating Pole
Only Fair or Poor


Sample Size

Mental or Cognitive

77%
19%

149

Low Vision

76%
23%

165

Deaf/
Hearing Impaired

76%
22%

119

Other Mobility Issue

71%
25%

332

Other Disability

71%
24%

119

Wheelchair
41%
58%
103

Blindness

34%
61%

41
Based on a survey of over 900 people with disabilities who visited the final train car model at ten locations around the Bay Area in April and May 2014.
Other Accessibility Features
Other design features that will help customers who use wheelchairs are:
a new third door on each car, which reduces congestion at each doorway by as much as 1/3, and also provides a separate door for bicyclists to board to lessen interference with people who use wheelchairs;
wider aisles to permit people who use wheelchairs to go down the aisles;
LCD screens and intercoms placed directly across from the wheelchair areas; and

the intercom is placed at a height of approximately four feet (conforming with ADA regulations) for ready access by wheelchair users.
Seat Height
During initial public seat labs in 2011, BART heard from many riders that the seats are too low - making it difficult to sit down and get up. One of the goals of the seat labs was to determine an acceptable seat height. Seat lab participants evaluated various seat heights. Overwhelmingly, seat lab participants expressed a preference for seats that were 1.5 inches higher off the ground than today's BART seats.
In the current design, the seats also include a seat back handhold that will give customers something to grab to make it easier to sit down and stand up.
Priority seating

The new train cars will have approximately 50% more priority seating for seniors, pregnant women, parents with children, and people with disabilities. During public outreach, many customers told us they often encounter passengers who do not offer the priority seats to those who may need them. To make priority-seating areas more obvious to passengers, the new train cars use a contrasting color for the seat material. The green seats (as shown in the rendering at top) are designated as priority seats for seniors and people with disabilities.
More Doors
The new train cars also have 50% more doors than the current cars. Each car has a third door in the middle of the car making it faster and easier for customers to get on and off. The two other doors are in the same location as they are today.
When one of the new train cars stops at a station, the outer doors of each car line up with the existing black tactile markers on the platform. This helps people who have a sight impairment locate a place to wait for the train before it arrives.
Passenger Information
Each car has six passenger information screens, and each screen is located near one of the side doors. These screens are valuable to riders with hearing impairments as well as other BART riders. The screens use pictograms whenever possible to best serve customers with limited English proficiency. In addition, key information and terminology, such as "next" and "delay", is translated into Spanish, Chinese, Vietnamese, and Korean whenever standard pictograms are not available. For sight-impaired customers, essential information comes from higher quality, automated audio announcements.
For passengers waiting on station platforms, the new trains have exterior digital signs showing the route color and destination of the train, and exterior speakers provide audio information.
For passengers waiting on station platforms, the new trains will have exterior digital signs showing the route color and destination of the train, and exterior speakers will provide audio information.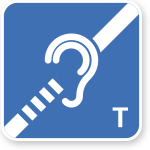 The new train cars have an induction loop system that. transmits audio announcements and other BART information directly to receptive hearing aids and cochlear implants.
Sign up for updates
on the new train car project to get the latest Fleet of the Future news and to be notified when the first new train cars arrive.