Lafayette Station
3601 Deer Hill Road
/
Lafayette
,
CA
94549
---
Service Advisories
Service Advisories
/
/
Get RSS feed
Sign up for email alerts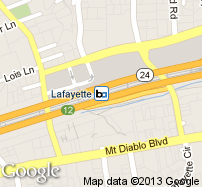 Welcome to Lafayette
Centrally located in the East Bay hills, Lafayette exudes a quiet rural atmosphere and features a distinctive downtown.
Latest News
Get RSS feed
Bus stops temporarily relocated at Daly City Station 2 weekends in May
BART responds to CAL/OSHA worker safety citations
Lines Serving this Station
Pittsburg/Bay Point SFIA/Millbrae
Real Time Departures
Next trains departing from Lafayette Station
Parking
Parking is available at this station and there's a $2.00 daily fee. Other options include Monthly Reserved, Extended Weekend, Carpool and Airport/Long Term. Check out the parking section for details about each program.
Estimated Parking Fill Time: 7:00 AM
Bikes
Bike Racks: Yes
Bike racks are available at most BART stations. Please review the BART Bike Rules.
Bike Station: None


FREE secure bike parking is available at several BART stations. Visit the Bike Section for more Bike Station information.
Bike Lockers: 12 shared use electronic lockers are located at this station. Read more about electronic lockers. 30 keyed lockers are located at this station. Call Customer Services at 510-464-7133 to ask about availability of keyed bicycle lockers. Many stations have a wait list. Download an application form for keyed bicycle lockers.
Connecting Transit Routes
This station is served by County Connection.
Try BART's free trip planning service!
For a personalized trip plan with BART and connecting transit, call the BART Transit Information Center. It's fast, it's easy, and it's tailored just for you!
Connecting Transit Trip Planner
Elevator Locations / Accessible Path