MacArthur Station
555 40th Street
/
Oakland
,
CA
94609
---
Service Advisories
Service Advisories
/
/
Get RSS feed
Sign up for email alerts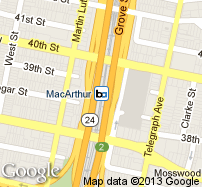 Welcome to MacArthur
MacArthur Station is a major BART transfer point near the commercial heart of Temescal, one of north Oakland's oldest neighborhoods.
Latest News
Get RSS feed
Daytime maintenance work next two Saturdays cancelled on Pittsburg/Bay Point to SFO Line
Auditor praises BART Police Department progress on NOBLE recommendations
Lines Serving this Station
Pittsburg/Bay Point SFIA/Millbrae
Richmond Fremont
Richmond Daly City/Millbrae
Real Time Departures
Next trains departing from MacArthur Station
Parking
Parking is available at MacArthur and there's a $1.50 daily fee. Other options include Monthly Reserved, Extended Weekend, and Airport/Long Term parking. Check out the parking section for details about each program.
Estimated Parking Fill Time: 7:00 AM
Bikes
Bike Racks: Yes
Bike racks are available at most BART stations. Please review the BART Bike Rules.
Bike Station: None


FREE secure bike parking is available at several BART stations. Visit the Bike Section for more Bike Station information.
Bike Lockers: 40 shared use electronic lockers are located at this station. Read more about electronic lockers.
Connecting Transit Routes
Connecting Transit Trip Planner
Elevator Locations / Accessible Path
Projects/Plans
Learn more about planning activity at this station and throughout Alameda County.
Other Transportation
Car share services are available at MacArthur Station. More information is available at City CarShare and Zipcar.