Together with BART's community and developer partners, the transit-oriented development program has completed twelve developments at eleven stations, totaling 1,975 housing units and 194,000 square feet of commercial space. Four additional developments are in construction stages as of late 2017 and are described on the Upcoming TOD Projects page. Many of BART's completed projects are the first of multiple phases, with additional phases either under construction or still in planning stages, as noted in the project descriptions.
Castro Valley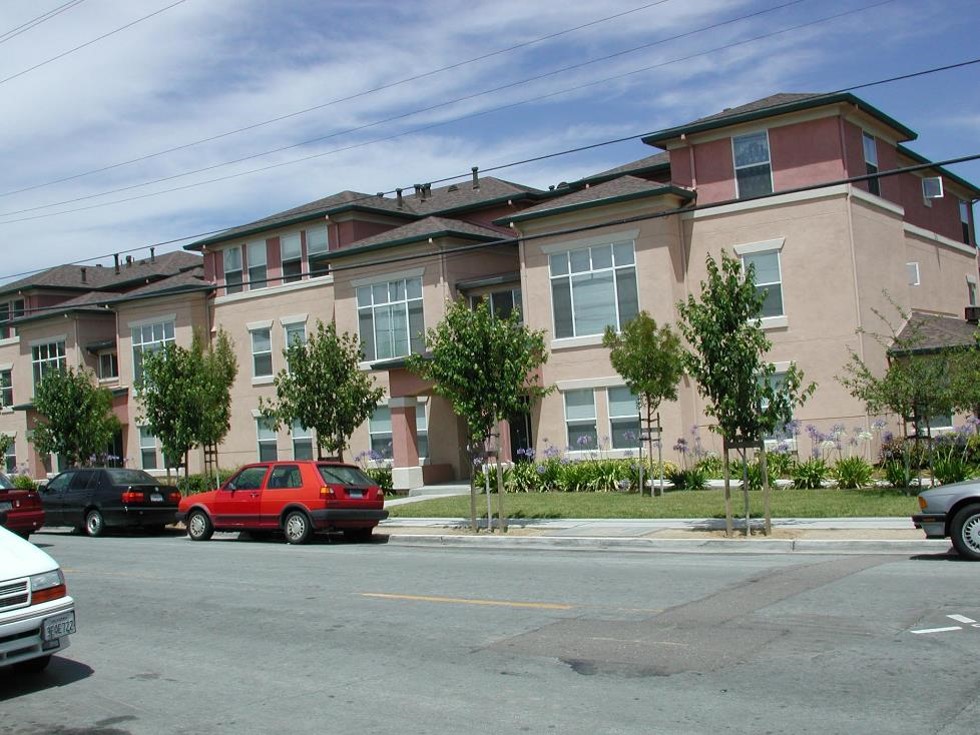 BART partnered with BRIDGE housing in 1993 to build Strobridge Court Apartments, a $75 million project with 96 affordable units, along with the restoration of a historic Victorian, and a BART zone command police facility. This was BART's first TOD project.
Richmond Phase I
BART has partnered with the City of Richmond to build the Richmond Transit Village, which presently includes 132 (50% affordable) new for-sale townhome units with a new plaza, paseo and transit facility and 769-space parking structure.
The residential developer of the first phase was the Olson company. The second phase is yet to be developed.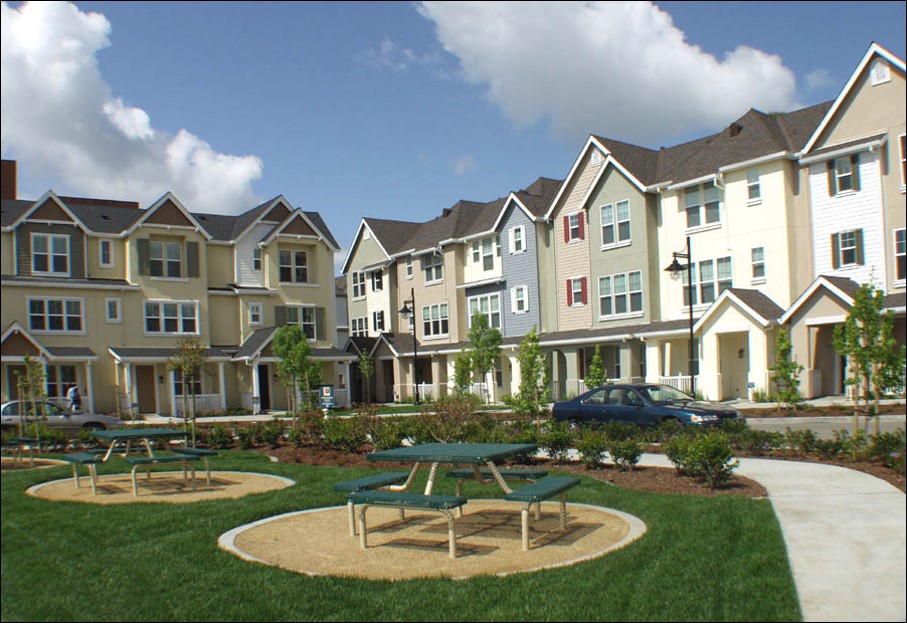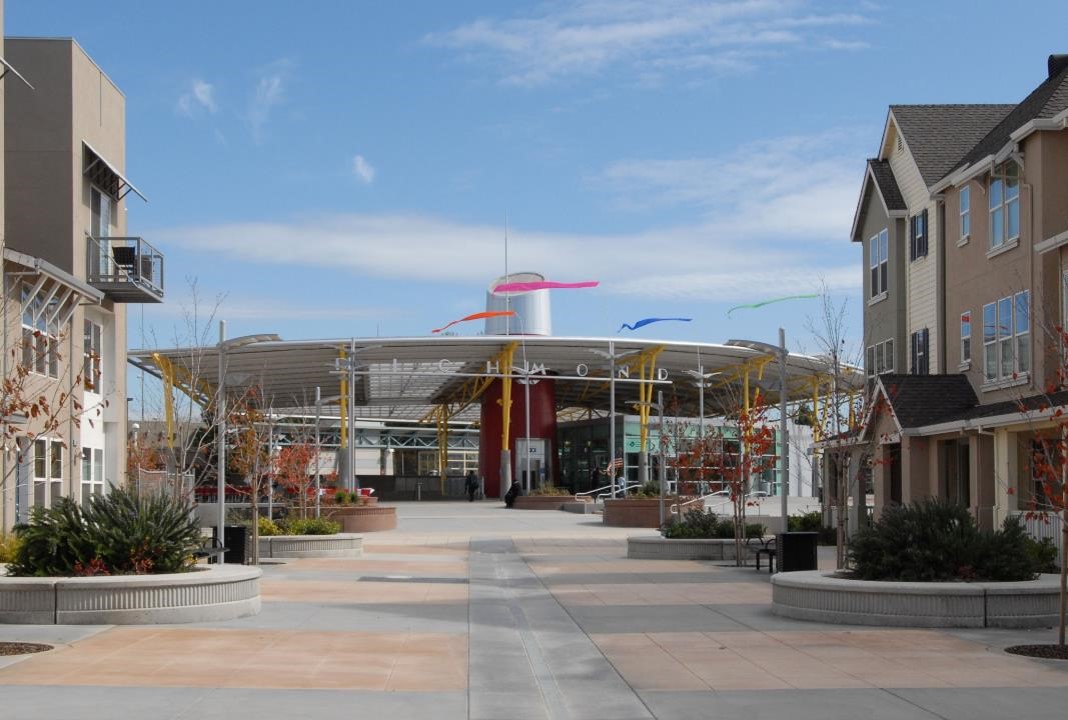 Fruitvale Phase I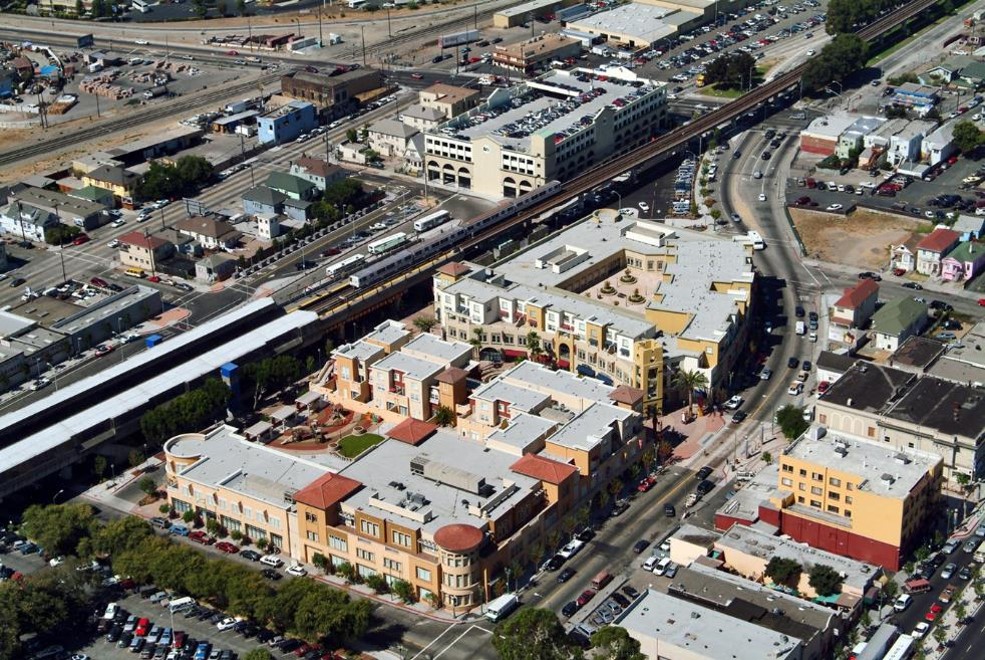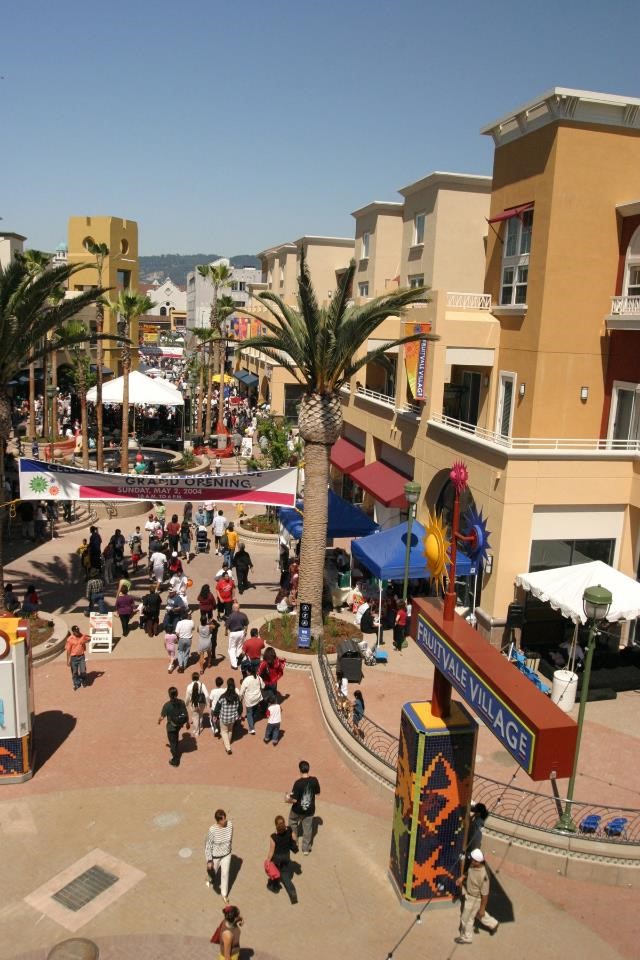 The first phase of the Fruitvale Transit Village was completed in 2004. Considered to be one of the best examples of TOD in the nation, this development was led by the Spanish speaking Unity Council, a community-based organization, in close partnership with the City of Oakland.
The project features 47 mixed income housing units, 37,000 square feet of ground floor retail, the 27,000 square foot Arise Charter High School, and 71,000 square feet of public space including La Clinica de la Raza health clinic, a senior center, a Head Start preschool, and California's first Spanish-oriented public library.
The project cost was $100 million and included a BART replacement parking garage. Phase II is in the planning stages and will be constructed in two developments on city-owned property.
Pleasant Hill/Contra Costa Centre (partial)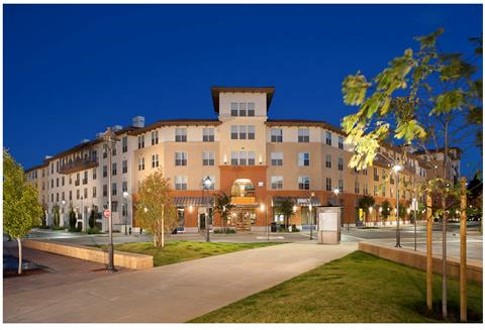 The Contra Costa Centre Transit Village is a large scale mixed-use multi-phase project.
Completed phases of the development provide 422 rental housing units (20% affordable), 35,590 square feet of retail, a replacement parking garage, and a new intermodal hub.
The next phase of the development will include an additional 200 units of market-rate rental housing and 2,300 square feet retail in November 2017.
The third and final phase on BART property is entitled as a 12-story, 290,000 square foot office or hotel development.
Ashby
BART and the City of Berkeley partnered to create the Ed Roberts Campus, an 80,000 square foot non-profit, universally designed, transit-oriented campus.
The Ed Roberts Campus houses offices of collaborating non-profit organizations as well as an array of disability-related services and programs, including fully accessible meeting rooms, a computer/media resource center, a fitness center, a cafe and a child development center. This campus provides centralized services to support independent living for people with disabilities.
The TOD project included a restriped BART parking lot and a new direct entrance from the BART concourse with an elevator and staircase.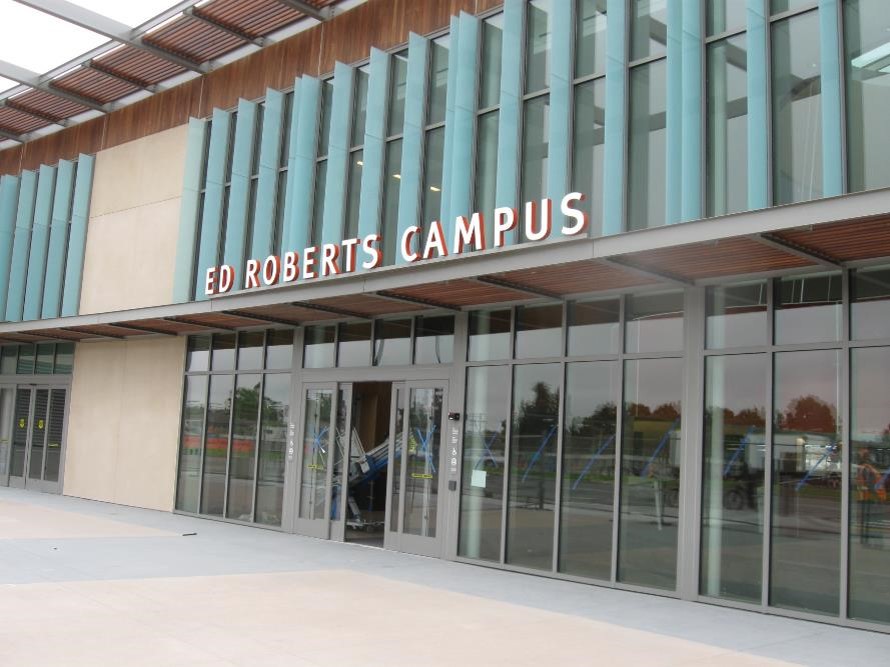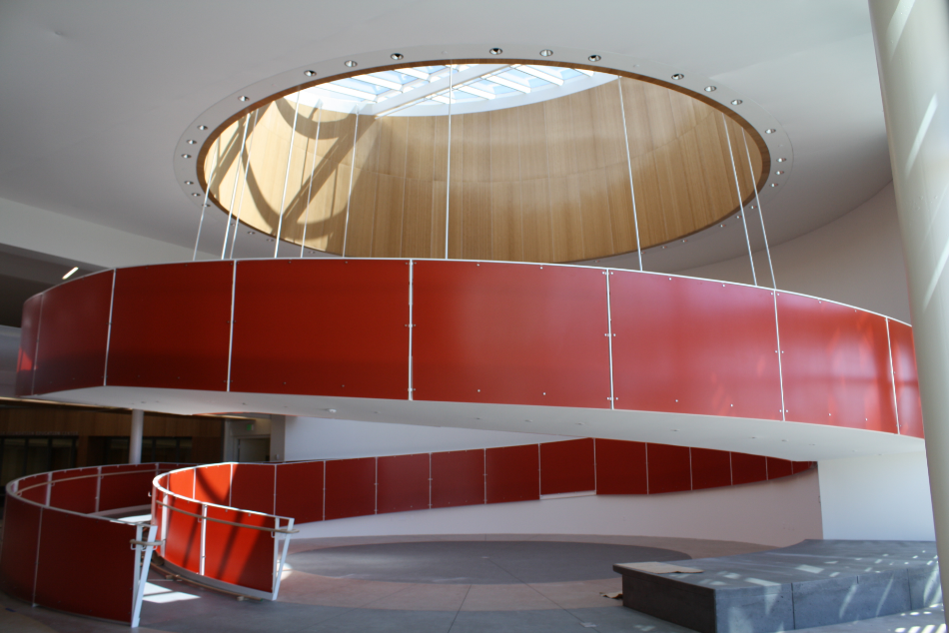 West Dublin/Pleasanton
Through BART's first public/private partnership, BART was able to leverage over $26.5 million in private funding to complete the new West Dublin/Pleasanton Station and the two accompanying parking garages through a partnership with its private developers.
Connolly Station, the first phase of development on the Dublin side of the station, includes 309 apartments built and managed by Essex Properties. Future phases will include an upscale lifestyle hotel, a restaurant and conference facility in Dublin.
On the Pleasanton side, Workday is presently constructing their 410,000 square foot World Development Center and parking garage, as well as a future shared BART and City of Pleasanton police substation set to occupy a portion of the existing West Pleasanton parking garage and a portion of Workday's world headquarters in Pleasanton.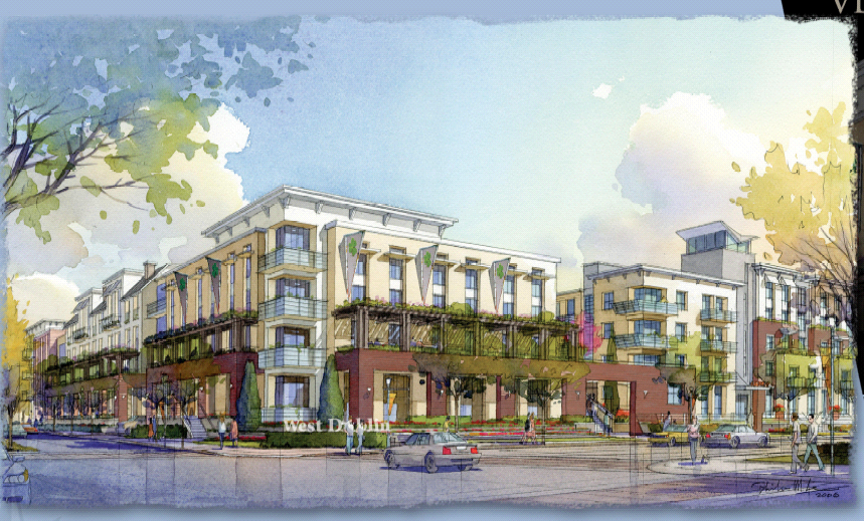 Hayward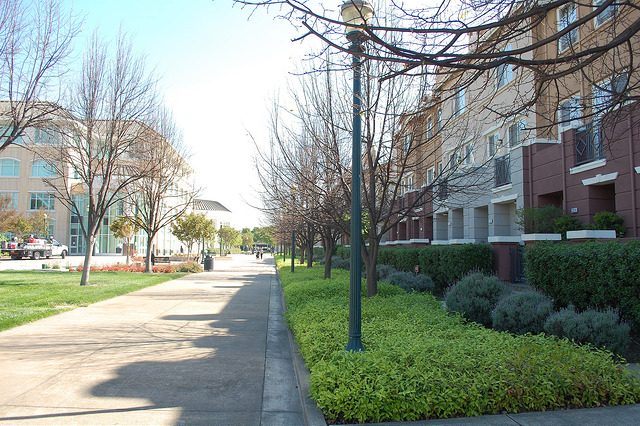 BART and the City of Hayward collaborated to reconfigure properties adjacent to the Hayward BART station to create a new, catalytic civic center mixed-use development.
The TOD included 170 townhome units, as well as a new award-winning City Hall and Civic Center, plaza, and Greyhound ticket facility.
East Dublin
BART, the Alameda County Surplus Property Authority, and the City of Dublin worked in close partnership to consolidate BART's surface parking in a seven story parking garage.
This enabled a large-scale, multi-phase, mixed-use development to be constructed near the Dublin/Pleasanton BART Station resulting in 505 units of multifamily housing (10% affordable).
MacArthur
BART, the City of Oakland, MacArthur Transit Community Partners (MTCP) and other stakeholders partnered to assemble properties with BART's surface parking lot at the MacArthur BART Station, for a large scale, mixed-income development.
When complete this transit-oriented development will include 878 high density residential units, over 35,000 square feet of retail, a new 478 space BART parking garage and other improvements to the station on what was largely former BART surface parking for the station.
The first phase included Mural, a 90-unit affordable housing development built by BRIDGE Housing, as well as a 478-space parking garage
The second phase is now in construction and includes improvements to the BART Station plaza entrance by MTCP (an affiliate of Bridge Housing), development of 385 units on Parcels A and C by Hines Interests, and 403 units within a 24-story high-rise by Boston Properties on Parcel B.
South Hayward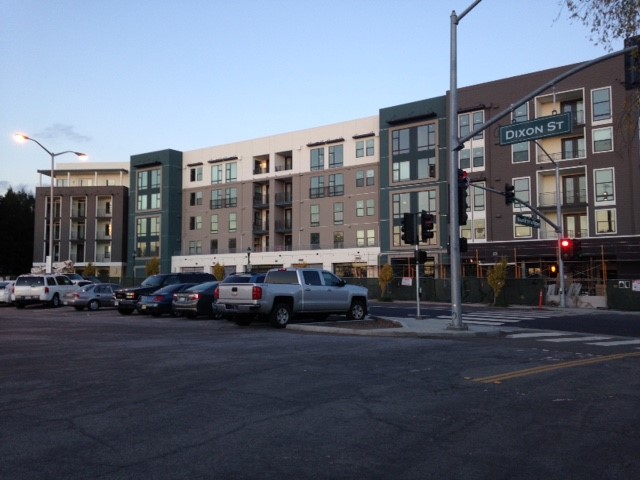 The South Hayward BART TOD includes two development projects: Alta Mira Senior and Family Apartments, 151 affordable units built and managed by Eden Housing, and Cadence, a 206 unit market rate apartment development built and managed by AMCAL.
Both developments broke ground in 2015 and were completed in 2017. This project included a close partnership with the City of Hayward, which provided BART's first on-street managed parking.
San Leandro
BRIDGE Housing has completed the first phase of its affordable housing development at the San Leandro BART Station. Known as Marea Alta, this phase includes 115 affordable rental apartments.
The second phase of development, San Leandro Senior Apartments, is currently under construction by BRIDGE housing. Both phases are built over three stories of underground BART patron parking, and are constructed using innovative modular housing techniques.