UNDER CONSTRUCTION IN 2018
MacArthur Transit Village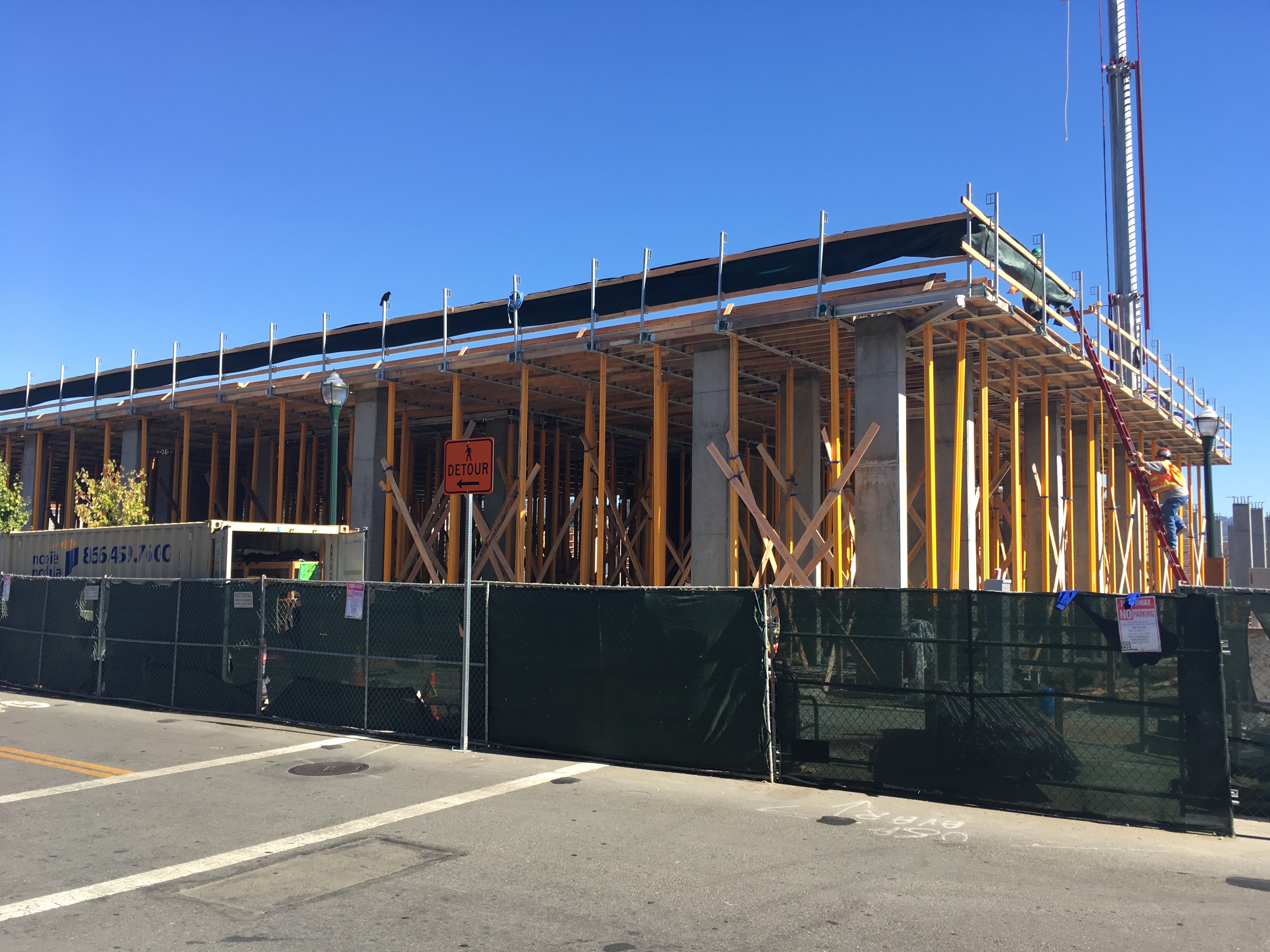 A collaborative effort involving BART, the City of Oakland's Redevelopment Agency, MacArthur Transit Community Partners (MTCP) and other stakeholders.
The MacArthur Transit Village will include 878 high-density residential units, over 35,000 square feet of retail, a new 478 space BART parking garage, and other improvements to the station on a former BART parking lot.
So far, 90 affordable residential units (constructed by BRIDGE housing), the parking garage, and other BART station improvements have been completed.
Hines Interests is currently constructing 385 units and 22,000 square feet of retail and expect to be substantially completed in January, 2019. In May 2018, Boston Properties began construction on the remaining 403 (high-rise) units and 13,000 square feet of retail with substantial completion anticipated in mid-2020.
MTCP's construction on the BART Station Plaza began on June 18, 2018. Improvements to the plaza include a 200+ space secured bicycle station; removal of existing landscaping planters and benches; replacement of the Plaza's floor materials; new lighting, benches and wayfinding.
San Leandro Senior Apartments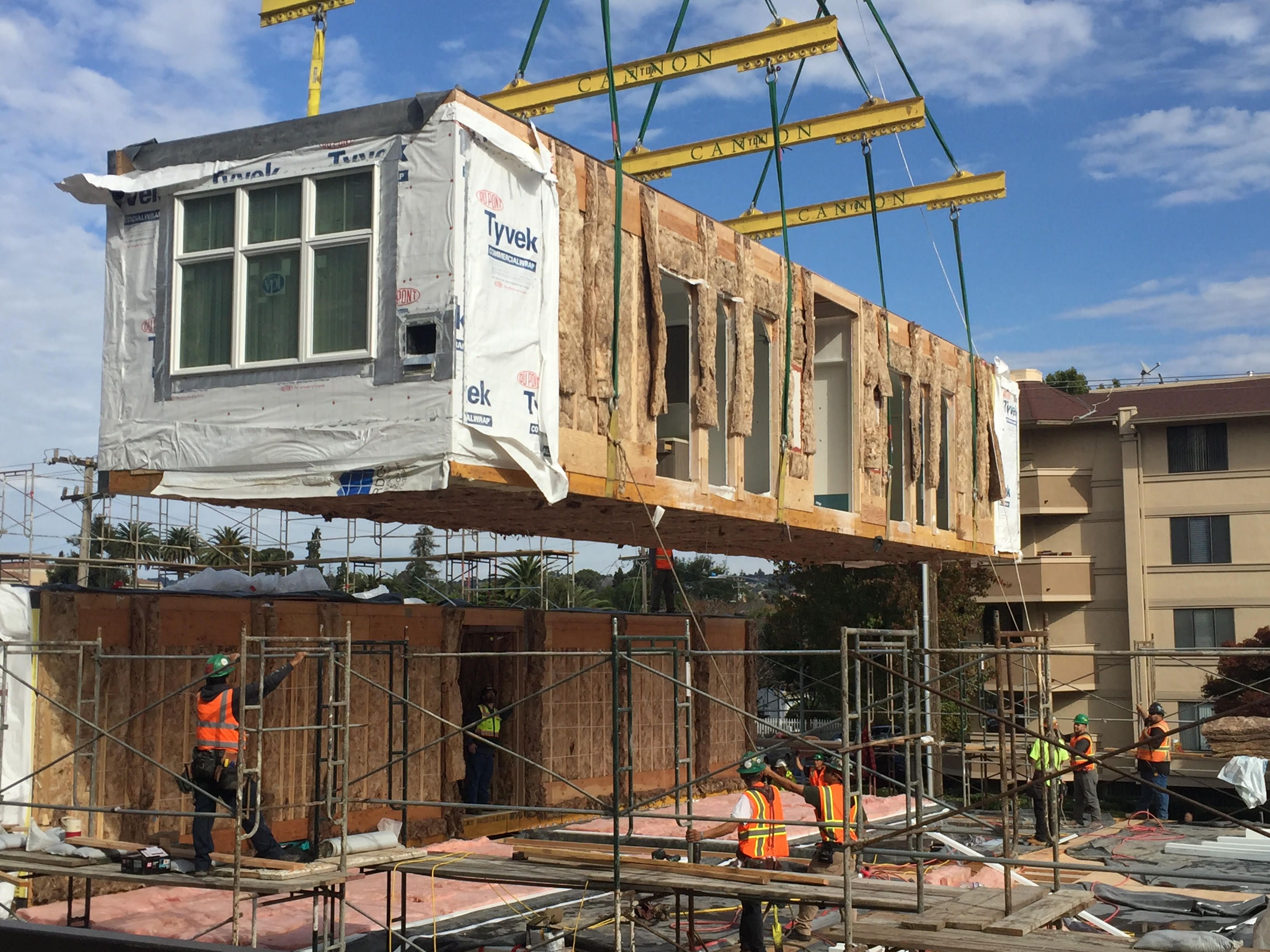 BRIDGE housing is currently under construction on the second phase of development at the San Leandro BART station: 85 units of affordable rental housing for seniors.
The San Leandro Senior Apartments share the same block with Marea Alta multifamily affordable housing, and are built over 243 BART parking spaces.
Walnut Creek
The BART Board authorized an execution of an Exclusive Negotiating Agreement with Walnut Creek Transit Lifestyle Associates (WCTLA) in 2000, and an option agreement was executed in 2002.
The Walnut Creek Transit Village will consist of approximately 596 multi-family housing units (approximately $7 million will be paid in affordable housing in-lieu fees to the City at the time of building permit issuance), 27,000 square feet of retail space, a new privately-owned replacement parking garage for BART patrons, a new BART zone command police facility, and a new intermodal bus facility.
Construction on the parking garage began in February 2018 and is expected to be finished in early 2019. After the completion of the parking garage, the second two phases containing the retail/residential elements can begin.
Fruitvale Transit Village Phase II
In the mid-1990s, Fruitvale Transit Village was planned as a multi-block development on BART property. In 2010, BART sold its surface parking lot between 35th and 37th Avenues to the Oakland Redevelopment Agency.
The City of Oakland is working with the Unity Council, East Bay Asian Local Development Corporation (EBALDC), and BRIDGE Housing. They have begun construction on Phase 2A which includes 92 units of affordable housing and two units of market rate housing. The project will also include two developments envisioned as 275 mixed-income housing units and an urgent care facility for La Clinica de la Raza.
Pleasant Hill (partial)
Phase II of the Pleasant Hill Transit Village is currently under construction. This includes an additional 200 units of market-rate rental housing and 2,300 square of feet retail.
The third phase is entitled as a 12-story, 290,000 square foot office or hotel development.
Workday World Headquarters at West Dublin/Pleasanton Station
Workday has has begun construction for the Workday World Headquarters in front of and within the existing BART parking garage. This will include up to 430,000 square feet for office space and 2,500 square feet for a shared police facility between BART police and the City of Pleasanton Police.
Coliseum Transit Village
The Oakland Economic Development Corporation (OEDC) and the developer, UrbanCore, have started construction of the Coliseum Transit Village.
The project aims to build 110 rental units on the 1.32-acre parcel, with 50% (55 units) of those units designated as affordable at the 50%-60% area median income (AMI) level and 50% workforce at the 80%-120% AMI level. Total cost: $36 million.
---
APPROVED AND FORTHCOMING
Richmond Transit Village Phase II
In December 2017, the City of Richmond finished their Nevin Avenue Improvements Project that included a new elevator and redesigned approach to the station from the east.
The completion of the City's project has paved the way for the next phase of the Transit Village that will develop the former BART parking lot and adjacent City property on the east side of the station.
West Dublin
Ground leases for a future upscale lifestyle hotel development and future retail development were executed by the Board in 2006. BART's development partner, Barings, is currently soliciting a hotel/conference/retail for the site.
Millbrae
The BART board authorized an Exclusive Negotiating Agreement with Republic Urban Properties (RUP) to develop a TOD project on the surface parking area of the Millbrae Intermodal Station in February 2012.
Updates on the project's status can be found at BART's Millbrae TOD page, the City of Millbrae's page, and RUP's site.
Balboa Park
BART has partnered with the San Francisco's Mayor's Office on Housing to construct a 100 unit affordable housing development aimed at very low, low, and moderate income families.
This project, which is being developed jointly by Related California and Mission Housing Development Corporation, is presently in the schematic design stages, and not likely to break ground until late 2018- 2019.
West Oakland
China Harbour Engineering Co. (CHEC) and their development partners Strategic Urban Development Alliance (SUDA) are proposing to develop a mixed-use Transit-Oriented Development that will consist of approximately 1 million square feet of office in two buildings, 180 residential units (20% of which will be affordable) and 75,000 square feet of retail on approximately 5 acres.

The proposed project is currently beginning the planning review process at the City of Oakland. The current project schedule calls for construction to begin in 2020.

For more information, please visit the West Oakland TOD page.
---
FUTURE PLANS
Lake Merritt
BART released the Request for Proposals to four developing teams and hopes to enter into a Exclusive Negotiating Agreement with the selected developer in the fall of 2018.
For updates on the project status, please visit the Lake Merritt TOD page.
North Concord/Martinez
BART plans to release a Request for Qualifications (RFQ) for TOD in Mid-August 2018. A pre-submittal meeting will be hosted on August 20 at 1 pm at the Metro Center Auditorium, 101 8th Street, Oakland. Interested developers and small businesses with experience in pre-development activities should attend.
El Cerrito Plaza