BART Station Access Policy
In June 2016, the BART Board adopted a new Station Access Policy to guide access practices and investments through 2025. The Policy identifies the following goals and Strategies:
Goals
A. Safer, Healthier, Greener. Advance the region's safety, public health, and greenhouse gas (GHG) and pollution-reduction goals.
B. More Riders. Invest in station access to connect more riders cost effectively, especially where and when BART has available capacity.
C. More Productive and Efficient. Manage access investments, programs, and current assets to achieve goals at the least cost.
D. Better Experience. Be a better neighbor, and strive for an excellent customer experience, including on the first and last mile of the trip to and from BART stations.
E. Equitable Services. Invest in access choices for all riders, particularly those with the fewest choices.
F. Innovation and Partnerships. Be an innovation leader, and establish durable partnerships with municipalities, access providers, and technology companies.
Strategies
Plan, Innovate and Partner

Plan for systemwide access mode shift to reduce drive alone rates
Partner with interested stakeholders to improve access to the BART system
Plan all BART facilities to be accessible to all users

Invest and Implement

Invest in the pedestrian and bicycle network, on and off BART property
Invest in transit connections
Prioritize station access investments that support reverse peak travel
Invest in strategic parking resources

Manage and Assess

Manage existing assets
Regularly collect station access data

The Station Access Design Hierarchy helps guide design decisions at the project level.
---

Access investment priorities at each station are guided by the station's assigned access type.
---
Performance Measures
Following the Policy adoption, the BART Board adopted Performance Measures with targets to help evaluate how BART is doing in implementing the Station Access Policy. A key Performance Measure is the home-based access mode share target, which seeks to increase active access (access by walking and bicycling) from 44% to 52%.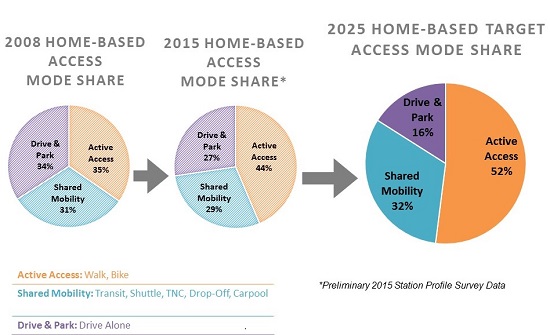 ---
Background
To inform development of the new policy, BART prepared the BART Access Policy Update background report that identifies the current policy context, discusses recent trends, and examines selected best practices from other transit agencies. This report and a BART Presentation on Station Access were discussed at a Board workshop in October 2015. In early 2016, the BART Board discussed a more detailed presentation of the draft policy and supporting documentation; these materials were refined to reflect the Draft Policy above.
---
Previous BART Access Policies and Practices

Peer Agency Best Practices
---
If you have questions or comments on the Policy, please send them to hlindel@bart.gov.