Project Description
China Harbour Engineering Co. (CHEC) and their development partners Strategic Urban Development Alliance (SUDA) are proposing to develop a mixed-use Transit-Oriented Development that will consist of approximately 1 million square feet of office in two buildings, 180 residential units (20% of which will be affordable) and 75,000 square feet of retail on approximately 5 acres. The envisioned development will be located on both sides of the existing station. The proposal focuses on greatly enhancing the station's connection with the community by creating welcoming public places, active street frontages that prioritize the pedestrian experience and integrating the community focus on the arts.
Employment Focus
BART is working with the development team to ensure office is a significant component of the development in order to encourage travel patterns on the BART system that will help ease crowded trains at the peak travel times.
Affordable Housing
BART's Board of Directors approved an affordable housing policy in 2016, requiring a minimum of 20% of units produced through BART TOD projects be affordable.
The affordable housing component of the West Oakland Station is still under development but will include, at a minimum, 20% of the residential units with rents that are affordable to residents who make 50% to 80% of the Area Median Income for Alameda County. Given the Bay Area's high cost of housing and living, affordable housing located at transit stations is a regional priority as identified in Plan Bay Area, the region's Regional Transportation Plan/Sustainable Communities Strategy.
Community Engagement
The development team has organized a Community Advisory Committee that has been meeting since late 2016. In addition, the development team has hosted several meetings open to all interested community members. For more information on how to get involved and to receive project updates contact the development team visit the project website
Project Status
The proposed project is currently beginning the planning review process at the City of Oakland. The current project schedule calls for construction to begin in 202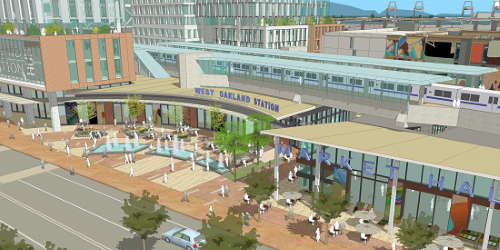 0.