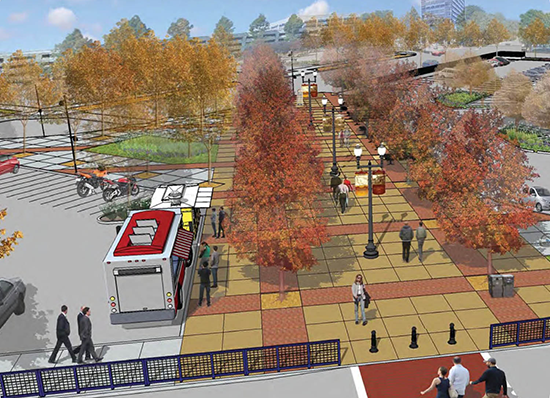 Rendering of future Concord Station plaza with new pedestrian lighting and trees
---
BART is working to improve Concord BART Station, consistent with the 2016 Concord Station Modernization Plan and supporting the City of Concord's Downtown Specific Plan.
Concord Plaza Improvements
Construction is underway on upgrades to the BART Station plaza and parking lots, including:
Reconfiguration of the west side plaza and parking lot to provide an improved, direct pedestrian and bicycle connection between the BART Station and Todos Santos Plaza in Downtown Concord;

New benches, landscaping, trees, trash receptacles, pedestrian lighting, and wayfinding in the west side plaza; and

Upgraded pedestrian crosswalks, pathways, and bicycle route striping on both sides of the station.
Concord Plaza Improvements Summary Sheet
Concord Plaza Improvements Diagram
This project is funded through Contra Costa County Measure J funds and State of California Proposition 1B funds, and is expected to be completed in early 2018.
Please contact BART Project Manager Wahid Amiri at wamiri@bart.gov with any questions.
Concord Station Modernization Plan
In 2016, BART completed the Concord Station Modernization Plan, a long-term vision for station improvements to enhance accessibility, safety, capacity, state of good repair, appearance, and sustainability. This was done by comprehensively assessing needs, collecting user feedback, identifying transformative opportunities, and developing a preferred set of improvements that can be phased in over time as funding becomes available.
For more information, including a summary of community input received, view the final report:
Concord Station Modernization Plan - 2016 (PDF)
At this time, no funding has been identified for Station Modernization improvements beyond those included in the Concord Plaza Improvements project.
---
Please contact uswith any questions or comments.
---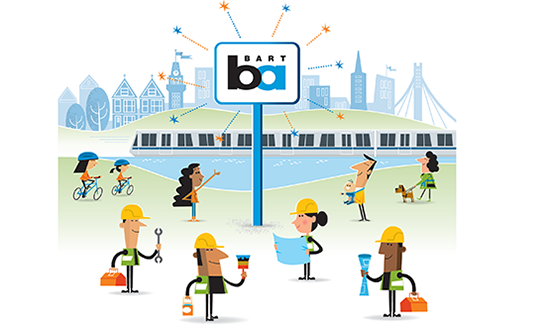 If you need language assistance services, please call 510-464-6752.
Si necesita servicios de asistencia de idiomas, llame al 510-464-6752.
如需語言協助服務,請致電 510-464-6752.
Nếu quý vị cần ðược giúp ðỡ về ngôn ngữ, xin vui lòng gọi số 510-464-6752.
통역이 필요하신 분은, 510-464-6752로 문의하십시오.
Kung kailangan mo ang tulong ng mga serbisyo ng wika, paki tawagan ang (510) 464-6752.