What is Transit Oriented Development (TOD)?
Transit oriented development (TOD) is well designed, mixed-use, higher density development adjacent to frequent transit. It helps communities and transit agencies increase sustainable transit ridership, revitalize communities, enhance regional quality of life, and strengthen economic competitiveness. By focusing housing and jobs near transit, communities can accommodate new growth while minimizing associated congestion and environmental impacts.
---
BART's Program
BART's Transit-Oriented Development (TOD) Program is guided by four Board-adopted policy documents. To understand BART's vision and accomplishments in greater detail, please read the following:
Interested parties may sign up for updates by subscribing to BART's alerts and selecting "Transit-Oriented Development Projects."
---
BART TOD News (Updated October 2018)
AB 2923: Read BART's Statement on AB 2923
Lake Merritt: On September 13, the BART Board of directors approved staff's recommendation to select the EBALDC/Strada developer team to advance development at the Lake Merritt station. More information can be found on the Lake Merritt TOD Project page.
North Concord: On August 13, BART released a Request for Qualifications (RFQ) for a developer of TOD at the North Concord/Martinez BART Station. Submittals are due to BART at 4:00 PM on October 5. Visit the North Concord TOD page for more information.
North Berkeley & Ashby BART Stations: Mayor Jesse Arreguin, Councilmembers Linda Maio and Ben Bartlett, BART Directors Rebecca Saltzman and Lateefah Simon have recently hosted two town halls to separately discuss possible TOD on the North Berkeley and Ashby BART stations. The City of Berkeley will host a North Berkeley TOD visioning event on October 13.
Download BART Staff's Town Hall presentation on the North Berkeley BART Station (5.5 MB PDF)
Download information on the BART Parking lot at North Berkeley
Walnut Creek: Construction on the parking garage started in February and is expected to finish in early 2019. BART has reconfigured the parking at Walnut Creek Station to accommodate the construction of the parking garage, which is the first phase of the Walnut Creek TOD project. View further information on the project website.
Millbrae: BART's developer partner is advancing through the City of Millbrae's entitlement process. Updates on this proposed development are now available on BART's Millbrae TOD website.
San Leandro: Monthly permit parking for BART patrons is now available in the underground parking garage of Marea Alta, BART's 200-unit affordable TOD project. You may sign up now for a monthly permit with Douglas Parking by calling 510-444-7412 or emailing info@douglasparking.com.
---
TOD Program Highlights
BART has six TOD goals, with which we measure and evaluate our progress. These six goals include:
Complete Communities: BART works in close collaboration with city and community partners to deliver meaningful TOD projects. Early collaborative projects such as the Hayward City Center have established not only a mix of uses supporting livability, but also offer public improvements such as paseos, and increased green space designed to improve the sense of place.

Sustainable Communities Strategy: The typical household living within a half mile of a BART station drives 20-30% fewer miles a year than average. By focusing housing and jobs next to BART, we can reduce congestion and greenhouse gas outputs from households.

Increased ridership: Every BART project results in a net gain of riders, to help BART create a more sustainable budget. As of 2017, completed and under construction projects will result in an estimated 4,600 additional BART rides a day or 1 million rides a year, providing an additional $3.9 million in farebox revenue to BART's operating fund. BART is also working on increasing reverse commute trips. For example, the Contra Costa Centre Transit Village Transportation Demand Management Program supports rides where BART has capacity, shifting 30% of commutes away from driving alone.

Value Creation and Capture: BART increases property values for homes located as far as 5 miles from a station. Studies show that within ½ mile of BART, residential properties command a value premium of 15 to 18%, attributed to BART proximity. In aggregate, BART contributes an estimated $17.3 billion in added property value to single family and condominium properties in Alameda, Contra Costa, and San Mateo Counties, and increases rents for offices within 1/4 mile. BART has an economic impact in Downtown San Francisco as well. The challenge is ensuring this value is leveraged to support BART service and the other needs of the surrounding community. For this reason, the TOD Program negotiates ongoing ground lease revenue as well as long-term transit benefit fees from its developments. Renegotiation captures value over time, which is returned to BART where it is used to maintain and improve service. Additionally, BART's TOD Program has leveraged over $275 million in investments in public infrastructure such as police facilities, station improvements, and parking garages.

Transportation Choice: Residents within ½ mile of a BART station use transportation differently than the typical Bay Area resident: more than half of these residents own one car or none at all, and almost half the commuters tend to walk, bike or take transit to work. This compares with less than a quarter of typical commuters in the total BART service area. BART's TOD program will develop projects designed and managed to encourage residents and workers to drive less.

Source: American Community Survey, 2010-2014, Nelson|Nygaard
Affordability: BART will play a lead role in alleviating the Bay Area's housing affordability crisis, aiming to produce 7,000 affordable housing units on BART property by 2040. At least 20% of units at any given station must be affordable, with a priority to low and very low income households. BART's policy aims for 35% of its portfolio to be affordable. As households near BART stations benefit from 24% lower overall transportation costs, locating affordable housing near transit is critical to offering lower income households truly affordable living, as well as greater access to jobs and services. However, BART will need an additional $36.5 million annually beyond existing funding sources to meet its goals.
---
BART'S TOD PORTFOLIO OVERVIEW
BART has 13 completed and under construction projects, and 7 approved projects in the pipeline. More on these individual projects can be found at the "Completed TOD Projects" and "Upcoming TOD Projects" pages. Below is a summary of development to date within BART's TOD Portfolio.
Additionally BART owns an estimated 250 acres at 27 stations that could accommodate future development. The TOD Program regularly evaluates this portfolio of land to ensure market, political, financial and other conditions align prior to soliciting TOD. Most critically, the policy requires cities to adopt transit-supportive land use plans prior to solicitation.
SUMMARY OF DEVELOPMENT WITHIN BART'S TOD PORTFOLIO AS OF OCTOBER 2017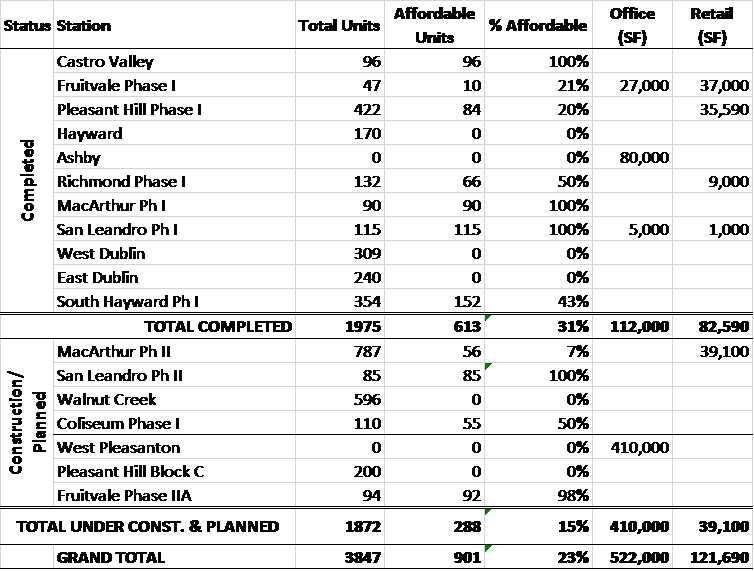 List is subject to change, as development plans are extremely dynamic.
---
BART TOD Program Staff

Sean Brooks, Department Manager

Kimberly Koempel, Principal Planner

Yvette McCoy, Principal Property Development Officer

Bruno Peguese, Principal Property Development Officer

John Rennels, Project Manager

Susan Shaffer, Principal Right-of-Way Officer

Abigail Thorne-Lyman, TOD Program Manager

Paul Voix, Principal Property Development Officer