Sustainability at BART is both what BART does and how BART does it

What BART Does: BART carries approximately 430,000 passengers on a typical weekday. During peak periods, BART transports more people from the East Bay to San Francisco than the Bay Bridge. BART's daily riders save nearly 140,000 gallons of gas and directly reduce CO2e emissions by 2.7 million pounds per weekday.
BART makes possible dense, mixed land-use patterns, contributing to places where people can rely less on cars for their daily needs. The compact, walkable communities made possible by BART support healthy lifestyles, and also reduce transportation costs for its riders.
How BART Does It: BART is committed to advancing regional sustainability by providing safe, affordable, equitable, and environmentally-friendly transit to move people to jobs, recreation and services. BART incorporates cost-effective sustainability through fulfillment of the goals found in the Sustainability Policy.
---
Updated pricing for electric vehicle charging at the Warm Springs Station
October 2018 – Effective October 15, 2018, BART riders will have more options when using the electric vehicle (EV) charging stations at Warm Springs Station. Pricing will be updated as follows:
Monday – Sunday, All Hours
EVs must be plugged in to use these spaces and only EVs can be parked in these spaces. Electricity costs ($0.13/kWh) will be collected through the ChargePoint charging stations.
Monday – Friday, 4 AM – 3 PM
3 ADA EV spaces are available for first-come first-serve parking ($3 parking fee).
3 non-ADA EV spaces are available to existing Monthly Reserved permit holders* who drive and charge their EVs at Warm Springs Station.
12 non-ADA EV spaces are Single Day Reserve Parking ($6 parking fee).
24 non-ADA EV spaces are available for first-come first-serve (Daily Fee) parking ($3 parking fee).
Note that there will be color-coded signs in front of each parking stall, displayed near the top of the EV charging station, that will specify which type of permit or fee is required for that specific parking space: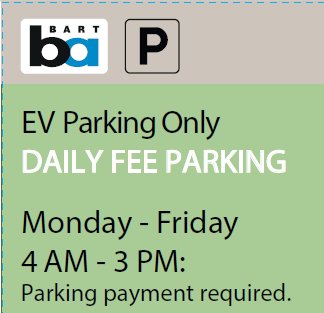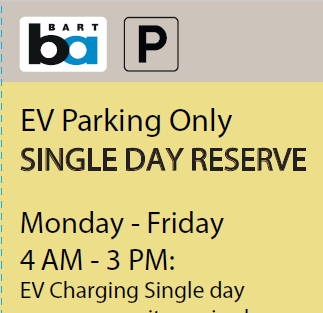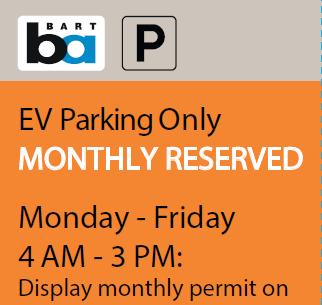 This pricing update was based on monitoring and evaluating the effectiveness of this pilot of 42 Level 2 charging stations for the past 18 months. Feedback from two rider surveys from this Spring was also considered. BART will continue to evaluate this EV charging pilot project to refine and seek out ways to improve EV charging for BART riders.
For more information, see the pilot program frequently asked questions (FAQs). If you have additional questions or comments on the EV pilot program, please email BARTEVPilot@bart.gov.

*NOTE: Existing Monthly Reserved permit holders can park in the 3 designated EV charging spaces on a first-come, first-serve basis. There are no separate monthly permits for only parking in the EV charging lot. Monthly permits must be displayed on your front dashboard. Any monthly permit holders found parking in EV charging spaces that are otherwise designated (per the signage in front of each EV charging space) are subject to fines.
---
BART commits to a future powered by wind and solar
December 2017 - On December 7, 2017 BART took bold action to improve the climate footprint of the Bay Area's transportation sector. Following BART's adoption of an aggressive and industry-leading Wholesale Electricity Portfolio Policy (pdf) in April 2017, the BART Board of Directors today approved two 20-year renewable energy power purchase agreements. One of the agreements calls for NextEra Energy Resources to build a new 61.7 MW (megawatt) wind energy project and the other calls for Recurrent Energy to build a new 45 MW solar energy project. Both projects will be located in Kern County and are expected to be online by January 1, 2021.
BART currently gets 4% of its electricity supply from renewable sources, but that will increase dramatically with these two new agreements. Renewable energy will account for about 90% of the District's electricity portfolio starting in 2021, when the two new renewable projects begin delivery under the agreements. As BART's energy needs increase, the new renewable energy agreements will provide about 75% of BART's electricity needs beginning in 2025 and continuing through 2040. The two agreements build on BART's Wholesale Electricity Portfolio Policy, which calls on BART to get at least 50% of its electricity from renewable sources by 2025. The new agreements mean BART is well ahead of that goal. Ultimately, BART plans to get 100% of its electricity from renewable sources by 2045.
---
Electric vehicle charging at the Warm Springs Station

April 2017 - As BART continues to grow so will our use of renewable energy. The recently opened Warm Springs Station has a 512kW on-site solar system that powers the station and the electric vehicle (EV) chargers. The system produces enough energy to power approximately 100 homes.
Click here to read more about sustainability at the Warm Springs Station.
Warm Springs is the first BART station with EV charging stations. There are 42 Level 2 charging stations available for BART riders. The EV charging stations are part of a pilot and will be studied and monitored to assess their use and effectiveness. The study will determine how EV charging may be integrated into BART's parking portfolio in the future.
Click here to read more about how to use the EV charging station.