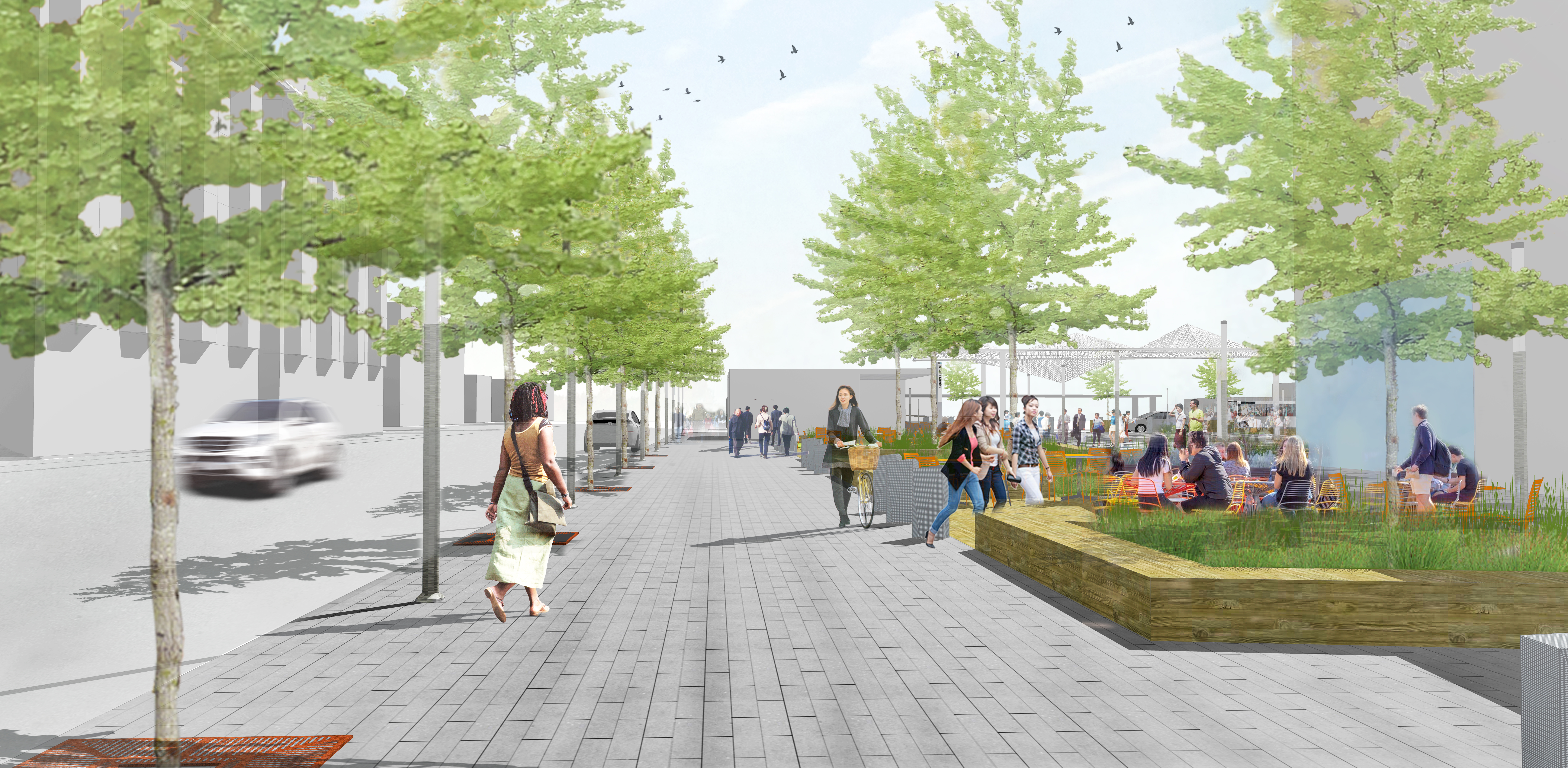 ---
Project Updates
BART is looking for qualified artists to join the design team - please see www.bart.gov/art for more details.
Please view the Initial Conceptual Design for the Lake Merritt Plaza here. Note that this report represents a snapshot in time and reflects early conceptual design - elements will evolve and chnage as more detailed design progresses. Next steps include:
Ongoing community and City engagement
Complete project design
Develop a full funding plan
Complete environmental review under NEPA
Concurrently, BART is pursuing transit-oriented development (TOD) at Lake Merritt and is pleased to announce the March 2, 2018 posting of a Request for Qualifications (RFQ) for development of property located at the Lake Merritt BART station. The RFQ can be found here. A pre-submittal conference will be held from 1:00 to 3:00pm on Thursday March 15, 2018 at the Metro Center Auditorium, 101 8th Street, Oakland, CA. Qualifications submittals are due April 16, 2018. For more information on the project status, please visit the Lake Merritt TOD page.
---
Project Description
BART is starting work on a new Transit Operations Facility (TOF) and redesign of the Lake Merritt Plaza area to support improved and expanded BART operations and create an enhanced multimodal transportation hub and transit plaza that better serves the neighborhood.
The TOF will be a 3-story facility, with opportunities for retail and/or community uses at the ground floor. A study was undertaken to select the site for the TOF, and the Lake Merritt Plaza was identified as the preferred location due to its central location, the availability of space, and colocation with related systems. The TOF will be constructed where the BART Administration building was previously located. Construction is projected to begin in 2019/2020.
This project also presents an exciting opportunity to modernize the plaza to serve as an enhanced transportation hub and to support the vision of the Lake Merritt Station Area Plan, which was adopted by the City of Oakland in 2014. The Plan envisions the BART blocks as catalytic sites that establish an active neighborhood hub, provide pedestrian-oriented spines along 8th and 9th, and connect neighborhood assets – including BART, Chinatown, Laney College, the Oakland Museum of California, and the Jack London District, among others. The Plan also envisions high-rise development is envisioned for the BART parking lot block and the MetroCenter block, which will be designed and developed through a separate process in the future.
---
Our G

o

als
Make Transit Work
Create Place
Connect to Community
---
Community Engagement
BART is working with the community to achieve a shared vision for the site that supports BART, better serves the neighborhood and creates a safe and welcoming place for all ages. The BART Lake Merritt Plaza redesign project will have several opportunities for community input, through a community Working Group, two large community open houses, and stakeholder meetings.
Open House
BART hosted an open house on the project on May 10, 2017 from 4-7pm - many thanks to those of you that were able to attend! You can review the open house materials here:
You can review the summary of feedback we received here.
Working Group Meetings
Working Group 1 provided an overview of the project and discussed plaza design goals and elements. The group provided feedback summarized as:
Catalyze & Activate
Connect & Integrate
Safe & Welcoming
View the presentation.
Working Group 2 provided feedback on three design concepts for the plaza - the two preferred options have been refined for feedback at our upcoming open house. View the presentation and boards.
Working Group 3 presented a refined plaza design based on Open House feedback, and presented initial design ideas and inspiration on the building facade for discussion. View the refined plaza drawings and building facade ideas.
---
Environmental Review
On December 7th the BART of directors adopted the environmental review for the Transit Operations Facility and Lake Merritt Plaza Redesign under CEQA, and approved the project. You can view the presentation to the BART Board of Directors here.
Both the California Environmental Quality Act (CEQA) and the National Environmental Policy Act (NEPA) require evaluation of projects for their impacts on the environment. CEQA is the California law that requires State and local agencies to identify the significant environmental impacts of their actions and to avoid or mitigate those impacts, if feasible. For this project, CEQA requires the completion of an Initial Study/Mitigated Negative Declaration (IS/MND). Mitigation measures are incorporated into this project to reduce all potentially significant effects to a less-than-significant level. These mitigation measures are identified in the IS/MND. BART has also compelted a Mitigation Monitoring and Reporting Plan (MMRP), which consists of a program to ensure implementation of specific mitigation measures in the IS/MND as required by Public Resources Code Section 21080.6.
Copies of the Final Initial Study/Mitigated Negative Declaration
The following following CEQA environmental documents for the Transit Operations Facility and Lake Merritt Plaza Redesign were adopted by the BART Board of Directors on December 7th:
A copy may also be reviewed by visiting the following libraries:
Oakland Main Library Asian Branch Library
125 14th Street 388 9th Street
Oakland, CA 94612 Oakland, CA 94607
Copies of the IS/MND also are available for review at the BART offices at 300 Lakeside Drive, 21st Floor, Oakland. Please email TOF@bart.gov or call (510) 464-6090 to make an appointment or provide information on how you may be contacted if you would like a copy.
Comments on the Draft Initial Study/Mitigated Negative Declaration
The comment period is on the Draft IS/MND is now closed. All comments made during the public comment period are addressed in the Final IS/MND.
---
Transit Operations Facility Title VI Siting Analysis
FTA Title VI Circular 4702.1B Title VI Requirements and Guidelines for Federal Transit Administration Recipients requires that federal funding recipients complete a siting analysis during the planning stages with regard to where a project is located. This Analysis ensures that the location of the proposed Transit Operations Facility is selected without regard to race, color, or national origin. The report was approved by the BART Board of Directors on June 22, 2017. You can download the report here.
---
For questions, please contact Hannah Lindelof at hlindel@bart.gov.
---
If you need language assistance services, please call 510-464-6752.
Si necesita servicios de asistencia de idiomas, llame al 510-464-6752.
如需語言協助服務,請致電 510-464-6752.
Nếu quý vị cần ðược giúp ðỡ về ngôn ngữ, xin vui lòng gọi số 510-464-6752.
통역이 필요하신 분은, 510-464-6752로 문의하십시오.
Kung kailangan mo ang tulong ng mga serbisyo ng wika, paki tawagan ang (510) 464-6752.