Join a strong team of talented professionals dedicated to their work in a law enforcement department that's just the right size to get ahead and build your career. Advancement is just waiting to be earned.

BART Police Officer Selection and Training Process
BART Police Officer Continuing Education
BART Police Explorer Interest Card
---
History of the BART Police Department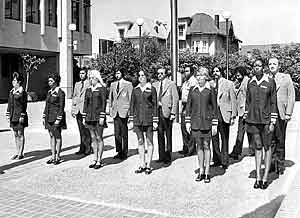 From 1972-1975, BART police officers wore blazers to maintain a low-key appearance (officers are pictured behind civilian support personnel).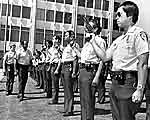 A 1975 departmental inspection by then-Chief William Rumford. (The officer on the right is Gary Gee, who would become BART PD's fourth chief in December 2000.)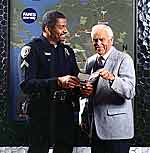 For many years BART police officers have worn traditional uniforms.
In 1969, three years before BART opened for revenue service, the transit district's board of directors recommended that local police and sheriff's departments patrol the stations, trains, rights-of-way, and other BART-owned properties that were within their respective jurisdictions. The police chiefs and sheriffs, forecasting that BART's proposal would create jurisdictional disputes and inconsistent levels of police service, rejected the board's proposal. As a result, legislation was passed to form an autonomous law enforcement agency, the BART Police Department.
The department is comprised of 296 personnel, of which 206 are sworn peace officers. Community-service officers, communications/9-1-1 dispatchers and supervisors, revenue-protection guards, clerical staff and supervisors, and a CAD/RMS administrator comprise the department's civilian employees. The BART Police Department provides the full range of law-enforcement services. To prepare for major emergencies, critical incidents, and tactical call-outs, the department is a signatory to the Bay Area's mutual-aid pacts. Select officers receive training in SWAT, crowd management, and hostage negotiations.
Qualifications and training for BART police officers exceed the mandates of the state's Commission on Peace Officer Standards and Training, which certifies all California peace officers. In addition to meeting POST requirements, every BART police officer applicant must have at least 30 college-semester units. Most officers are assigned to the Patrol Bureau and are eligible for specialized assignments, including: field-training officer; canine handler; criminal investigations; field-evidence technician; personnel and training; background investigations; crime analysis; traffic; FBI Joint Terrorism Task Force; and the special-patrol team.
During BART's first 13 years of revenue service, police officers reported to the transit district's headquarters in Oakland. In 1985, a team of officers was assigned to report to the Concord transportation facility, where a police field office was established. By not traveling the 20 miles between Oakland and Concord, the officers were able to patrol their beats longer and become more familiar with the community. BART riders, station agents, and train operators benefited from having more police presence and interaction with the same officers. This led to three additional field offices within six months.
In July 1993, then-Police Chief Harold Taylor recommended a comprehensive plan to decentralize the department into four geographical police "zones," each with its own headquarters and field offices. Zone commanders were given personnel, equipment, and resources to manage their respective police operations. A peer-review panel, which included four police chiefs and the safety-audit administrator from the American Public Transportation Association, gave Chief Taylor's plan its endorsement, along with other recommendations, on how the BART police could work more closely with other transit employees, communities, businesses, and schools that the transit district serves.
Today, there are BART police facilities and field offices in Oakland, Concord, Walnut Creek, Pittsburg/Bay Point, El Cerrito, Dublin/Pleasanton, Castro Valley, Hayward, San Francisco, Colma, and San Bruno. Police command officers provide input to planners for BART's future extensions to Warm Springs and Santa Clara County.
To further ensure the personal safety of BART riders, emergency call-boxes in parking lots are directly linked to the BART police 9-1-1 communications center. The department is also utilizing state-of-the-art video surveillance systems in trains, stations, and parking lots. Police reports are transmitted electronically on a new computer-aided dispatch and records-management system.
The BART Police Department's goal is to build a more community-oriented police force that is tough on crime and strong on customer service. Zone lieutenants and their personnel foster working partnerships with BART riders, fellow employees, community groups, schools, and business owners. Together, the goal of the stakeholders is to ensure that personal safety, quality of life, and protection of property remain at the top of BART's priorities.