Safety is BART's top priority.
Nothing is more important than your safety. We are constantly upgrading and improving our security measures while continuing to deliver the reliable, efficient service riders expect.
On August 6, 2018, BART General Manager Grace Crunican unveiled a Safety and Security Plan that contained a series of proposals, including boosting the visible presence of police and employees in the system. Read about the comprehensive plan here.
To help keep passengers and our employees safe, BART has more than 4,000 working cameras throughout our system and we are working very hard to increase police presence.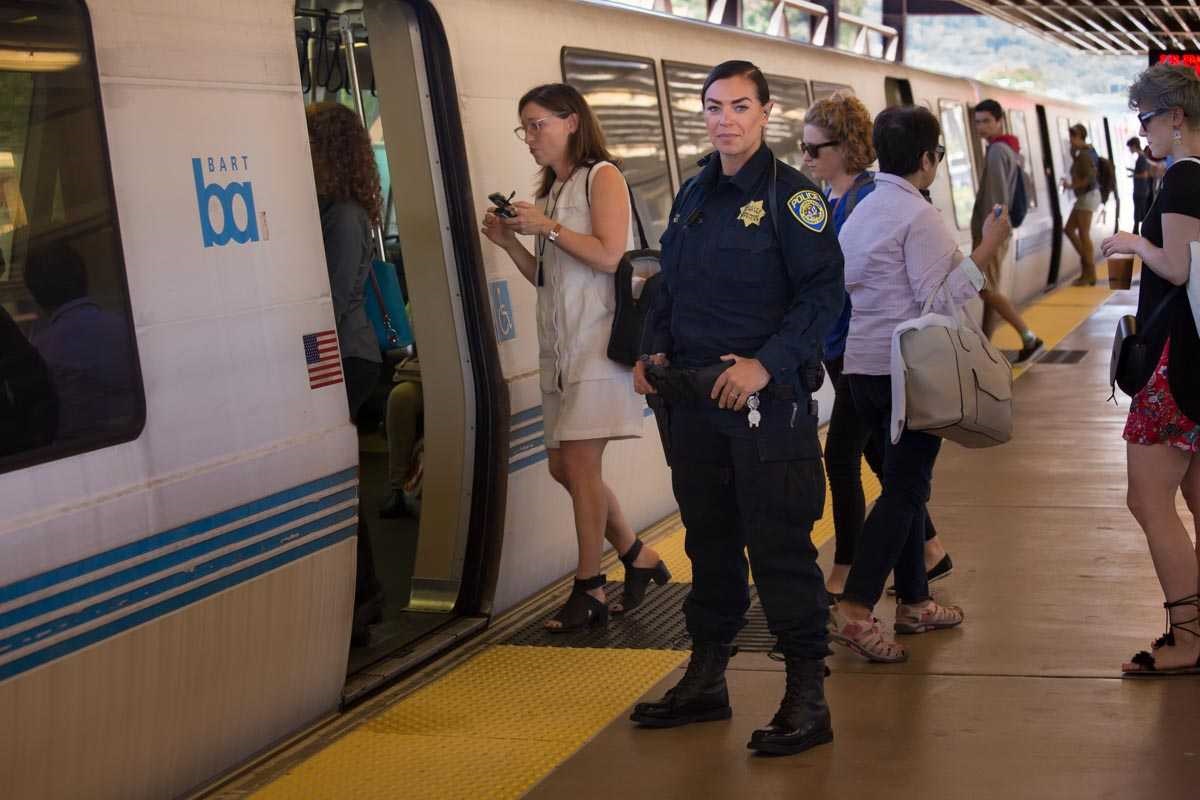 Here are some BART specific safety tips we want our riders to know about:
Download the free BART Watch App: it lets you send a private text to BART Police dispatch.
Save the number for BART Police dispatch in your phone 510-464-7000; when you call 911 there is a delay because CHP will need to transfer your call to BART Police dispatch.
Know your train car number: it's located above the doors on the inside of each end of the train car.
Secure or hold your phone, laptop, or purse tightly when waiting on a platform or near train car doors while on trains, especially as doors open.
If someone does grab your phone, laptop or bag, don't risk your personal safety, it's not worth it.
Be aware of surroundings and avoid looking distracted, especially while standing near stairs, escalators, and train doors and anywhere suspects can make a quick exit.
Don't sleep on board train cars.
The Train Operator is in the first train car; it's a great place to sit if you are traveling alone.
If something makes you feel uncomfortable, move to another train car.
Avoid getting pickpocketed, purses that zip closed are a good option in crowded places.
How you can help
For many crimes, BART Police may need a witness statement in order to make an arrest or take action if our officer didn't actually see the crime. That means we need you to come forward when our officers board a train asking if someone called police. We may need you to stay and sign a form explaining what criminal behavior you witnessed and that you are willing to press charges.
What BART is doing to address the homeless crisis
We understand the homeless crisis and drug epidemic is very concerning to our riders. As a transit system we have limited options to solve the crisis. The Bay Area needs more resources and services for those in need. We've developed this website to share what we are doing to address the problem: www.bart.gov/socialresources
Urgent messes that are safety risk and need immediate cleaning
Riders now have a quick and easy option to make a biohazard report using their phone and our mobile website m.bart.gov. Riders simply open a browser on their phone, go to m.bart.gov, and listed at the bottom is a report a biohazard feature. The report will initiate an email and text to BART employees assigned to address the problem. We will make every attempt to intercept the train and clean it mid-route or we will make sure to get it at the end of the line when trash gets picked up.
White courtesy phones in stations
Riders can call for assistance or to report an incident by using the white courtesy phones inside stations that directly connect them with the station's agent.There are white courtesy phones in the free and paid area of every station's concourse level, as well as at each end of the platform level at each station. If a station agent is outside of the booth, a chime will sound within the station to alert them that someone is calling from a white courtesy phone.
In addition, every station has at least one pay phone in the free area and at least one pay phone in the paid area where riders can call 9-1-1 at no charge. A 9-1-1 call made from pay phones at the 4 downtown San Francisco stations will connect directly to SFPD dispatch. A 9-1-1 call made from any other station pay phone will connect to BART police dispatch.
BART Police information, crime data and policies
Get crime data, learn how to file a report, read about police policies and get information about our $10,000 hiring bonus to help fill vacancies here.
#RideSafe
Want to share our rider tips with your friends and family? Save these photos to your device and share them on social media: