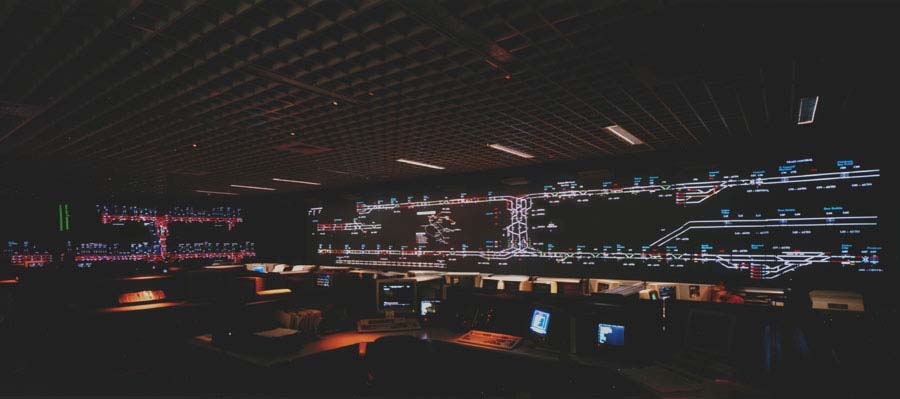 BART Operations Control Center (OCC)
Mileage
121 total: The S-Line from Warm Springs/South Fremont to Fremont, 5.4 miles; A-line from Fremont to Lake Merritt, 23.8 miles; the BART to Oakland International Airport (OAK) elevated guideway structure, 3.2 miles; the M, W and Y-line from Oakland West to Millbrae, 27 miles; the R-line from Richmond to MacArthur, 10.6 miles; the C-line from Pittsburg/Bay Point to Rockridge, 29.3 miles; the BART to Antioch extension from Pittsburg/Bay Point to Antioch, 9.2 miles and the L-line Dublin/Pleasanton to Bay Fair, 10 miles. Systemwide, there are approximately 32 miles of aerial track; 61 miles of track at grade and about 28 miles of subway track.
Stations
48 stations comprise 19 surface, 14 elevated and 15 subway stations. Four of these are a combination of BART and MUNI Metro stations in downtown San Francisco and one station is a combination of BART and Caltrain in Millbrae. For an overview of each station, visit the Stations section.
Trains
Third rail propulsion power is 1000-volt DC electricity. One 150 hp motor per axle, four motors per car. Aluminum body, carpeting, air conditioning, tinted windows. Car - 70' long without cab (B-Car), 75' long with cab (A-Car) 10'6 high, 10'6 wide, headroom 6'9". The BART to Antioch extension trains are Diesel Multiple Unit (DMU). They are fueled by renewable diesel, an advanced biofuel produced from bio-based sources such as vegetable oil.
Track gauge
5'6" wide compared to 4'8.5" for standard. The BART to Antioch extension DMU trains run on standard gauge rail.
Number of cars
BART has 669 revenue vehicles comprised of 59 A2 cars, 389 B2 cars, 150 C1 cars and 80 C2 cars in the fleet. Car seating capacity - 72 in both the Rohr-built A- and B-Cars, and 64 in C-Cars and C2-Cars.
BART has ordered 775 Fleet of the Future cars. The first Fleet of the Future train carried passengers in January 2018. The size of BART's fleet will be dynamic while new trains are put into service and old trains are retired. The current forecast indicates the balance of new train cars will be delivered by Spring 2022.
BART has 8 DMU train cars which each have a seating capacity of 104.
Speed
80 mph maximum; 35 mph average, including 20-second station stops. For BART to Antioch DMU trains, the maximum speed is 75 mph; 60 mph average.

Operations Control Center (OCC)
The current Operations Control Center (OCC) replaced the old "central control room," which made history when the system first opened in 1972, with what was considered the largest monitor display board of its kind in the country. The OCC functions as the nerve center of BART's system, performing supervisory control of train operations and remote control of electrification, ventilation and emergency response systems. The display boards use computer imaging and video projection to display the entire system, combining information into two: one for track and train positions and the other for maintenance information and electrification. Stations and wayside - Network of control devices and track circuits controlling train speeds, stops and safe spacing. Backup train protection system - Sequential Occupancy Release System (SORS): 52 mini-computers in 26 stations.
A centralized control center is needed to operate the BART to Antioch DMU system independent of BART operations. It is located in the maintenance annex north of State Route 4 near the Antioch Station. A dispatch, control and monitoring desk at the Central Control Facility is used to communicate with transit operations and maintenance personnel. The facility is also linked to the Operations Control Center to allow synchronization of operations at the DMU Transfer Platform.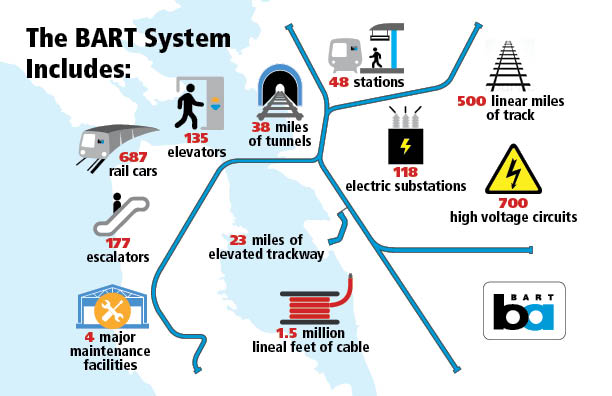 Automatic Fare Collection (AFC)
Station Equipment
300 ticket vending machines, 579 faregates, and 168 addfare machines supplied by Cubic Transportation Systems, Inc. Ticket vending machines in the free area of BART stations accept cash as well as debit/credit cards and vend regular BART Blue as well as BART Plus tickets. The ticket vending machines also eventually will load value on Translink smart cards. Addfare machines are located in the paid area of the stations, and are intended for use by customers who need to add value to their BART ticket in order to exit the system. Addfare machines accept cash only. In some stations, Addfare machines also serve for parking validation/payment. See individual stations descriptions to identify parking validation/payment requirements. Additionally, there are over 80 bill-to-bill change machines located throughout the BART system. These machines break $10 and $20 bills into $5 denominations, for use in the ticket vending machines and addfare machines.

Entry fare gate
Records time, date, station; returns ticket.

Exit fare gate
Computes fares, informs if additional payment is needed or deducts proper amount from the ticket. The exit gate keeps "exact fare" tickets, and returns all other tickets with their remaining value printed on them.

Accessible gate
This is a wider gate to accommodate passengers with wheelchairs, bikes, strollers and baggage. It serves as both an entry and exit gate, with ticket slots on both the entry and exit ends. It works in the same manner as the regular fare gates.
Ticket Information
BART Tickets
BART tickets are plastic, credit-card sized, with magnetically encoded value. Fare gates automatically deduct trip fares from the stored fare value on ticket. Just like a regular credit card, the magnetic BART ticket should always be kept dry and away from magnetic sources and should not be folded or bent. As of January 1, 2018, an additional charge will be added per ride taken with a ticket. Added charges will be: .50 on regular Adult fare tickets, .25 on Youth* discounted fare tickets, and .19 on Senior discounted fare tickets and discounted tickets for people with a disability.

*Youth fares will be available to riders age 5-18 as of 1/1/2018.

Clipper
The Clipper fare payment system is a Bay Area regional project managed the Metropolitan Transportation Commission. Clipper provides Bay Area transit customers a single fare payment medium for all their transit trips, through use of electronic "smart card" technology.
Fares
BART fares are based on how far you travel. To check fares visit the Fare Calculator. Discounted tickets are available at participating banks, retailers, social-service agencies and community-based organizations and the BART Customer Service Office. Discount tickets are not available at BART Stations. Children 4 and under ride free, children 5 through 18, senior citizens (age 65 and over) and persons with disabilities are eligible for discounts. Visit the Ticket section for more information.
Total Cost of Original BART System

$1,619,000,000

Sources of Funding:

1962 General Obligation Bond Referendum

$792,000,000

California Toll Bridge Authority

$176,000,000

Proceeds of Sales Tax Revenue

$150,000,000

Earnings from Temporary Investments

$111,000,000

Transit Development

$24,000,000

Miscellaneous Income

$51,000,000

Federal Capital Grants

$330,000,000

Costs of BART Extensions Program
| | | |
| --- | --- | --- |
| Phase I Extensions Programs | Cost | Year Opened/Opening |
| Colma Station (CSX) | $179,907,000 | 1996 |
| Pittsburg/Bay Point (PAX) | $480,000,000 | 1996 |
| Dublin/Pleasanton (DPX) | $584,790,000 | 1997 |
| San Francisco Airport (SFO) | $1,564,200,000 | 2003 |
| Warm Springs (WSX) | $767,000,000 | 2017 |
| Other Extensions | Cost | Year Opened |
| West Dublin Station | $106,500,000 | 2011 |
| Oakland Airport Connector (OAC) | $484,165,000 | 2014 |
| East Contra Costa (BART to Antioch) | $524,941,000 | 2018 |
| Silicon Valley Berryessa (SVBX)** | $2,421,300,000 | |
**SVBX is full funded by Santa Clara Valley Transportation Authority