Download the official BART app for elevator status updates www.bart.gov/apps
---
BART has 138 elevators. 86 are in our stations. The remaining 52 are in our parking structures or are employee only elevators. We communicates elevator outages to our riders in a variety of ways.
BART prioritizes the maintenance of elevators because of the essential role they play for passengers with disabilities and those with luggage and strollers. Our goal for station availability is 98%. You can track our elevator performance in our data portal.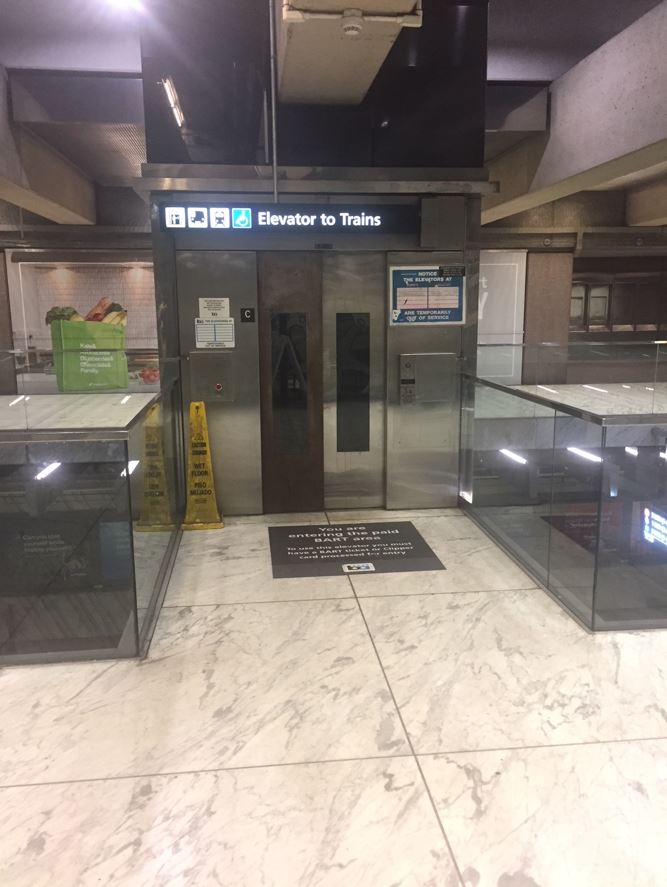 COMMUNICATING OUTAGES
There are several ways we ensure our riders have the real time information they need for their trip. We offer:
Real time status here at ww.bart.gov/elevator
Email and text alerts for stations of choice www.bart.gov/alerts
The official BART app www.bart.gov/apps
Frequent systemwide PA announcements
Digital screen updates on the platform digital signs and at Station Agent booths
Elevator Status hotline (510) 834-LIFT or (888) 2-ELEVAT
If you arrive at a BART station and are unable to enter or exit the station because the elevator is not working, contact the Station Agent. You can contact the Station Agent by pressing the button on the courtesy phone call box next to the elevator entrance. They will help you enter or exit in another way if possible, or refer you to an alternate means of transportation such as a bus or paratransit.
If you need to communicate with the Station Agent while inside the elevator, use the emergency telephone. If the Station Agent does not answer within 90 seconds, your call will be directed to BART Central Dispatch. If the emergency telephone is picked up for at least two minutes but there is no voice communication, BART will treat this as a call for assistance. This ensures that help is available to elevator passengers even if they are unable to speak.
RECENT IMPROVEMENTS
Over the last several years, BART has been working to accomplish several critical elevator improvements:
Replacing flooring in all passenger elevators throughout the system to make them safer and easier to clean.The work also involved upgrading protective material at the sides of the elevators to prevent liquid from flowing under to the sub-floor and damaging elevator equipment and causing odor.
We've installed two new modernized elevators in the paid area of the Union City Station.
We have started renovating the older four-unit bank of elevators in the Pleasant Hill Station parking structure, which were chronically poor performers.
In the past three years, we have replaced all elevator emergency call boxes.
We have developed contracts for installing a new higher capacity and higher speed elevator inside of the paid area at the Embarcadero Station that will service the concourse to platform.
We have developed a contract for installing a new 19th Street Station elevator inside the paid area to service the councourse to platform with construction set to begin on late 2019.
CLEANING
BART has made improvements to the way it cleans elevators. We have initiated a campaign to address the district's dirtiest and worst smelling elevator pits. We have onboarded the assistance of a company to clean, sanitize and epoxy the elevators hoistways and pits. Once the pits have received a thorough sanitizing and epoxy coating, we establish a routine cleaning and sanitizing service every 90 days.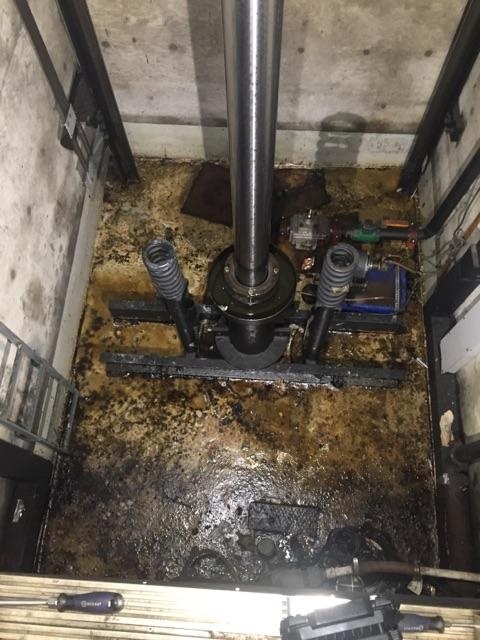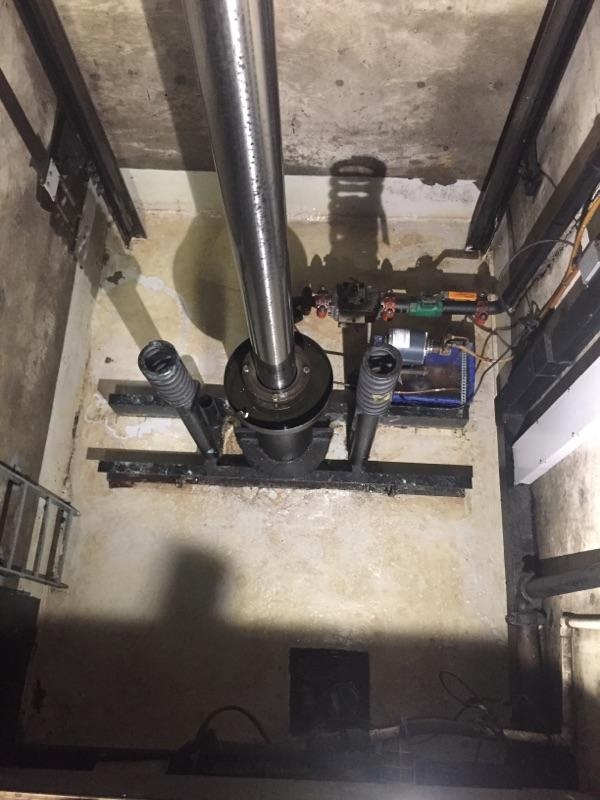 Civic Center Station elevator pit: before and after thorough cleaning
We have also moved station elevator inspections to the grave shift (10pm-6am) so units don't have to be taken out of service during peak commute times for inspections.
ELEVATOR ATTENDANTS
BART and the San Francisco Municipal Transportation Agency launched a pilot program on April 30, 2018 that staffs elevators at the Civic Center and Powell St. stations with attendants from open to close every day.
The program addresses elevator cleanliness, safety, security, availability and accessibility issues. Since its start there have been zero reports of misuse of the elevators.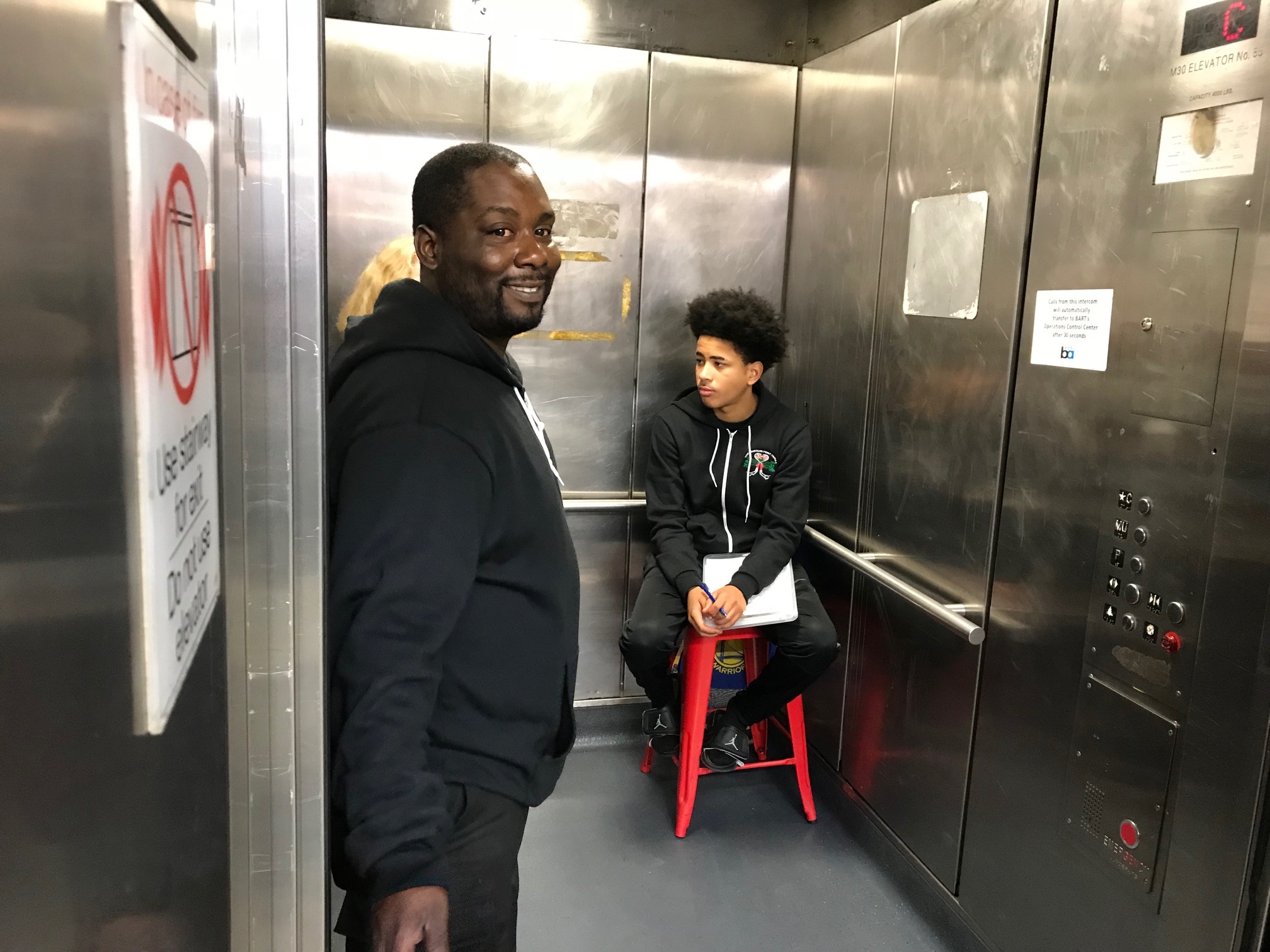 BART and SFMTA brought in members of the community organization Hunters Point Family to serve as attendants who greet riders and direct people seeking facilities to the well maintained, fully attended, street-level Pit Stop bathrooms located at the street level above both stations.
The pilot was such a success that it was included in BART's Fiscal Year 2019 budget with funding secured through June 2019.
PLANS FOR IMPROVEMENT
BART is focused on increasing elevator redundancy within stations, as well as ensuring that all new elevators are constructed within paid areas to prevent fare evasion and to prevent elevators from being used inappropriately.
BART is partnering with Alameda, Contra Costa and San Francisco counties, as well as with the SFMTA to renovate the district's poorest performing elevators. Funding has been identified and contracts are being prepared for work on units in San Francisco's Embarcadero, Montgomery, Powell and Civic Center Stations. The plan for the downtown San Francisco stations include installing new elevators into the paid area and making them exclusive to BART riders which will increase capacity as they will no longer be shared with Muni. Muni will take over the current elevators for their riders. In the event either unit is out of service, each agency will open up their elevator to all riders.
Plans have also been approved to renovate elevators at the Coliseum and Downtown Berkeley Stations.
FASTER NOTIFICATION OF SERVICE NEEDS
The BART Board is expected to award a contract in December 2018 to install a Remote Monitoring System on 81 elevator and escalator units. This technology will automatically send information on the units' status to BART's Computerized Maintenance Management System. This will allow for immediate notification if a unit breaks down or otherwise malfunctions. Currently, an employee must log the service request into the system which can take time. This self-reporting technology will mean improved real time alerts of outages and a notification to crews that a unit needs attention.
FARE EVASION PREVENTION
BART is working to bring elevators into the paid are through a variety of strategies.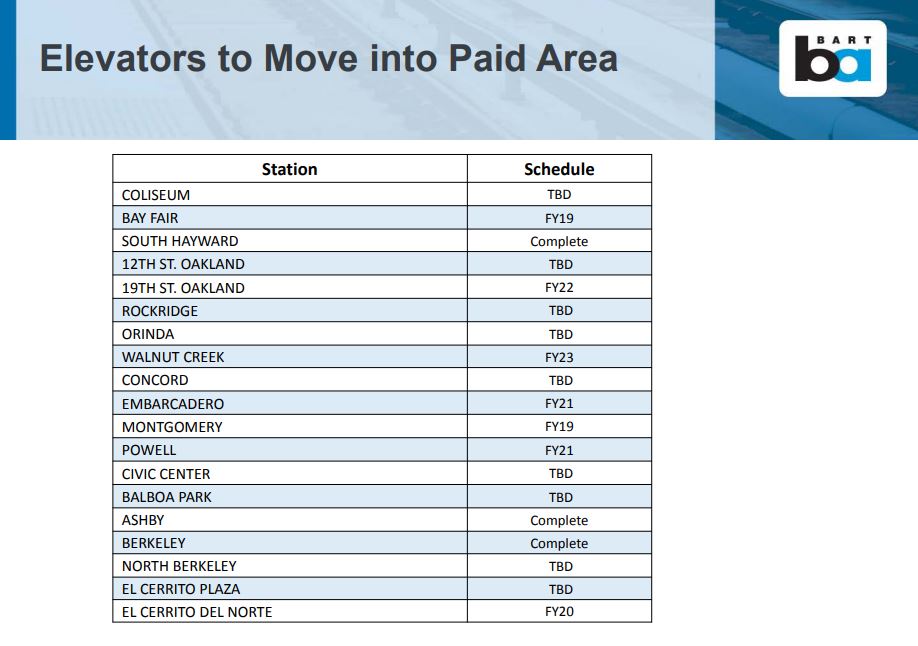 ELEVATOR TECHNICIANS WANTED
BART is currently hiring for elevator and escalator techs. www.bart.gov/jobs
A Certified Competent Conveyance Mechanic license is required to work on units, and with only a small pool of certified techs, competition with the private industry is high. Much of the skilled labor force in this area are retiring baby boomers and therefore there is a need to train the future generation of elevator and escalator techs to help keep the Bay Area moving.
BART offers an apprenticeship program to help build an in-house pipeline of certified workers. It is dedicated for current SEIU employees working at BART. Another path to certification is to be hired as a non-licensed Maintenance Worker III with mechanical and electrical experience from a related industry and then BART will help with the process to take the certification test after three years in the industry.
We know you depend on BART and we're striving to give you the best service updates possible. BART elevator advisories are available via email subscription and on-demand text messages. If you have any ideas for improvements, please let us know.