BART's focused approach to addressing the homeless crisis
It is our job to help ensure the safety, security, comfort and convenience of all those who use BART.
The national homeless crisis can be visible in BART stations and on trains as homeless people use BART for shelter. Increasing rates of homelessness and related quality-of-life issues on BART present us with unique challenges as a transit system, and highlight a pressing need for action and understanding from us, our riders, and our partner agencies in the communities we serve.
BART does not have the internal resources that homeless people need. In response, we've developed a coordinated and comprehensive approach that maintains a safe and clean environment for riders—while connecting homeless people who seek shelter in our system to services and resources.
It is estimated there are 30,000 homeless individuals in the Bay Area. As a rider, you may be concerned with behavior you've witnessed while on BART, and we hear you. It could be a person experiencing a mental health crisis, aggressiveness or violence, a hygiene issue, aggressive panhandling, drug use, or perhaps sleeping across several seats during the commute. It is understandably frustrating for commuters to be crowded out of trains by persons who are there for reasons other than commuting. BART simply does not have space for people to set up short term residency. We also need to maintain clear paths in our station hallways for evacuation in the event of an emergency. Persons lying down in station corridors is a life safety issue for everyone in the station.
All riders are expected to pay the fare and follow our Passenger Code of Conduct adopted by our Board of Directors to ensure that any one person doesn't adversely affect others using or operating the system. The Passenger Code of Conduct is based on common courtesy, and most all violations of the Passenger Code of Conduct are also a criminal violation.
We are working on a variety of measures to tackle these issues and just as important help those in need.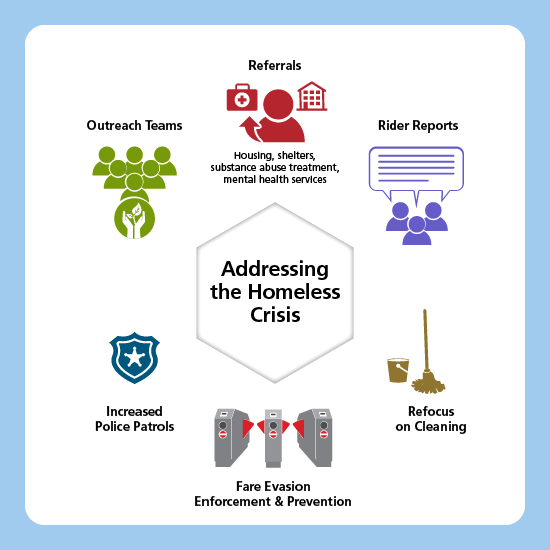 Since BART is not a suitable shelter for homeless people, we are helping connect individuals to resources by:
-Deploying our full-time Crisis Intervention Training Coordinator and Community Outreach Liaison to seek out homeless individuals with the goal of connecting people to services by providing vital referral services. This position brings expertise to BART on the complex issues related to homelessness.
-Actively making contacts with individuals to develop a relationship and needs assessment. BART Police made nearly 200 contacts in 2016 with people laying down in our station hallways. These contacts have allowed BART to successfully reunite individuals with family members willing to provide housing or other local housing resources.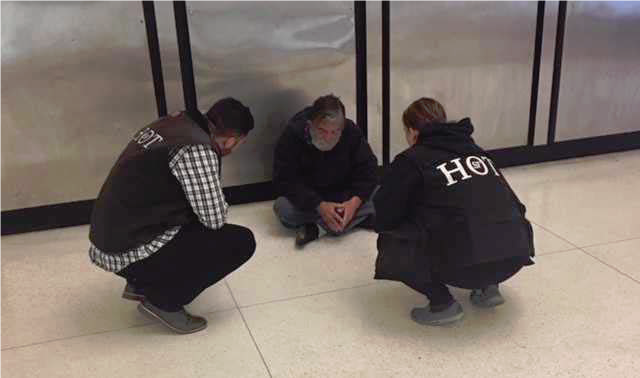 -Helping fund a partnership between BART, MUNI and the City of San Francisco's Department of Homelessness to provide two full-time Homelessness Outreach Team (HOT) employees with an inital focus on Powell and Civic Center. They will help move people off our concourse floors and into shelters, while also connecting them to treatment and more permanent resources.
This team began operations mid-November 2017. They work four days a week. From the beginning of operations through the end of July 2018, the team has made contact with 495 individuals, with 240 of those individuals referred to services.
Metrics on SFHOT Outreach November 14, 2017-June 30, 2018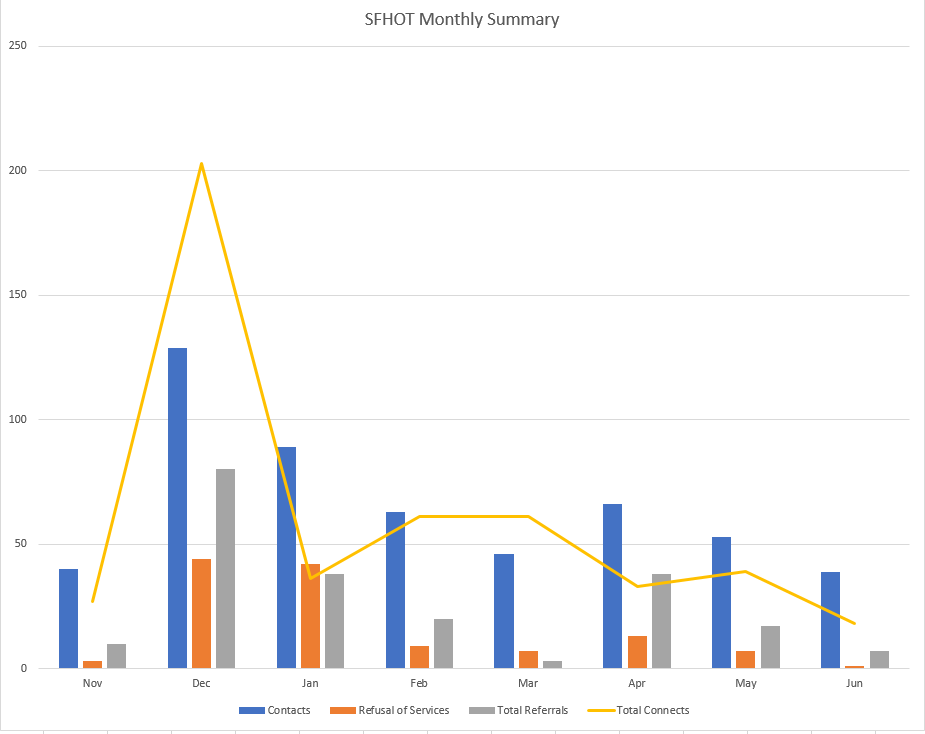 -A second San Francisco Homeless Outreach Team is scheduled to begin operations on January 1, 2019 with a focus on the Civic Center, 16th and Mission St. and the 24th and Mission St. Stations. At this time, the first team will shift it's focus to the Powell, Montgomery and Embarcadero Stations.
-We are also focused on creating partnerships with other counties. A program that involves two full-time HOT employees dedicated to Contra Costa County is set to launch on January 1, 2019. Their role will be to engage homeless individuals seeking refuge in the BART stations and under our aerial tracks and connect them with available services and shelters in this county.
-Participating in a Law Enforcement Assisted Diversion (LEAD) program, which diverts low-level drug offenders who may also be struggling with homelessness and mental health issues from the criminal justice system into treatment programs and hopefully recovery. This diversion program is in response to the open drug use witnessed in our system. These efforts will be focused on the Civic Center and 16th Street stations. There are two types of diversions: pre-booking, in which a person is facing a choice between possible jail for a low-level non-violent controlled substance offense, or an agreement to enter the LEAD program. The other is called a "social contact" diversion, which allows a referral into LEAD by a law enforcement officer who has witnessed LEAD-eligible behavior. Read a behind-the-scenes look at how this program works and the partners involved. UPDATE: This program began October 2017. As of September 4, 2018 this partnership lead to 89 pre-bookings and 87 social contacts within the BART system.
-Partnering with the Salvation Army to connect people in downtown San Francisco with services. Following a successful joint outreach event in May of 2018, BART and the Salvation Army expanded their efforts to address quality of life issues in and around downtown San Francisco's Civic Center Station. The expansion involves Salvation Army staff and volunteers conducting weekly outreach events at the station each Wednesday afternoon beginning June 13th to link people with resources. The Salvation Army regularly does work in this area, but May 17, 2018 was the first time the non-profit coordinated with BART to also go into the Civic Center station to encourage people to come up to UN Plaza to receive food, socks, hygiene kits and information on available resources. More than 750 people were served that day and 4 homeless individuals enrolled in a detox and recovery program. They were transported on-the-spot to the Salvation Army's Harbor Light Center. The weekly effort will take place between 1 pm and 3 pm each Wednesday.
-Assisting those in crisis and transporting the individual to a mental health facility, detox, or hospital. All BART officers undergo crisis intervention training.
-Sending our outreach expert and BART Police on early morning trains headed to the end of the line to make contacts with those sleeping on the trains.
We are working to improve the station environment by:
-Increasing employee presence and cleanliness in downtown San Francisco by hiring four new station cleaners who will focus solely on keeping Civic Center and Powell Street stations clean.
-Adding four community service officers to Civic Center and Powell Street stations who will serve as trained foot patrol and work to disrupt drug injection sites.
-Hiring 38 additional officers to enforce existing laws against vandalism, littering, fare evasion, and open drug use. Additionally, new officers will increase visibility in stations and on trains, helping maintain a safe environment.
-Positioning new, fully attended Pit Stop bathrooms above ground at major station entrances and exits in San Francisco to provide safe and clean access to restrooms for the public. There are currently Pit Stops above four BART stations (Powell St. Station, Civic Center Station, 16th and Mission St. Station and 24th and Mission St. Station).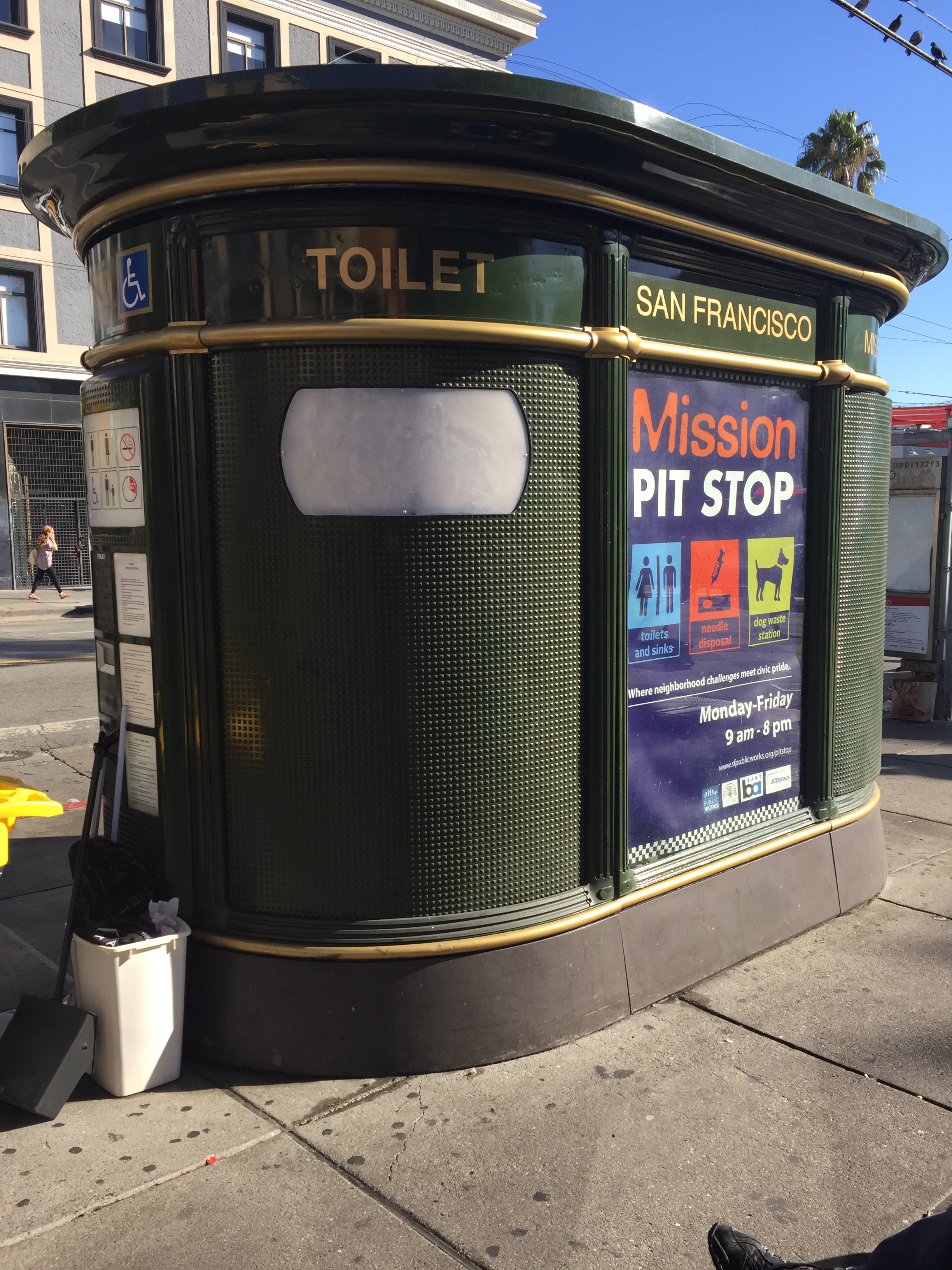 -Working to protect Downtown San Francisco escalators from abuse during the overnight hours by installing trespasser gates and eventually lockable canopies at the street level.
-Ensuring hallways are not blocked with sleeping individuals through enforcement of laws and building codes that require a speedy evacuation in an emergency. This enforcement is paired with our outreach and service referrals.
-Stepping up our efforts to prevent fare evasion through through infrastructure changes such as higher barriers and bringing elevators into the paid area, and more police patrols and focused enforcements at stations.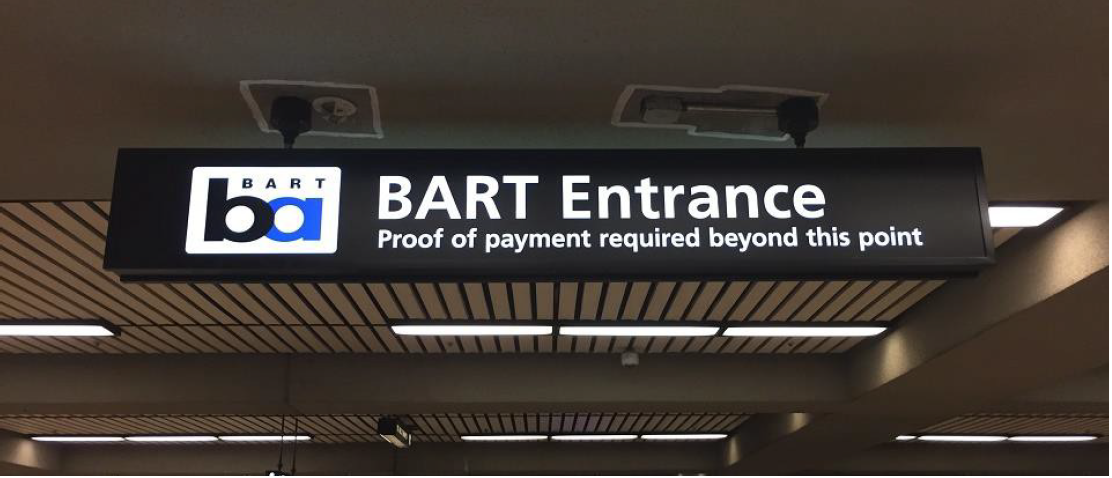 The Board has also approved a proof of payment ordinance. Proof of payment began January 1, 2018 with a one month warning period for first time violations. Unarmed Community Service Officers do the fare inspections. They have received training, particularly on deescalation and on using the fare checking devices. Inspections will progress from one person to the next without skipping anyone. All interactions will be recorded with body worn cameras.
-Blasting away grime and stench with our rotating station brightening crew power washing staircases and station entrances at Downtown San Francisco and Downtown Oakland Stations.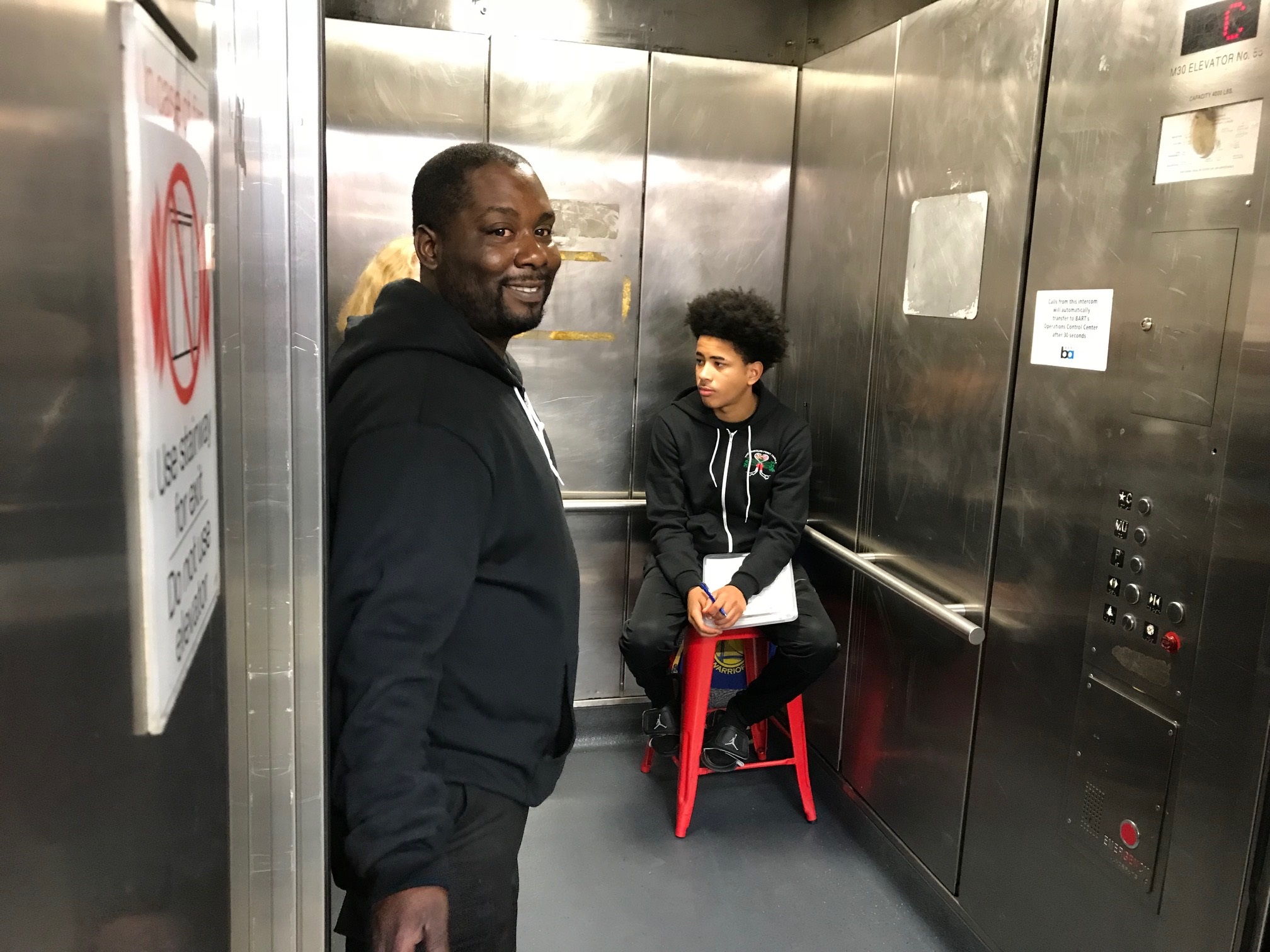 -Using elevator attendants at some of our San Francisco stations to help address elevator cleanliness issues. This six-month pilot that began on April 30, 2018 has been extended for another year. Data collected along with customer feedback has been overwhelmingly positive, and BART's Fiscal Year 2019 budget will keep it funded through June 2019. Attendants are at both street and platform elevators at Civic Center and Powell Street Stations from station opening to closing everyday.
-Installing signage at the Downtown San Francisco stations to clearly identify disorderly conduct that is not allowed.
-Issuing Prohibition Orders which is an order precluding an offender from being on any District property for a period of 30, 90, or 180 days, based on their prior behavior of battery or threats of battery, sales of illicit narcotics, or a sexual offense, defacing property or urinating in public.
What you can do:
-Call BART police at 510-464-7000 and we will dispatch an available officer if you are a victim of aggressive/frightening behavior, violence, or are observing such behavior on BART. Your safety is our priority.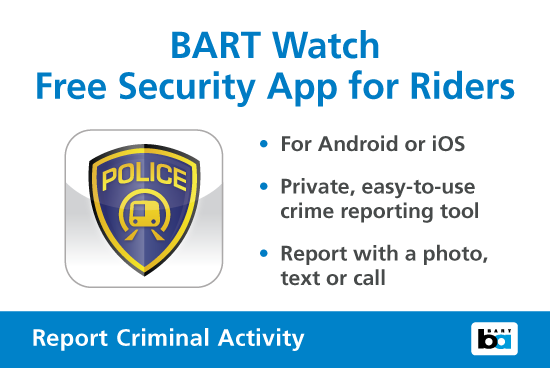 -Download and use the BARTwatch app if you're concerned that someone is unwell or in need of a welfare check. We will take the report submitted through your phone and dispatch an officer or team member to check on the person. Examples of this can include people who are visibly intoxicated, people who have soiled themselves, or people experiencing a mental health crisis. Please keep in mind, someone sleeping on a train who appears to be homeless does not violate any laws and dispatch will need more clarifying information to deploy an officer and hold a train.
UPDATE: in 2016 BPD conducted 8,893 welfare checks and 10,422 in 2017.
-Report drug use to police by calling the above number or using the BARTwatch app. We want our system to be a welcoming place to people of all ages; open drug use is illegal and will not be tolerated.
-Notify your Train Operator using the intercom on each end of every BART car if there is car cleanliness issue that needs to be urgently addressed. Move to an adjacent car if you are concerned about making the report to the Train Operator in the incident car.
-Notify a Station Agent or BART employee if you are concerned about a patron's behavior in a station.
-Notify a Station Agent if an elevator needs cleaning. Agents check elevators once per hour and our janitors are constantly cleaning them but the abuse is rampant. as noted above, we are exploring the use of elevator attendants at Downtown San Francisco Stations to help address this problem.
Resources for the unhoused
Bay Area Wide:
The United Way's 211 service connects residents in Alameda, San Francisco, San Mateo, Napa, Solano and Santa Clara counties with health and human service programs in their local community. Simply dial 2-1-1 or visit www.211bayarea.org to receive 24/7, free and confidential assistance in multiple languages.
Alameda County:
The Alameda County Social Services Agency website offers a one-stop-shop for families and single adults who are homeless or at-risk of becoming homeless in the county. The Agency contracts with local county homeless shelter providers and helps people in need of financial assistance.
Those who are having a housing crisis or in need of other support in Alameda or Contra Costa counties can dial 2-1-1, which is a toll free phone number that provides free and confidential information and referrals on housing, health and social services.
The county's Housing & Community Development Department offers Rapid Re-Housing programs, move-in assistance, short-term rental subsidies and connections to support services to quickly transition homeless households to a permanent solution.
Contra Costa County:
There are multiple ways to access homeless services in Contra Costa County:
CALL: 211 or text 898211 for 24/7 free, confidential assistance. Callers will be matched and referred to appropriate programs.
CORE: The Coordinated Outreach Referral, Engagement (C.O.R.E.) program works to engage and stabilize homeless individuals living outside through consistent outreach to facilitate and/or deliver health and basic need services and secure permanent housing. To notify a C.O.R.E. team about an unsheltered homeless individual or family, please call 211. Please note that C.O.R.E. teams are not designed for crisis response. For medical or other emergencies involving homeless individuals, please call 911.
CARE: The following CARE Centers offer a range of services including, showers, food, laundry, benefits enrollment, health care, mental health, substance abuse and housing search assistance.
San Pablo:
Concord:
Walnut Creek:
Contra Costa offers "Health Care for the Homeless" which is a multi-disciplinary bilingual team of medical, dental, behavioral health, social support and administrative professionals. Health Care for the Homeless is outfitted with well-equipped medical vans that visit various shelters and community centers through Contra Costa County on a weekly basis. Our services are available to individuals who meet the Homeless Criteria. For more information and the mobile clinic schedule call (925) 608-5300 or visit https://cchealth.org/healthcare-for-homeless/
City and County of San Francisco:
The newly formed Department of Homelessness and Supportive Housing brings together housing and homeless services throughout the City. Those in a housing crisis can dial 3-1-1 and reserve emergency housing for up to 90 days. Assistance is available both in English and Spanish. The Department also offers veteran assistance, long term housing programs, hygiene supplies, clothing, crisis intervention, medical and mental health care and drug prevention programs.
The San Francisco Homeless Resource website offers a comprehensive directory of services for the homeless. It is a collaborative website for homeless advocates, providers, government and others in San Francisco.
San Mateo County:
The county's Human Services Agency offers emergency safety net assistance. There are eight Core Service Agencies within the county that work with the agency to provide individuals and families with basic emergency and support services to stabilize their living situations.
The Homeless Shelter Directory lists more than 3700 shelter and social services in San Mateo County and across America.
The Center on Homelessness coordinates homeless services throughout the county. The Center sets up homeless outreach teams, administers the motel voucher program and connects people with homeless shelters.
Resources for Homeless Veterans
Swords to Plowshares is a community-based not-for-profit 501(c)(3) organization that provides needs assessment and case management, employment and training, housing, and legal assistance to roughly 3,000 veterans in the San Francisco Bay Area each year. 415-252-4788
Veterans Administration: Make the call to 877-4AID-VET (424-3838) to be connected 24/7 with VA's services to overcome or prevent homelessness for yourself or a Veteran you know. Read more at:
San Francisco Vet Center 415-441-5051 or 877-927-8387
Oakland Vet Center 510-763-3904 or 877-927-8387
Concord Vet Center 925-680-4526 or 877-927-8387