BART currently operates 23 trains per hour (213 cars) in each direction through the transbay tube between San Francisco and Oakland during the peak hour. The trains are crowded, and ridership has grown significantly over the last ten years. As the system expands and as the core continues to attract development, further increases in ridership are expected. BART is advancing a package of strategic investments that will increase train frequencies between San Francisco and Oakland by more than 30 percent, and overall capacity by approximately 45%. The Transbay Corridor Core Capacity Project will allow BART to operate up to 30 ten-car trains per hour (300 cars) in each direction on the existing system, maximizing throughput in the most heavily used part of its system. The project includes four elements: 306 additional railcars to provide the additional trains needed, a new communications-based train control system that will allow closer headways, a new railcar storage yard at the Hayward Maintenance Complex (Phase 2), and additional traction power substations to provide the additional power needed for the more frequent service.
The Transbay Corridor Core Capacity Program is currently in the Project Development phase of the Federal Transit Administration's (FTA) Capital Investments Grants (CIG) Program. The total project total cost is $3.5 billion, and approximately $1.5 billion in local funds have already been committed to the project. BART is seeking $1.25billion from the federal government for this project. Each project associated with the program is working continuously to move the projects forward, and we are anticipating FTA approval for entry into the Engineering phase of FTA's program in late-summer/early fall 2018.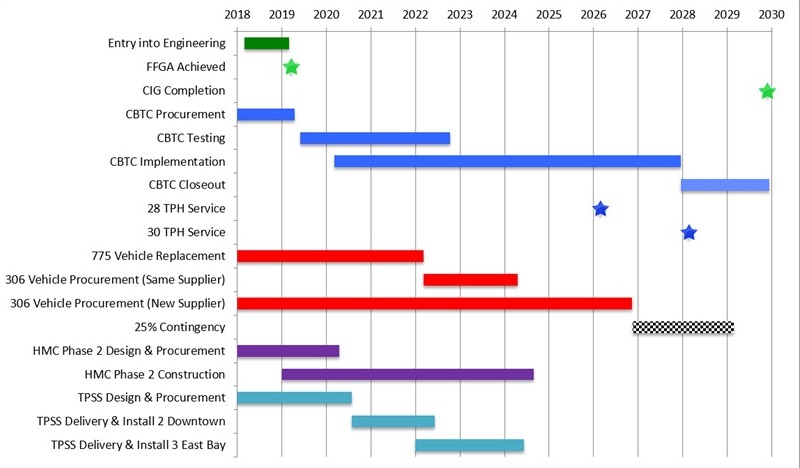 ---
306 Additional Railcars.In order for BART to achieve a regular schedule of 30 ten-car trains through the corridor, BART will require additional cars to make up the added trains and to make longer trains. BART currently has 775 new rail vehicles on order, which will allow us to completely replace our aging fleet of 66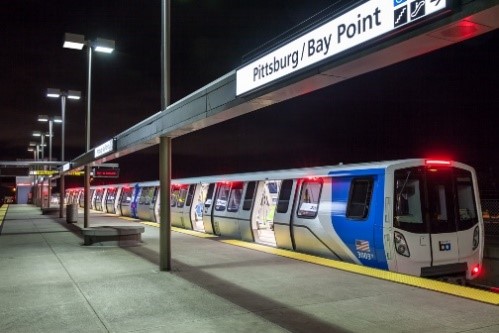 9 vehicles and to expand the fleet by 106 cars. When this order is completed, BART will be able to provide some additional capacity in the short term, but will need 306 more vehicles to get to the number of cars required to operate trains more frequently, which is a total requirement of 1,081 cars.
Of the 306 additional cars required, 252 are needed for BART to operate 30 ten-car trains per hour on the four lines (Red, Blue, Green and Yellow) that operate through the Transbay Tube. The remaining 54 are to increase capacity on the Orange Line (which does not operate through the Transbay Tube), and to increase ready reserve trains, which are needed in case delays occur.
---
Train Control Modernization Project (Communications-Based Train Control). To achieve the shorter headways needed to operate 30 regularly-scheduled trains per hour through the Transbay Tube, BART will replace its existing fixed-block train control systems with a new Communications Based Train Control System. BART has developed an eight-phase implementation program that will begin by testing CBTC equipment on BART's existing test track in Hayward, and then once the CBTC equipment has been sufficiently proven on test tracks, BART will implement CBTC along the mainline tracks in stages. The scope of the CBTC project includes installation of lineside equipment within BART's existing right-of-way throughout the entire system. CBTC allows trains to operate closer together than our current train control system, thus increasing throughput and capacity. CBTC has been implemented on many of the busiest rail systems in Europe and Asia, and is now the worldwide standard for high-capacity transit train control.
---
Hayward Maintenance Center, Phase 2. To accommodate the additional 306 n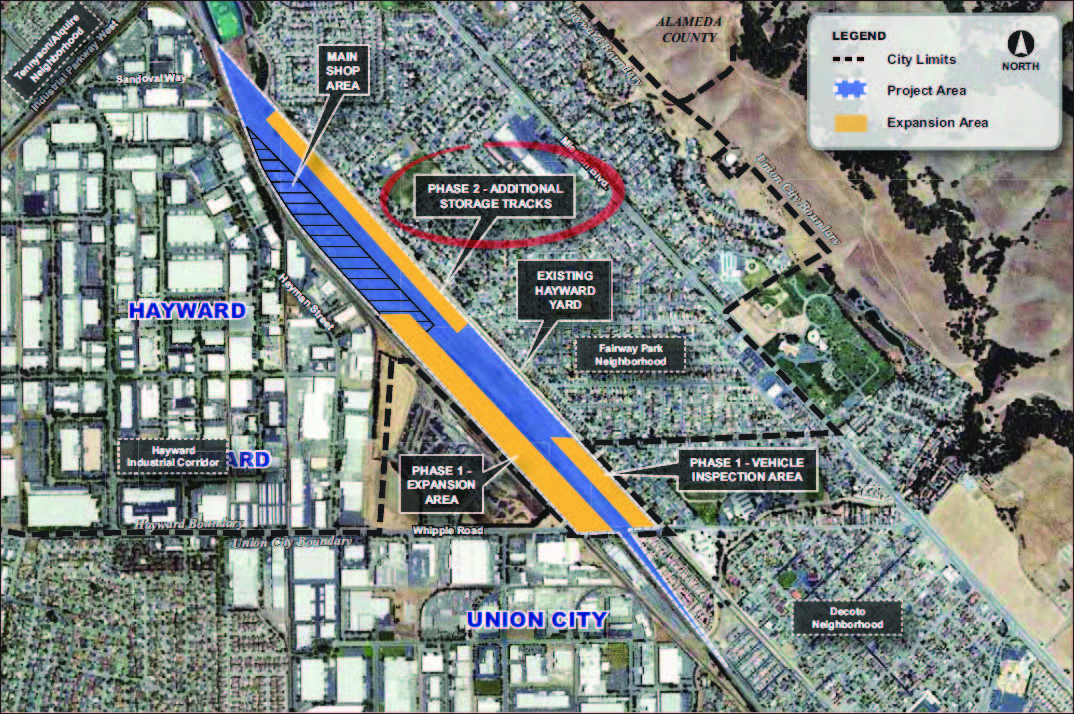 ew vehicles BART needs for the higher frequency service, BART will build a new storage yard on BART-owned property at the Hayward Maintenance Complex (HMC) The new yard will provide storage for 25 ten-car trains, or 250 additional vehicles. In addition to the storage yard, the project includes a flyover structure (visual simulation below) to connect the yard to the BART mainline without blocking through train service, and all associated systems such as traction power and train control.
---
Traction Power Substations. BART's trains are electrically-powered through a third-rail system. With more frequent and longer trains, BART will need the traction power system that supplies electricity to the third rail to be enhanced with several new traction power substations. BART has conducted traction power simulations to assess the power requirements associated with operating 30 regularly-scheduled ten-car trains through the Transbay Tube per hour. The simulation revealed specific areas along BART's mainline where the traction power requirements for the more-frequent service exceed the capacity available from BART's existing traction power system. Five sites have been identified for new substations:
Richmond
Pleasant Hill
Oakland – near MacArthur station on 34th Street
Downtown San Francisco - Civic Center Station
Downtown San Francisco - Montgomery Station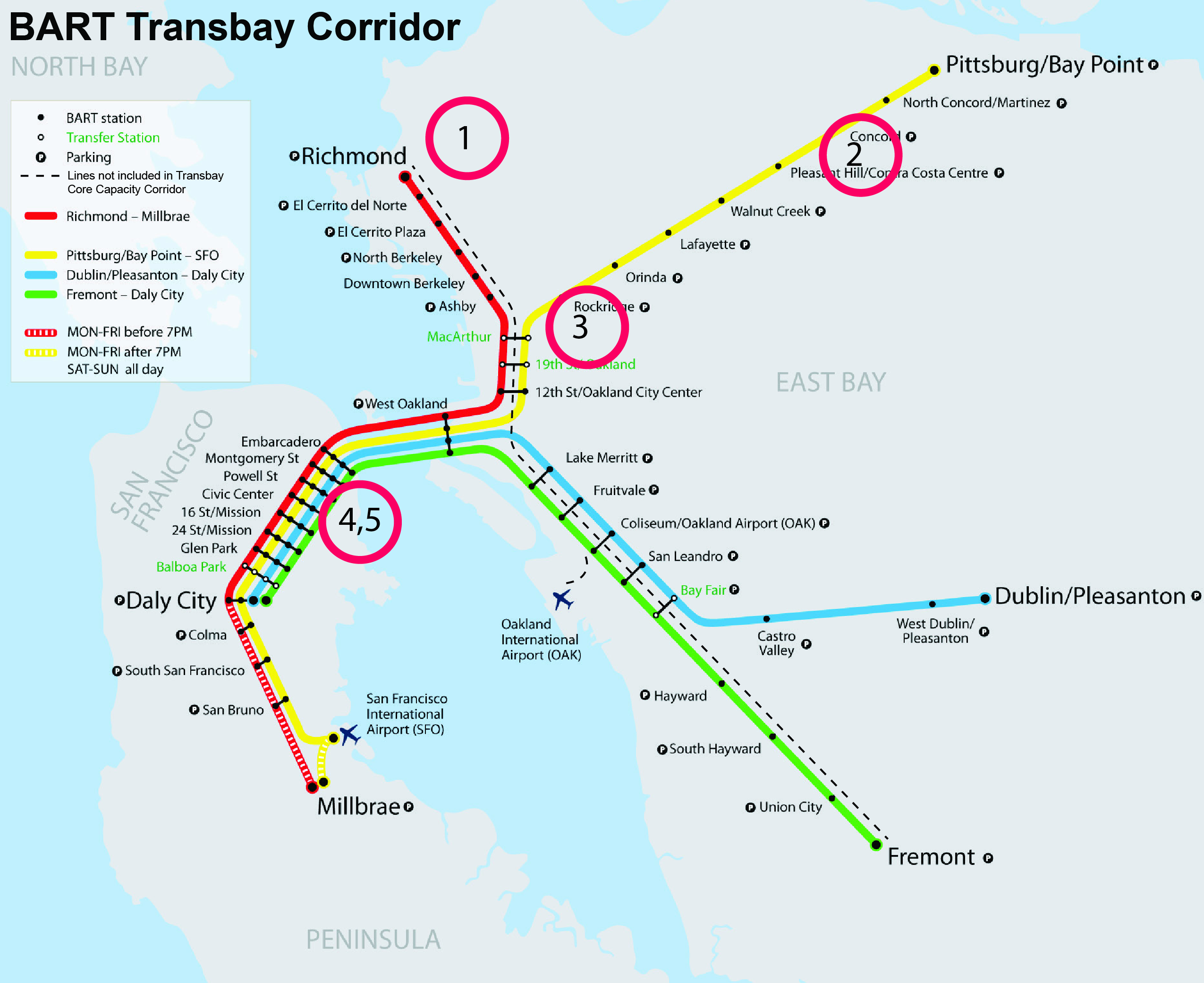 The three locations in the East Bay are all within existing BART or Caltrans right-of-way and are at-grade locations. The two sites in San Francisco are located below grade within existing BART stations BART is also undertaking a major program to replace and upgrade the existing traction power system. While this program will increase the amount of power available for train operation, it is not considered to be part of the Core Capacity Program.