Balboa Park Phase 2 Eastside Project
Objectives: Enhance accessibility, convenience, visibility + sightlines, safety + security, and placemaking
Multi-agency coordination with BART, SFMTA + SFCTA
Description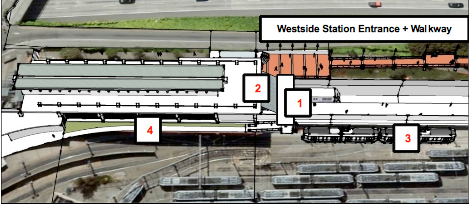 1. Accessible, structurally reinforced pathway from the completed Westside Project over the concrete planter
2. New Eastside deck and head house structure
3. New accessible pathway to Muni Metro key stop
4. Elevated accessible pathway and continuous railing to the existing station entrance, as well as a new entrance by the BART ticket vending machines/faregates.
5. Optional interior upgrades: clerestory glass panels, travertine wall panels, and enhanced lighting.
Schedule
Currently in the construction phase.
Also, coordinating with SFMTA Green Yard Rail Replacement and SFMTA Station Area Improvement Projects.
Anticipated construction completion in late 2017.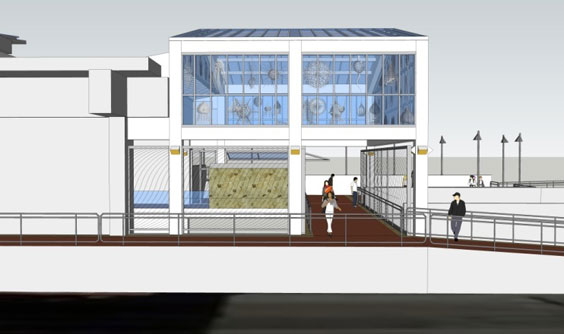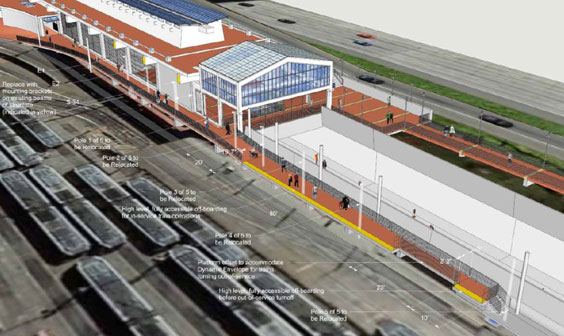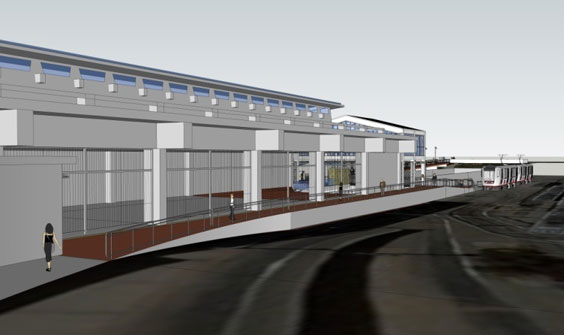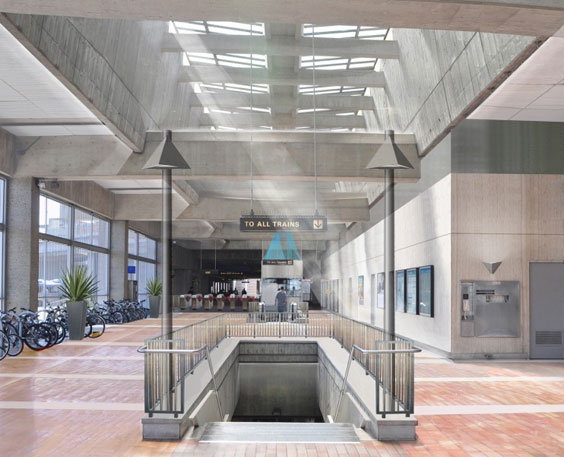 Balboa Park Station Modernization Plan
BART is currentlyadvancing concept design in 2015-2016 as part of the Station Modernization Program, which will invest resources into the existing core stations and surrounding areas to support transit ridership and enhance the quality of life around the stations.
As part of our Station Modernization effort. BART is currently developing design and construction cost estimates for Balboa Park Station. The goal of the project is to develop and prioritize potential station improvements to upgrade and modernize the station's function, safety and security, capacity, sustainability, appearance, and improve the customer experience. BART is also partnering with the City to identify plaza improvements to support the Upper Yard Affordable Housing Project.
The Plan will position BART to partner and seek funding for implementation.
Project Goals
As part of our Station Modernization effort, BART is currently developing a comprehensive vision for this station as a gateway station. The goal of the project is develop a comprehensive vision to upgrade and modernize the station. The Vision is to modernize the station so that it demonstrates BART's commitment to advancing transit ridership, improving the transit experience, enhancing the quality of life around the stations and meeting BART's needs for the future. The station modernization revolves around the themes of:
Vibrancy – Reflect the energy of the surrounding community and enhance the station's existing strengths
Connectivity – Strengthen multi-modal and universal access to the station and promote a safe and comfortable customer experience
Sustainability – Incorporate sustainable materials and technologies into the station to increase the life-cycle value of the station's infrastructure and to conserve natural resources and protect the public investment
The improvements focus on increasing safety, capacity, sustainability, appearance, and enhancing the customer experience. In developing potential improvements for the station, BART has undertaken a planning process to:
Identify existing station deficiencies
Consider impacts of development and growth on station ridership
Understand future access, capacity and operational issues
Consider art & place-making improvements
Coordinate conversation with stakeholders
Engage the community to help identify and prioritize improvements
More information on Balboa Park Modernization Planning at www.bart.gov/balboapark
---
Please Contact Tim Chan (tchan1@bart.gov) with any questions or comments.
If you need language assistance services, please call 510-464-6752. 若您需要语言帮助服务,请拨电: 510-464-6752。Si usted necesita algún servicio de asistencia de lenguaje, por favor llame al 510-464-6752.