San Francisco International Airport (SFO)
Are you visiting the Bay Area?
Buy a BART SFO Ticket Voucher in advance!
BART trains connect SFO with downtown San Francisco, downtown Oakland and many other Bay Area destinations. BART is the best way to avoid sitting in Bay Area traffic. Three to four trains per hour depart from the SFO International Terminal, and it's just 30 minutes to downtown San Francisco. Plan your trip with the QuickPlanner.
The BART station is located in the International Terminal, a short walk from Terminals 1 and 3.
You can also take the free SFO AirTrain from all terminals directly to the BART station. Follow the signs upstairs and board an AirTrain to the BART station.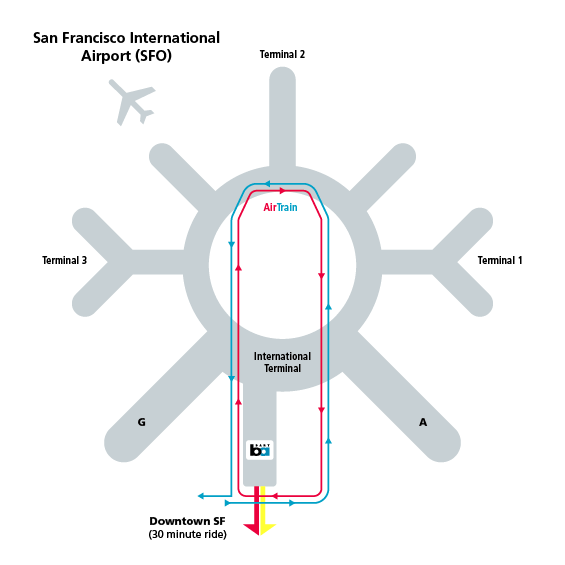 If you fly into the International Terminal, turn right when leaving customs, and take the escalator up to the departures level. Walk straight ahead and turn left at the art exhibit and you'll see the station entrance.
To Downtown San Francisco
Board an Antioch train to one of the four downtown San Francisco BART stations. From there, it's an easy walk or short cab ride to most San Francisco hotels and the Moscone Convention Center.
Find your hotel on this map of downtown San Francisco.
To Downtown Oakland
Board an Antioch train to the City Center/12th Street Station and you'll be right in downtown, a few blocks from Oakland Chinatown and Jack London Square.
Returning to SFO
Take any SFO-bound train from any downtown San Francisco BART station. If you are going to SFO from another city it may be necessary to transfer to an SFO-bound train. Check the BART System Map for transfer points.
Upon arriving at SFO, walk, or take the AirTrain Red Line from BART to Terminal 1, 2 or 3 for domestic flights. The International Terminal check-in counters are a short walk from the BART station main entrance.
BART Tickets
Children 4 and under ride free. All other passengers must have a BART ticket or regional Clipper card. BART tickets and Clipper cards are like debit cards with stored value.
Are you visiting the Bay Area? If so, buy a BART SFO Ticket Voucher in advance, or use vending machines at the BART station to purchase a BART ticket or regional Clipper card.
All BART stations have ticket vending machines that accept cash or credit cards. BART's fare structure is built on a mileage-based formula. To find your fare, click here or check the chart posted on the ticket vending machine. Weekly or monthly passes are not available.
To enter the BART system, insert your ticket into the fare gate and it will be returned to you, or tap your Clipper card on the top of the fare gate. Use the same ticket when you exit. The correct fare will be deducted automatically and tickets with remaining value will be returned. If your ticket has too little value, a sign on the fare gate will tell you to go to a nearby Addfare vending machine where you can add enough value to your ticket to exit the BART system.
BART Schedule
Use the BART QuickPlanner to look up BART departure and arrival times.
BART Weekday Airport Service Hours
5:00 a.m. to 11:53 p.m.
BART Weekend Airport Service Hours
Sat: 6:30 a.m. to 11:53 p.m.
Sun: 8:00 a.m. to 11:53 p.m.
Sunday morning, SFO Airport trains from downtown San Francisco start at 8:45 a.m. Please make alternative airport travel plans if you need to catch an early morning Sunday flight.
Luggage and Accessibility
Luggage may be stowed under your seat or held in your lap. Please keep the doorways clear. Some cars have space near the doors to accommodate wheelchairs, bikes or strollers. If the space is not being used by a person with a disability, you may store your luggage there, but please keep it under your control at all times.
All BART stations have elevators and extra wide faregates for large luggage and for use by people with disabilities.
Airport/Long Term Parking
Airport parking can be a hassle and is always expensive, except at BART stations. We offer inexpensive long-term parking at many stations with easy online reservations. Visit the Long-term Parking section for more information.