UPDATE: BART Perks Phase I concluded on February 28th, 2017. Preliminary results reveal that incentives can successfully shift the travel behavior of BART riders. To learn about the results, read the press release or the final report. BART is currently working on a Perks Phase II that is expected to launch in November, 2018. Participation in Perks Phase II will be limited to about 2,000 individuals.
---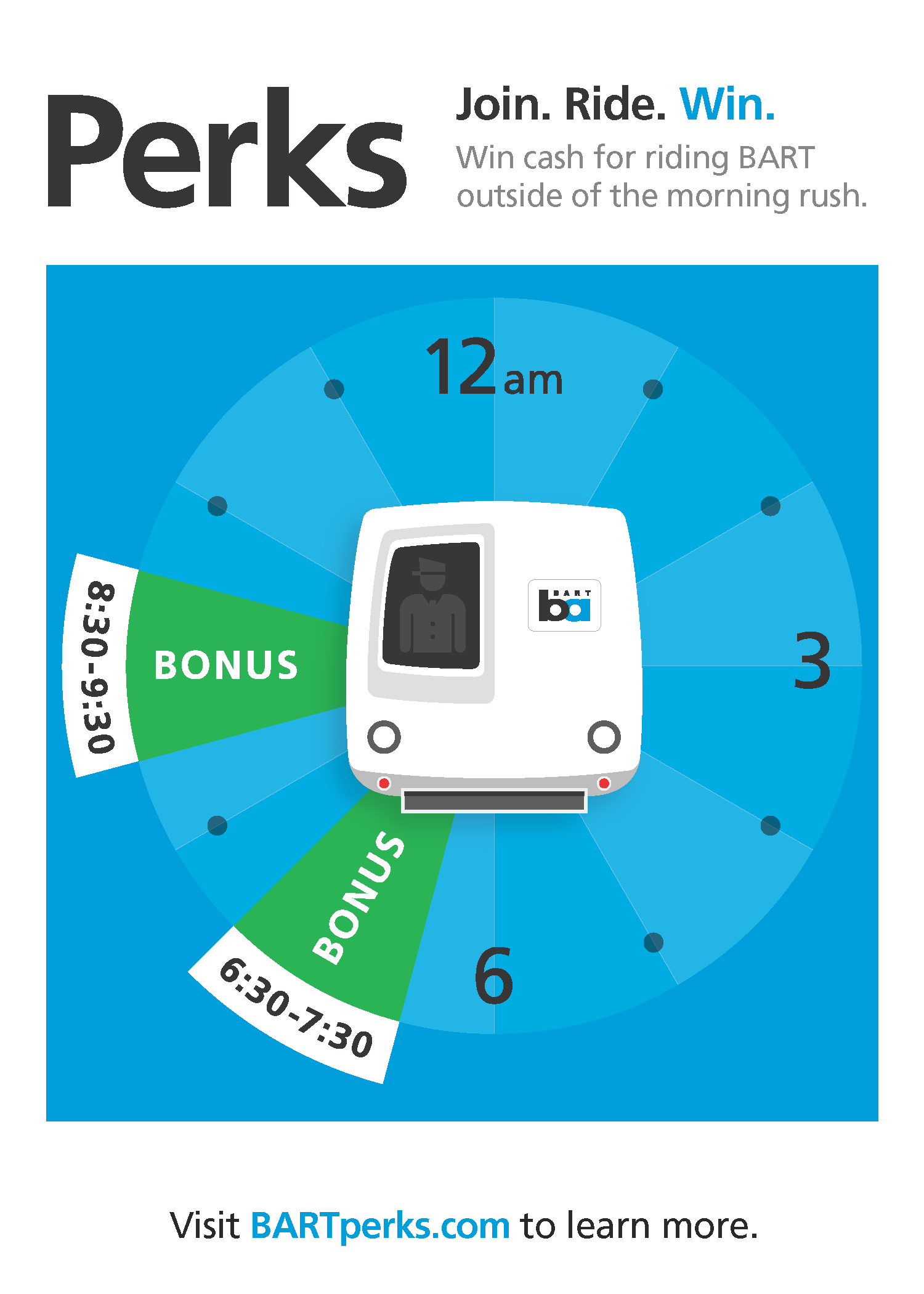 New test program rewards BART riders for travelling outside the morning rush
BART riders now have the chance to win cash rewards by participating in a 6 month test program that incentivizes riders to shift travel times away from the peak morning hours.
"BART Perks" - offered by BART and the San Francisco County Transportation Authority - is based on successful implementation of similar programs around the world.
The program complements BART's long-term efforts to reduce crowding and congestion on trains and in stations, including upgrading train control and other major system infrastructure, adding more trains to the fleet, and expanding station capacity.
The program works this way: BART riders who opt into the program will automatically earn 1 point for every mile traveled on BART. They can earn up to six times as many points by starting their trip during a bonus hour: 6:30 A.M. to 7:30 A.M. or 8:30 A.M. to 9:30 A.M. Points can be exchanged for small cash rewards or used to play the "Spin to Win" game for the chance to pick up additional points or random cash rewards from $1 to $100. Each month, reward balances will be transferred to participants' PayPal accounts.
Participants sign up for the program at www.BARTperks.com using their email address and Clipper Card number.
The BART Perks program launched August 30, 2016 and seeks to attract 25,000 participants over the next 6 months.