BART unveils special baseball themed tickets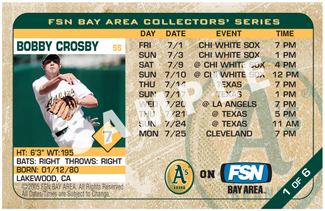 Partnership with FSN Bay Area television gives fans a chance to ride and read about their favorite players
Baseball fans have a new reason to love BART: not only does the transit agency provide inexpensive, reliable transportation to A's and Giants games, now BART and FSN Bay Area television network are teaming up to issue a series of BART tickets featuring players from the two teams. The collectors' edition tickets resemble baseball cards but will work just like other BART tickets at fare gates (click images at right to enlarge).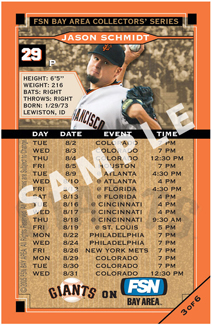 Collectors' series tickets are unique
The collectors' series is unique because this marks the first time BART has issued tickets with a series of images on the back. Four different cards per month will be released until the end of the baseball season. Each month two cards featuring a pair of Giants players and two cards featuring a pair of A's players will be available in BART's ticket vending machines. The cards include information about each player and FSN Bay Area's baseball telecast schedule for the month in which the ticket is issued.
The July tickets now available feature Giants Kirk Rueter and J.T. Snow and A's Bobby Crosby and Barry Zito. Giants Jason Schmidt and Ray Durham and A's Mark Kotsay and Nick Swisher will appear on the cards in August. Giants Moises Alou and Pedro Feliz and A's Rich Harden and Eric Chavez will end the season in September.
More than 1.5 million of the collectors' tickets will be available throughout baseball season, but once each of the limited supply of a ticket is sold it will no longer be available.
Team effort produced tickets
FSN Bay Area television is footing the bill for the high quality printing in exchange for exposure on tickets used by 310,000 riders a day. BART is also benefiting by receiving air time on FSN that it would not otherwise be able to afford in order to promote and preserve strong ridership, which helps keep BART the #1 transit system in America.