BART Rider Thank You Sweepstakes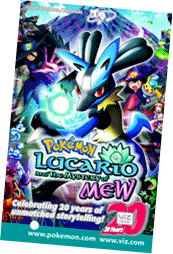 Win a trip for four to Japan, courtesy of VIZ Media!
Enter today for a chance to win the Grand Prize in the BART Rider Thank You sweepstakes. One lucky family will win a trip for four to Japan, courtesy of VIZ Media! Prize includes airfare and hotel for four. (Retail Value $10,000.)
Visit VIZ Media's website to enter the sweepstakes and for contest details, rules and regulations. (You will be leaving bart.gov.)
Exciting 2nd and 3rd place sweepstakes prizes will also be offered. Fifty 2nd place winners will receive a gift bag of VIZ Media DVDs, videos, and more! (Average Retail Value $150.)
Twenty-five 3rd place winners will receive a gift bag of VIZ Media plushes, t-shirts and more! (Average Retail Value $75.)
Also courtesy of VIZ Media, collect all six special anime and manga tickets available only through BART Ticket Vending Machines beginning in September (see illustration).
Headquartered in San Francisco VIZ Media is one of the most comprehensive and innovative companies in the field of manga publishing, animation and entertainment licensing of Japanese content. Owned by three of Japan's largest creators and licensors of manga and animation, Shueisha Inc., Shogakukan Inc., and Shogakukan Production Co., Ltd. (ShoPro Japan), VIZ Media is a leader in the publishing and distribution of Japanese manga for English speaking audiences in North America and a global licensor of Japanese manga and animation.
The company offers an integrated product line including, magazines such as SHONEN JUMP and Shojo Beat, graphic novels, videos, DVDs, audio soundtracks and develops and markets animated entertainment from initial production, television placement and distribution, to merchandise licensing and promotions for audiences and consumers of all ages. VIZ Media has also brought many other wildly popular series, such as ZATCH BELL!, NARUTO, INUYASHA and more to the U.S.
Pokémon © 2006 Pokémon / Nintendo , Fullmetal Alchemist © Hiromu Arakawa/SQUARE ENIX, Full Moon © 2001 Arina Tanemura, Inuyasha © Rumiko Takahashi/Shogakukan · Yomiuri TV · Sunrise 2000, Naruto © 1999 by Masashi Kishimoto/SHUEISHA Inc., Zatch Bell! © 2001 Makoto RAIKU/Shogakukan Inc.