New exhibit at 16th St. Mission BART Plaza features woodcut prints by artist Ivy McClelland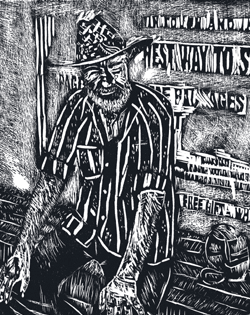 Woodcut print by Ivy McClelland
A new exhibit is opening Friday, March 20, at Public Artspace at Plaza 16, outside the 16th St. Mission BART Station.
Public Artspace at Plaza 16 consists of four plexiglass-fronted bays, showcasing the work of Mission artists. This space is curated by a panel of Mission-based artists and curators, who review proposals and select work that highlights the cultural diversity and environment of the neighborhood.
The latest exhibit features woodcut prints by Ivy McClelland. "As a resident of the Mission for 11 years, I have been inspired by the vibrance of its public art," McClelland says. "From the Mujeres Muralistas and hand painted signage to the murals that cover the walls, there is always something on the streets that captures my imagination."
Regarding the woodcut prints, McCelland says they are "directly inspired by capturing a snapshot of everyday life and then expanding upon the moment with a story."
Plaza 16 Public Gallery is a project of the Mission Community Council. The Mission Community Council (MCC) is an organization of Mission District community agencies, faith groups, neighborhood associations, and public departments that have united to sustain the Mission District.
The Council strengthens the neighborhood by expanding the community's skill bank and by increasing opportunities for the families, and residents, of this diverse, working class, immigrant, and Latino community. For information about exhibiting your work, please contact: Rebeka Rodriguez, rebeka@theintersection.org
Visit the Plaza 16 section of the Mission Community Council's website at: http://www.micocosf.org/.