A soldier's story: On leave from Iraq, seeing the Bay Area sights with a free BART pass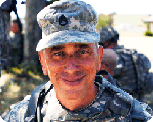 Staff Sgt. Rod Starcke, photo courtesy of Oregon National Guard
By Melissa Jordan
BART Senior web producer
On-the-job stress doesn't get much tougher than a typical day for Rod Starcke, an Army staff sergeant with the Oregon National Guard who is deployed in Iraq.
Starcke's unit provides security for the convoys that move materials between bases.
"We protect the vehicles traveling between the forward operating bases, transporting all the supplies from one location to another," he says. "They haul all the supplies for things that soldiers need to live -- food, clothes, equipment."
A dangerous job
It's a dangerous job – deadly improvised explosive devices are a constant threat, and two members of Starcke's unit recently lost their lives in service.
That makes the rare opportunity of a leave – granted usually just once during a long tour of duty – an especially precious chance to spend time with loved ones and experience the everyday pleasures others may take for granted.
"You get a chance to unwind," Starcke says. "You get so keyed up over there, that you need some R and R, rest and relaxation."
BART is helping to make such leaves easier by offering free passes worth $50 to active-duty military personnel on leave from Iraq and Afghanistan – the first such program in the nation, started as a pilot program this January. Hearing about the program helped Starcke decide to visit San Francisco for his leave.
Planning for the future
The Bay Area isn't home for Starcke – but he picked it for his leave because he hopes one day to retire here, or possibly go back to school to study creative writing. He used his BART pass to check out the University of California campus in Berkeley. Starcke has family in the Midwest, and his brother was meeting up with him in San Francisco to spend some time together during his leave.
He's taking advantage of his time here by seeing the sights – touring Alcatraz reminded him of Baghdad – and enjoying civilian pastimes like going to the movies, shopping and sampling the gourmet wares of the Ferry Building, a welcome change from Army rations.
Easy to get the pass
Starcke says it was easy to get the BART pass – you just go to the Lake Merritt Customer Service Center and show your military ID and leave papers. More details about the program can be found here.
Starcke says he'll take fond memories of the Bay Area back with him when his leave ends and he returns to Iraq.
"That's what all the soldiers say when they come back – 'Thank God I finally got away. I had a chance to relax.' "
Follow Starcke as he visits the Ferry Building in San Francisco in this video on BARTtv.