New art exhibit recalls silver android who rode BART for performance art piece in 1978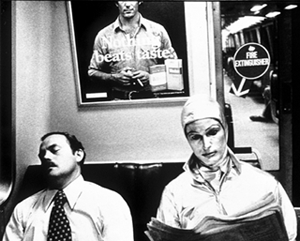 Photo by Kathleen Karp, copyright JBLee 1978
By Melissa Jordan
BART Senior Web Producer
The year was 1978. Star Wars fever had swept the nation a year earlier, with fantastic characters like the droid C-3P0 capturing the public imagination. In San Francisco, an artist who went by the name JONaEON took on the persona of a silver android called SL7. In a performance art piece documented in photographs, SL7 traveled on the trains of Bay Area Rapid Transit alongside everyday commuters.
That series of photographs is being shown for the first time since 1978 in an exhibit called "Aliens Among Us" running from March 5 – March 31 at Flying Saucers Caffeine and Art Gallery in Santa Monica.
"BART was beautiful, it was shiny, it was new," the artist, whose full name is Jon Beau Lee, recalled in an interview. (BART began service in 1972.) "The thought was to bring awareness to the moment, that life is theater, and BART was the perfect venue to interact with people. It was humor, it was satire. To be able to share a laugh with a stranger, how magical is that?"
Lee did the performance four Saturdays in December 1978 with BART's blessing. He would begin at Hallidie Plaza near Powell Street Station, then ride the trains with an assemblage of curious onlookers to Embarcadero Station, where a videotaped playback and gallery of photos was set up.
"It was this wonderful kind of moving party of fun and interactive frivolity," Lee said. "It was a magical time, pre-AIDS, much freer."
It's unlikely such a scene could take place today at all, with more restrictions in society overall for security and public safety. Performances are not allowed on trains, and even activities in the non-paid areas of stations require an expressive activities permit.
In one of the photographs from the series, the silver android SL7 sits in the last row of seats on a BART car, reading a broadsheet print newspaper, as a gentleman with a wide collar and tie dozes beside him. Behind them is a poster advertising cigarettes.

At the time he began the BART project in 1978, Lee had a successful career as a mime artist, performing as Rainbow the Mime. He stopped performing mime in the United States in the mid-1980s, and shifted to the carnival circuit in Europe. "There was too much mime-bashing in the United States," he said. "People were nasty; it was not an honored position any longer."

He has nothing but fond memories of SL7, however, and his experiences with the character on BART. "Just looking into the eyes of a person who is looking at something so absolutely out of context, the giggle that emanates in that moment – it was wonderful," he recalled.

The art gallery showing Lee's work says SL7 "can be seen as the grandfather of all silver robotic mimes worldwide." Asked how he feels to see the proliferation of silver robots at tourist spots today, Lee laughed and said, "My children, my children!"

The character takes a place in a long history of metallic men in art, however, from the Tin Man in The Wizard of Oz to Gort from The Day the Earth Stood Still, each reflecting its own era. Lee said he didn't look to any particular predecessor for inspiration, although "on some subconscious level, maybe I was looking for my heart" in San Francisco.

The Santa Monica exhibit, which is free and open to the public, includes the 1978 BART photographs as a "classic alien" series along with a "comtemporary alien" series of new photographs by Lee.

"Though over 30 years old, the highly graphic stylization of the BART ART photographs appear timeless," the gallery press release says. "A striking juxtaposition is offered with the vintage black and white film photography and its counterpoint; the striking palette of colors captured in his contemporary digital imagery. In his latest work, JONaEON explores the awareness of expanded space within time. By extending the shutter's exposure, the perception of spaciousness is enhanced, thus revealing within the morphing of faces, visions of the aliens among us."

Lee said he would like to find a gallery interested in bringing the exhibit to the Bay Area after its Southern California run.
To see more photographs of SL7, visit our blog at www.posterous.com/sfbart.