From routine patrols to explosives detection, K-9 unit helps keep BART riders safe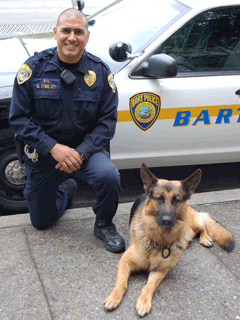 Officer Mike Zendejas with Tim
By Melissa Jordan
BART Senior Web Producer
Tim seemed to be getting a little restless.
He paced a bit on the platform, unfazed by the trains screeching through Lake Merritt Station and the cameras filming the scene.
Now on BART TV
:

Watch video of the dogs in action

"He wants to work," explained Officer Mike Zendejas of his partner, a 95-pound German shepherd with big paws, alert eyes and lots of energy. Zendejas and Tim are one of eight handler/dog teams in the BART Police K-9 unit.

BART, like many large public transportation systems, has used patrol dogs for years as a visible deterrent to crime and to assist officers responding to reports of crimes. "The presence of a dog is usually enough," said Sgt. Jason Ledford, supervisor of BART's K-9 unit and a former handler himself. "Most people don't want to challenge the dog. Ultimately, it keeps the person that we're dealing with safer and it keeps the handler safer, because we're not involved in having to physically apprehend someone."

BART began using canines for police work in the early 1970s, and the unit took on different forms over the years. But since the terrorist acts of Sept. 11, 2001, and subsequent bombings in subway systems from Madrid to Moscow, the dogs' role has expanded to another important area – explosives detection. Half the dogs in BART's unit serve as general patrol dogs and are cross-trained in explosives detection; the other half work full-time on explosives detection, through a program funded by the Transportation Security Administration.

Ledford and several of the handlers had gathered recently, on a training day, to show off the dogs' skills for a feature story. There was obvious teamwork, and affection, between handlers and dogs, as the officers gave commands – and the dogs obeyed. The animals seemed to sense it was mostly for show, though, like Tim, who kept looking up at his handler in expectation.

Two of the teams then boarded a train, to show their typical work in action.

"We are to be in the stations, on the trains, highly visible," Ledford said. "We're a deterrent in the sense that we're out there. They're all also capable of explosive detection. Should we run across anything, the dogs can respond. We're out there every day randomly, different lines, different trains, different stations at different times."

The midmorning train was fairly empty, but a few riders cast curious glances as the handlers and dogs went from car to car. The dogs walked or sat quietly, looking around.

Rider Masoud Taymuree said he was glad to see the K-9 unit patrolling his train. "I definitely feel safer to see a police dog," he said. Another rider, Pam Glassoff, said she did not appreciate the use of police dogs and that it seemed like "over-vigilance." Rather than reducing the threat, "it makes me feel more threatened," she said. Ledford talked briefly with Glassoff to explain that the dogs went through extensive training to ensure they knew how to interact properly with the public, and that "we're just here to keep you safe, m'am."

About that time, the conversation was cut short as Ledford received a call that a bomb threat had been reported at an elementary school near the San Leandro BART Station, and the team was needed to check things out.

Providing mutual support – helping other departments when yours is the closest to a scene or has specialized resources that are needed – is an important part of interagency law enforcement cooperation, Ledford explained. Helping with a case off BART premises is a rare occurrence for the K-9 team, but when necessary, they are there.

At the school there was a distinct change in the demeanor of the dogs. When one handler clicked open the door of a patrol car, her dog bounded out, laser-focused on the handler and her commands. With the schoolchildren sent out to the playground for an extended recess, and a safety perimeter established to keep others out, the dog teams swept each classroom. They sniffed under desks, in supply cubbyholes, among piles of backpacks and science projects hurriedly left behind in the halls.

Outside, relatives gathered nervously and waited for their children to be released to them. Marsha Garibay, a college student and frequent BART rider whose younger siblings attend the school, said she was glad to know there is a BART K-9 team that can pitch in when help is needed in the community. "I've never seen them on a train before, but I've seen them outside the station," she said. "In situations like this, they make me feel safer. I'm glad they have them."

No explosives were found and the kids eventually returned to their activities. The police dogs seemed more relaxed, even tired from all the intensity, and hopped back into cars where they got bowls of fresh water.

Ledford explained that being a police canine handler is unlike any other job on the force. "That dog is with them 24 hours a day, 7 days a week. The dog goes home with them. The dog lives with their family. It's really the only position that is nonstop. You don't leave it at work. These are motivated officers who want to be out there with the patrons, riding trains, keeping everybody safe."

Riders may be tempted to pet the dogs, but Ledford encouraged them to hold off unless the dog is with its handler outside the station, and then, to ask first. "Obviously we want people to be comfortable around our handlers and our dogs," he said. "But when they're on the trains, they're working."

And working, rather than posing for the camera, seems to be what the dogs like best.