Union City Police credit BART officer for the arrest of registered sex offender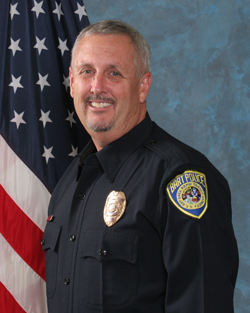 BART Police Officer Kory Frost
The Union City Police Department is publicly crediting 53-year-old BART Police officer Kory Frost for arresting the registered sex offender accused of molesting a 2-year-old girl in the aisles of a Dollar Tree store on Wednesday, December 1.
According to the Union City Police Department's news release, the crime occurred when 36-year-old Eugene Melendres Ramos grabbed the little girl after the child left the company of her grandmother and aunt to return a ribbon to the Christmas aisle of the Dollar Tree store located at 1720 Decoto Road. Union Police say the toddler walked around the aisle out of sight and the suspect grabbed her. Less than a minute later, police say the grandmother and aunt noticed that the child was missing and spotted the young girl pinned down by the suspect in the next aisle.
Union City Police say the grandmother, aunt and several customers chased the suspect from the store and through the shopping complex. The suspect was eventually tackled to the ground. "Fortunately, a BART Police Officer was nearby and stopped when he was flagged down by the small group holding the suspect down," the Union City Police Department news release said.
"A lot of people are saying that I did a good job, and I appreciate that. But the heroes are the citizens, not me," BART Police Officer Frost said. Frost has been with the BART Police Department for 28 years. "I am sorry for the family and their grief. I'm glad the guy's been caught and I was able to make the arrest and contribute in a positive way."
Union City Police say based on the information received at the time of this crime Ramos was arrested and booked for Kidnapping, Rape, Sexual Acts with a Child, and False Imprisonment. Union City Police are asking anyone who witnessed the incident to call Detective Sergeant Jared Rinetti at 510-675-5229 or use the tip line 510-675-5207 or email information to tips@unioncity.org.