Golden State Warriors give BART customers a treat for going green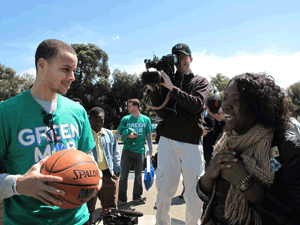 Steph Curry meets a fan at Rockridge Station
BART customers were big winners today when two Golden State Warriors players gave out BART tickets to encourage people to "go green" when it comes to getting around the Bay Area.
Warriors' players Stephen Curry and Ekpe Udoh, coming off a big win against the Lakers last night, surprised customers at Rockridge Station this afternoon by handing out BART tickets. The Warriors, along with team President Robert Rowell and TV analyst Jim Barnett, then caught a San Francisco-bound train to Embarcadero Station, where they gave out even more tickets. The event not only brightened the day of BART customers – it didn't cost the transit agency a penny. The Warriors, in conjunction with Esurance, generously purchased all the tickets to encourage fans to go green as part of the NBA's "Green Week".
This isn't the only way BART customers benefit from having the Warriors in town. Many Warriors fans use BART as a cost effective, convenient way to get to Oracle Arena, which is just steps away from the Coliseum/Oakland Airport Station.
Ride BART to Help the Environment
The Warriors chose BART because it's an easy and cost effective way to save energy and protect the environment. BART trains are electric and 67% of the power comes from clean hydro and renewable sources. Each commuter who chooses BART during the week, as opposed to driving, saves over 300 gallons of gas and 5,868 pounds of CO2 in a year. By switching to BART, a rider gets the equivalent of 249 miles per gallon—not even the most fuel efficient hybrid can match that.
BART customers can even see how much CO2 they can save by taking BART instead of driving by using the carbon calculator that's part of the QuickPlanner on the home page of www.bart.gov.
Watch a video from BARTtv on YouTube of the Warriors riding BART and handing out tickets.