BART Police officers and canine partners win honors at annual competition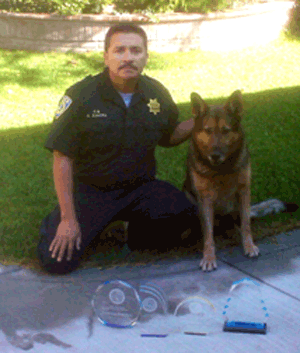 Officer Zamora with Umar
The officers and dogs of the BART Police Department's canine unit are back on the job after proving themselves to be among the best in the state during a recent competition in La Honda.
Officer Alfredo Zamora and partner "Umar" finished second overall in a competition that included 27 top-rated canine teams from all over California. Zamora and "Umar" also finished first in "Protection" and first in "Obstacles."
Officer Scott Hamilton and partner "JoJo" also earned honors, tying Officer Zamora and "Umar" for fifth place in the "Obedience" category.
Witmer-Tyson Imports, which is one of the California's largest canine importer and training groups, hosts the yearly event to test the skills of canine teams from all over the state. Canine teams competed in four different events, obedience, obstacles, protection and search.
For more information about BART's canine teams, visit www.bart.gov/police.