BART plans longer trains to carry Giants fans to World Series games in San Francisco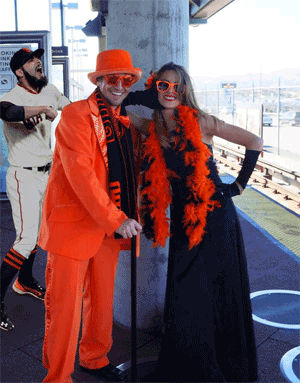 The Giants urged fans to post photos
superimposed with Sergio Romo; this one
from Dublin BART is by @KadieHelton
Read more of their story here.
Just as sports devotees avidly support local teams, BART is on deck to get thousands of Giants fans to AT&T Park for the first 2012 World Series game on Wednesday, Oct. 24.

BART will run longer trains, operate additional event trains as necessary and have additional staff on hand to help customers who need assistance.

"October Bay Area sporting events have taken over the majority of BART's top 10 all-time ridership days," said BART Board President John McPartland.

"It's been a thrilling baseball season for our local teams and BART is prepared to carry devoted Giants fans to the World Series games as well as the hundreds of thousands of weekday riders who have made BART their number one transportation choice."


When Bay Area teams are hot, BART always benefits. Because 70.5% of BART's operating funds come from fare-paying passengers, increased ridership means more dollars can be spent towards what customers want: cleaner stations and trains, refurbished cars and funds for the Fleet of the Future.

Travel Tips

BART wants everyone to have fun and get to the game on time. New riders need to know that everyone who rides BART needs a BART ticket or Clipper card to enter the system. Here are a few tips to avoid the crush at the ticket machines:
Load up your Clipper card with extra value.
Or, if buying a BART ticket, purchase a round trip ticket at the station you begin your trip.
Plan your trip by using the BART QuickPlanner
BART Top Ten Ridership Days
| | | | | |
| --- | --- | --- | --- | --- |
| Rank | Date | Day | Riders | Events |
| 1 | 11/3/2010 | Wed | 522,198 | Giants' Victory Parade |
| 2 | 10/29/2009 | Thur | 442,067 | Emergency Bay Bridge Closure |
| 3 | 10/30/2009 | Fri | 437,693 | Emergency Bay Bridge Closure |
| 4 | 10/28/2009 | Wed | 437,180 | Emergency Bay Bridge Closure |
| 5 | 10/11/2012 | Thur | 431,771 | A's vs. Detroit; Warriors pre-season |
| 6 | 10/9/2012 | Tue | 428,484 | A's vs. Detroit |
| 7 | 10/3/2012 | Wed | 426,948 | Oracle Conference; A's vs. Texas; America's Cup |
| 8 | 10/10/2012 | Wed | 426,431 | A's vs. Detroit |
| 9 | 10/5/2012 | Fri | 424,483 | Bluegrass Festival; Fleet Week; America's Cup |
| 10 | 10/18/2012 | Thur | 420,277 | 49ers vs. Seattle |