BART discusses priorities for keeping system in State of Good Repair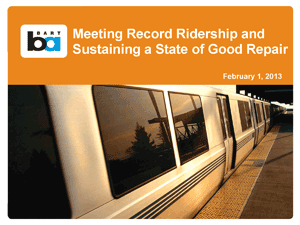 Cover page of presentation
In coming weeks, BART staff and officials will be visiting with groups throughout the Bay Area discussing priorities that will be needed to meet the demands of record ridership and to keep the transit system in a State of Good Repair.

Check back here for a list of meetings when they are scheduled.

In the meantime, you can download a presentation (.pdf) that will be made in discussing the system's current state of repair and needs for the future.