Take BART to the 43rd Annual San Francisco Pride Celebration and Parade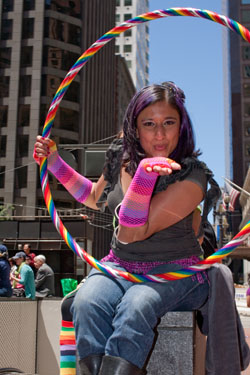 Photo by Dan Nicoletta
BART will provide longer trains to accommodate the crowds expected to celebrate the return of San Francisco LGBT Pride Celebration this weekend. Purchase a round-trip ticket to avoid lines at ticket machines, or use a pre-loaded
Clipper card
.
This year marks the 43rd anniversary of the San Francisco Pride Celebration and Parade. This year's theme is "Embrace, Encourage, Empower." The event will be held over the weekend of June 29 and 30, 2013. With more than 200 parade contingents, 300 exhibitors, and more than 20 stages and venues, the San Francisco LGBT Pride Celebration and Parade is the largest annual gathering of Lesbian, Gay, Bisexual, Transgender people and allies in the nation. The two-day celebration is free and open to all.

The Celebration at Civic Center Plaza (near Civic Center BART Station) is host to the Main Stage. On Saturday, June 29, the Main Stage brings the best of local musical talent and cultural performances to San Francisco, including DJ Lezlee, Kidd Sysko, and Ms. Jackson. On Sunday, June 30 see exciting, up-and-coming talent, world-renowned performers, and the best of local entertainment from the Bay Area such as Raquel Rodriguez, Gypsy Love, Lovesick Radio, Xavier Toscano and many more.

For more information including a full list of events, visit the Pride website at www.sfpride.org.