BART Toy Drive benefits innovative family center in Portola neighborhood
---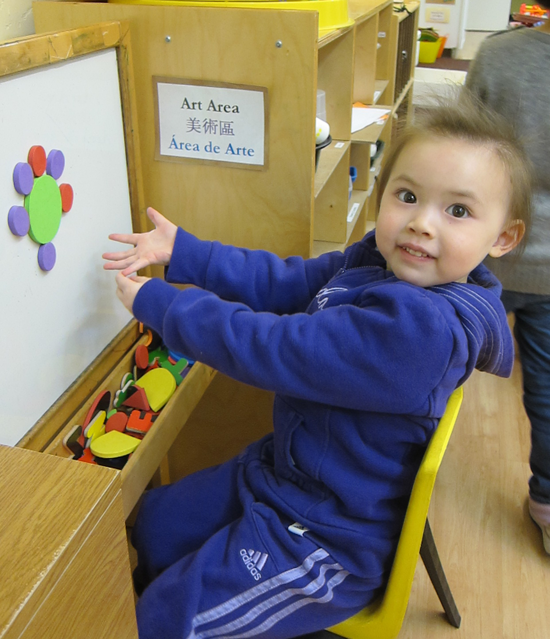 Lilah, 4, shows off her artwork at Portola Family Connections
---
By MELISSA JORDAN
BART Senior Web Producer
Crossing the street changed Brendan Kosmerl's life.
About a year ago, out for walk, he and his family took a different route, on the other side of San Bruno Avenue in San Francisco from where they usually walked. Without any extended family in the area to help, and with day care prices out of sight, he and his wife were worried about quality care for their two young children. He works nights starting at 4 pm and she works mornings starting at 4 am.
"We got really, really lucky," Kosmerl said, picking up his kids, now 4 and 3, from the Pre-Kindergarten program at Portola Family Connections, where he is now an active volunteer. "We just happened to peek inside and it was amazing. There were kids doing all kinds of activities. It was colorful and happy."
Portola Family Connections and its branch office, Excelsior Family Connections which is near the Balboa Park BART Station, are the beneficiaries of this year's BART Toy Drive, in which hundreds of toys donated by employees each year are given to a nonprofit, rotating through the region.The Toy Drive has been around for about 10 years. A ceremonial presentation of gifts will occur at the BART Board meeting on Dec. 19; then, the gifts will be presented to the children Dec. 20 at the center's annual holiday celebration.
"The toy drive was started for a couple of reasons," said Molly Burke, San Francisco County Representative in BART's Government and Community Relations Department. The drive is sponsored by BART's Office of External Affairs and the BART Police Department. "We wanted to better connect with the communities were we have service. And we wanted to give back."
Burke and some BART Police representatives visited the Portola center last week to make plans for the big toy delivery. The center is celebrating its 20th anniversary this year and it is a model of a participant-driven, community-focused services center.
In the Pre-K classroom, children and teachers read books, worked on art projects, sang songs and did other activities. The kids were bold and confident and not afraid to talk to a visitor about their class.
Xochitl, age 4, said her favorite thing was playing in the kitchen area, but, "I like playing with blocks too, and doing experiments." Told that BART would be donating toys to her school, her eyes widened and her mouth popped open. "My toes are tingling," she said with excitement. "Can we take them home?"
---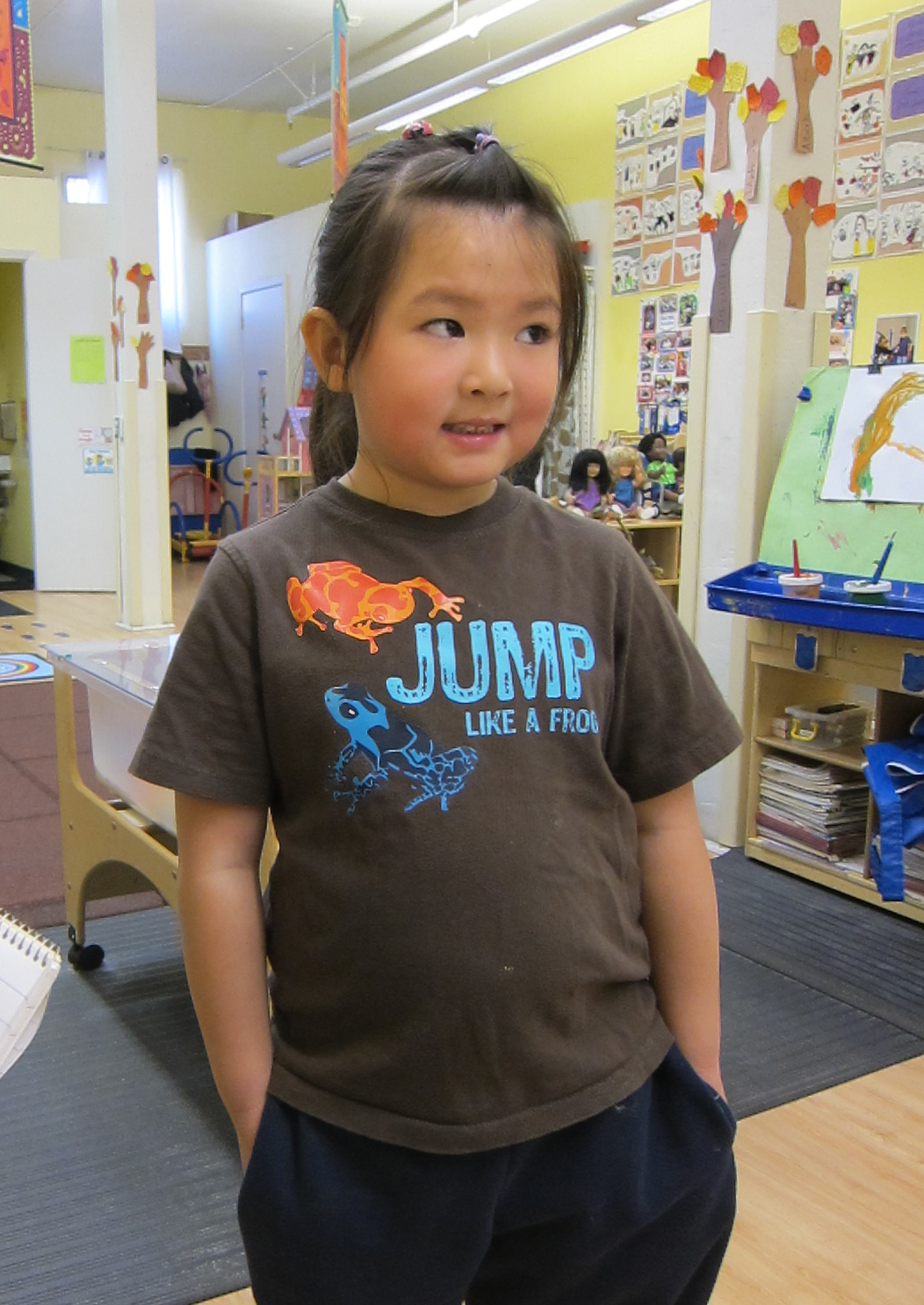 Jazlynn, 5, likes reptiles and has a pet snake at home.
---
Jazlynn, age 5, likes "drawing. And hopscotch. And playing with my friends." Wearing a shirt with a frog on it, she explained that she loved reptiles and had a pet snake at home.
Lead Pre-K teacher Katryna Shek said the drive is especially appreciated because many of the families struggle to make ends meet, often working multiple jobs and double shifts. "We're very grateful to be receiving the donations this year," she said. "Our families work very hard."
---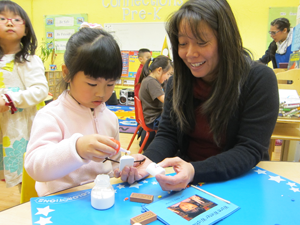 "Our families work very hard," says Lead Pre-K Teacher Katryna Shek, helping a student with an art project.
---
The center owes its existence to Founder and Executive Director Maryann Fleming, who started it on a shoestring and has worked for 20 years to nurture it to success.
She believes its innovative philosophy is what has made it work; it's a model based on participant-driven services. "We don't look at people and say, what's wrong with you, we'll fix it," she said. "We look for their strengths and ask what kind of support they need and build on that."
Empowerment and involvement are essential. Parent volunteers participate in committees and activities. There are nutrition classes, exercise sessions, English as a Second Language classes, parent advocacy training, Pre-K classes, family economics and success workshops,homework help, after-school activities and much more. The center buzzes from dawn to evening.
And, in a move that was controversial in some quarters, there are fees for some of the services, relatively nominal but not out of reach. And the families become more invested in the program. For example, it's $5 per session for a daily child-parent drop-in session with a licensed family therapist, skilled teachers, support groups, healthy snacks and other perks.
"I wanted to create a system of reciprocity and empowerment,' Fleming said. "We are helping the community to help themselves by giving them the tools that they need to succeed."
There is a scholarship fund to help those who cannot meet the nominal fees.
Other priorities were safety, cleaniness and -- unusual for a center of its type -- aesthetic beauty. "It had to be safe and clean," she said. "I also wanted it to be beautiful and inviting. I did not want to replicate that 'there's never enough' image. You raise the bar by creating a lovely environment."
---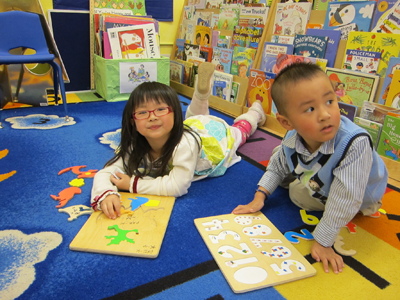 "I wanted it to be beautiful and inviting," Founder and Executive Director Maryann Fleming says. "You raise the bar by creating a lovely environment." Children play on colorful rugs with puzzles and books.
And the center IS beautiful. There are cozy reading nooks in warm color palettes with teddy bears and comfy pillows; children can only go in with a book. The rugs are bright and new; the chairs and tables are clean and pristine, not beat up or scratched. It is a place where it seems any parent would be comfortable leaving their child -- not just "low-income" parents.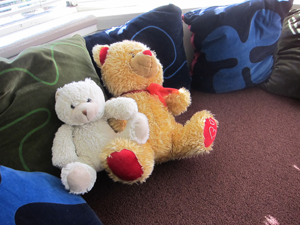 Reading nook -- book required to go in!
---
The Portola neighborhood is home to approximately 11,000 predominately low-income individuals and is very diverse, according to the center's website. Neighborhood statistics show: 54% Asian, 20% Latino, 11% other, 6% White, 5% two or more races, and 4% African American. Fifty-five percent (55%) of community members are immigrants and 69% speaks a first language other than English.
Additionally, 37% of the population over 25 years of age in the Portola did not graduate from high school. The cost of living for working families in San Francisco has also increased by 70% in the past 10 years. According to the 2006 study by
the Mayor's Policy Council on Children Youth and Families, the annual self-sufficiency wage needed for a family of four living in San Francisco is $69,158. Seventy-percent (70%) of families served by Family Connections report an income under $50,000; 25% of Portola households have an annual income of $35,000 or below (the poverty rate for a household of three in San Francisco is $35,100); and 12% live on less than $20,000.
"This has been historically an invisible neighborhood," Fleming said. "It's an under-the-radar, blue-collar, working-class neighborhood."
For Brendan Kosmerl, the center is a lifeline. And it is giving his kids a step up. "I spent time in a group home" as a teen, he said, and he is determined that his own family have the stability and security for his kids to thrive.
If his little girl Lilah, 4, is any indication, they do. She is tiny but has a huge personality -- charming everyone she meets. She spells out her name on a board with letters and makes an art project on a magnetic board. She recites the name of every child in class. She talks about her friends and her class and her home and her toys and comes across as bright, confident, well loved, the kind of child who can do anything.
Kosmerl will never forget crossing the street to walk down the other side of San Bruno. "We usually jaywalked," he said sheepishly. "But that time we went to the corner and came down the other side. We were so lucky."
Since the children likely won't read this story, it's probably not a spoiler to say the hundreds of gifts will include building blocks, art supplies, classic books, footballs, basketballs, craft kits, dolls, board games, and realistic rubber lizards and alligators (maybe for Jazzlyn the reptile lover!). BART employees like Lisa Moland and Shannon Duke of Government and Community Relations used their lunch break recently to fill up two large carts with toys.
---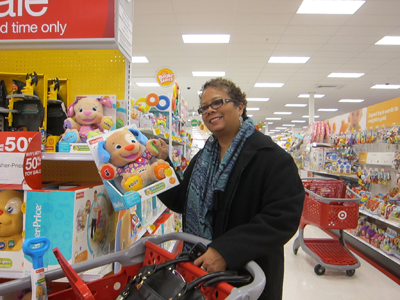 "It's something positive that BART can do for the community," Lisa Moland, BART.
"It's important to give back," Duke said. Added Moland: "I like helping people in general. And when you can help children in need, it's even better. It is something positive that BART can do for the community."
To find out more about the center, go to their website, http://www.portolafc.org/
Photos by Molly Burke and Melissa Jordan